! WARNING: THIS ARTICLE CONTAINS ALMOST NOTHING ABOUT CHESS !
Born on a hot June day in New Orleans in the mid 1830's, this prodigy's career started in 1857 and by 1861 had taken the world by storm and reached the height of fame.... only to die relatively young.
Obviously, I could be talking about Paul Morphy and just as obviously, I'm not.
While perusing the historic photographs at the Louisiana State Museum, I came across this little snippet:
Louisiana native Adah Isaacs Menken earned acclaim as an actress on both sides of the Atlantic. A child prodigy who spoke several languages, wrote poetry, and sculpted, Menken made her acting debut in Shreveport, Louisiana, in 1857 at the age of twenty-two. She performed in most major United States cities and in London and Paris. During her short lifetime of thirty-three years, Menken's four marriages and divorces gained her as much notoriety as her acting did.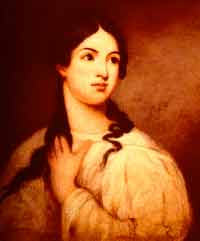 Adah Isaacs Menken was born Adah Bertha Theodore on June 15, 1835 - exactly 51 weeks after Paul Morphy's birth.

She wasn't born in New Orleans proper but in the outlying area of Chartrain, now called Milneburg. Like Morphy, her mother was Creole, but her father was a freed man of mixed color.

An other fine 1858 oil portrait of Adah Isaacs Menken can be seen at the Louisiana State Museum
French Opera House of New Orleans, 1859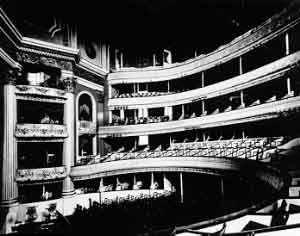 When she was 8 - the same year that Morphy attended the Stanley-Rousseau match with his Uncle Ernest - she danced ballet at the French Opera House in New Orleans. Like Morphy, she was an exceptional student and multilingual - she spoke German, Spanish, Latin and, of course, English. Though it's not mentioned, if she lived in New Orleans and her mother was Creole, it's inconceivable that she didn't also speak French.
While her life seemed to parallel Morphy's to a surprising degree in place, time and conditions, it quickly breaks down to an equally surprising degree in their approach to life. To Morphy, fame was a burden; to Adah, fame was her passion. Morphy was a paragon of propriety; Adah lived to shock people. It's almost as if they were opposite forces occupying the same time and space.
Adah's Story:
Her acting career began in Shreveport, Louisiana in 1857 where she had a part in Sir Edward Bulwer-Lytton's romantic comedy, Lady of Lyons. The same year she had a role in Alexander Dumas' drama, Fazio in New Orleans. In 1859, she moved to New York where she won a part in the comedy, The Soldier's Daughter. She played a series of lesser parts and her acting career seemed to have come to a halt when she was offered the leading role in the Andrew Ducrow's Mazeppa, also called The Wild Horse of Tartary, a strange adaptation of Lord Byron's poem to the stage. Mazeppa propelled Adah to fame, not because of her great acting ability, but because of her possibly brilliant and definitely daring handling of the role. In a Tchaikovsky opera adaptation of the same tale, a Russian suitor was trapped by his lover's fiancé, strapped to a wild horse and driven into the icy Steppes; in the play the roles were reversed and Adah was the one strapped to the horse. But she carried the concept even further by wearing flesh-colored tights and, according to the Anatomy of Burlesque:
"assisted by sound, movement and light, seemed to the eager imagination of the audience, to be actually naked beneath her short, flimsy tunic." The removal of her cloak, partially
shielded by actors, has been called by some, "the first public striptease act ever witnessed in a theater." ...
In San Francisco, Menken goes a step further and abandons tights altogether. Wearing only a blouse and a modest pair of shorts, she may be the first woman in American theater to bare her legs.
Photographs from Mazeppa

According to a detailed article by Women of the American West:
When Adah went to Virginia City in 1863 in order to perform there, the whole town celebrated this event and the local fire brigade serenaded her after her arrival. (According to Dee Brown) three reporters of the Territorial Enterprise in Virginia had planned to deride Adah Menken in their articles. They had seen posters all over town announcing Adah's performance, but in their opinion she could be nothing but a circus performer. Among those three reporters was Mark Twain and things turned out quite different - soon after the performance had started, Adah had conquered the hearts of those three cynic journalists already, especially Mark Twain's. His very enthusiastic critique about Adah's performance was printed in many newspapers all over the country. When Mark Twain visited Adah in her hotel room, he found her sitting at a table, drinking champagne and feeding her lap-dog with sugar cubes drenched in spirits. Brown states that Twain was so charmed by Adah's personality that he showed her some of his manuscripts and asked for her opinion. Besides that, he wrote a mystery poem about Adah's lovely hands.
The play with Adah in the starring role was immensely successful. She gained both fame and riches as well as notoriety and familiarity with such people as Twain, Walt Whitman, Bret Hart, Henry Wadsworth Longfellow, Charles Dickens, Algernon Swinburne and Alexander Dumas. In spite of her male adorers, she was a perpetually married woman. She had met and married Alexander Isaac Menken before becoming famous. She converted to his religion, Judaism and as one writer put it, kept his religion and name but got rid of the man. In truth, however, it was Alexander who divorced Adah. She then, in 1859, married John Carmel Heenen, who was considered the world heavyweight boxing champion of his day, fighting under the name of Benicia Boy. He turned out to be as abusive to her as he was to his opponents and she soon divorced him. She and Neenan had a son who died at birth. In 1862 she married Robert Henry Newell who was a published writer under the pen-name Orpheus C. Kerr (The Orpheus C. Kerr Papers, 1862-1871; The Walking Doll, 1872; There Was a Man, 1884). she divorced him in 1865 and the next year married James Paul Barkley, a professional gambler. Before long, she left him, but bore him a son who also died in childbirth.
Her daring didn't start and end with Mazeppa. Adah had donned blackface and performed as a man, Mr. Bones, in minstrel show; she gave Shakespearian readings; performed impersonations of Edwin Booth as Hamlet; traveled the vaudeville circuit with a circus tightrope walker named Blondin; She smoked and drank champagne in public.
She continued to perform in the U.S. and Europe, mostly reprising her role in Mazeppa, but her lavish lifestyle and unrestrained generosity left her broke. In 1868 during a performing run at the Sadler's Wells Theatre in London, an abscess was discovered in her side and the Frenzy of Frisco died on August 10, 1868 at age 33.
The story seems to be over, but if it were, one might forget her precocity.
Even before her modest theatrical beginnings in Louisiana in 1857, she was able to have a book of her poetry, entitled, Memories published in 1856 under the pseudonym, Indigena. Just eight days after her death, a second book of her poetry, entitled Infelicia, was published in London.
Performing Menken by Renee M. Sentilles is a book of her life.
Her book of poems, Infelicia
The Victorian Dictionary (compiled by Lee Jackson) says this about Adah Isaacs Menken:
During the sixties that extraordinary woman, Adah Isaacs Menken, kept Astley's Amphitheatre well to the fore with Mazeppa, or the Wild Horse of Tartary - really a well-trained tamed steed. She had a good figure, and hid it not under a bushel, but I imagine that the scantiness of her raiment, then something to wonder at, would make no great sensation now. Every night, bound to the raging courser, she was galloped over the Steppes at Astley's - the said Steppes being zig-zagging inclines amongst mountains - at about half a mile an hour, so that the horizon took a long time to reach and patrons had plenty of anatomy for their money. Menken was a compound of contradictions; she had preserved a good deal of the "sugar and spice and all things nice" of her girlhood, and was a poetess-a published one too-yet content to make a doubtful exhibition of herself and marry Jack Heenan, the prize-fighter. It is to be hoped that her mercurial temperament made the compound a real amalgam. She was friendly with Swinburne and Alexander Dumas (père). A photograph was sold for a time showing her sitting on the latter's knee, but it was understood to have been a faked one. Poor Menken! many a worse woman
climbed the shaky ladder of public esteem further than she did.