Paul Morphy left his home in New Orleans for New York City on May 31, 1858.
On June 9 he boarded the steamship Africa arriving in Liverpool, England on June 20.

In Morphy's Games of Chess, Philip Sergeant wrote that Morphy traveled to Europe in the steamer Arabia. Because of Sergeant's subsequent allusion to the Chess Monthly as his source for Morphy's plans, it's likely that Sergeant had also used the Chess Monthly, which gives the Arabia as Morphy's steamer in the July 1858 issue, as his source for the name of the ship. However it might have been, both Sergeant and Fiske gave the same name and their error has gone undetected for nearly 160 years.

While perusing the New York Times archives, Calli found in the June 10, 1858 edition, Paul Morphy's name on the passenger list for the recently embarked steamer Africa.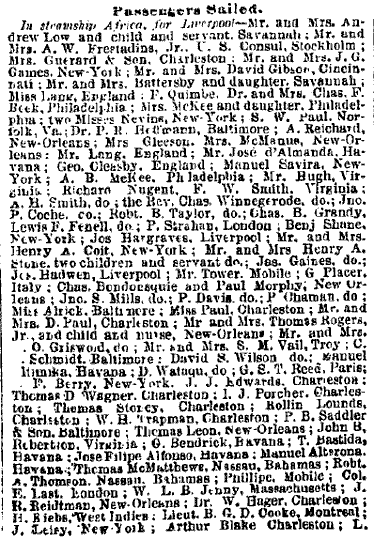 passenger list for the Africa bound for Liverpool


close up of Morphy's name
The question arose whether this could be a mistake on the part of the Times rather than on the part of Fiske and Sergeant.
This question was put to rest by another, unrelated, article in the June 29, 1858 edition in which the Arabia is mentioned as having passed the eastbound Africa on the open sea. It also plainly states that the Arabia had sailed from Liverpool to Halifax, Nova Scotia.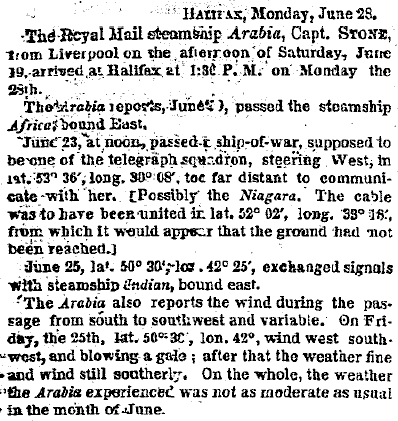 The steamer Africa, like the Arabia, belonged to the Cunard Line.
In 1838, a Canadian named Samuel Cunard partnered with Robert Napier, James Donaldson, Sir George Burns, and David MacIver to form the British and North American Royal Mail Steam Packet Company, operating out of Halifax, Nova Scotia. This company, which gained the mail-shipping rights between England and the United States, eventually transformed into Cunard Steamships Limited. Cunard's first steamship was the Britannia which premiered in 1840 with 63 passengers on a 14 day maiden voyage from Liverpool to Boston. Today Cunard operates the Queen Mary 2 and the Queen Elizabeth 2 (and soon the Queen Victoria).


Cunard's steamer Africa
The maiden voyage of the Africa, from Liverpool to New York, occurred on October 26, 1850. It remained in the Cunard Line until 1868 when it was sold.
The Africa was constructed by Robert Steele & Co of Glasgow while it's engines came from Robert Napier & Sons also of Glasgow. At 81.07 x 12.19m in size, it's gross tonnage was 2,226 [Gross Tonnage = Total internal carrying capacity of a vessel expressed in measurement tons (one measurement ton = 100 cu. ft.).]. It was built of wood with three masts and side propelled paddlewheels, capable of reaching 12 knots. Space was available for 130 1st Class and 30 2nd Class passengers.