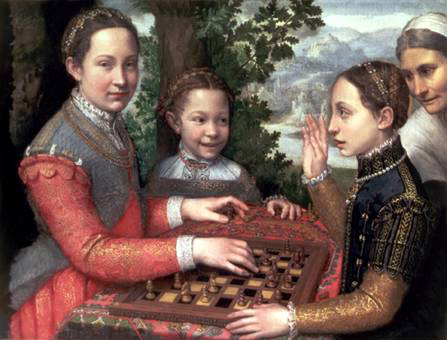 Artist's Sisters Playing Chess and Their Governess
---



Born in 1530, Sofonisba Anguissola was the oldest of the six daughters of Amilcare Anguissola, a member of the Genonese minor nobility who encouraged all his daughters to pursue excellence. This was during a time when women, especially those with breeding, were relegated to the sitting room knitting and sewing. Besides herself, four of her sisters - Elena, Europa, Anna Maria, and Lucia - were painters, but Sofonisba was by far the best and most renowned. Elena became a nun (Sofonisba painted a portrait of her) and had to give up painting. Both Anna Maria and Europa quit painting when they got married. Lucia, the best painter of her sisters, died young.

At about 11 years, Sofonisba's father sent her to study at the studio of Bernardino Campi, a respected portrait and religious painter of the Lombard school, also from Cremona, Sofonisba's home town. While she was still in her early twenties, Phillip II, made her court painter in Madrid. She held this post for 14 years.

When she returned to Italy in 1573, she married a Genoese ship captain, She had a long, happy marriage. When her husband died, his estate plus the generous pension from Philip II allowed her to paint freely and live comfortably up until she died, at age 95, in Palermo in 1625. She was internationally acclaimed and respected throughout her life.


---




Some links to her paintings:

http://www.italian-art.org/women/artists/anguissola/index.html
http://www.mystudios.com/women/abcde/s_anguissola.html
http://gallery.euroweb.hu/html/a/anguisso/index.html