MR. BLACKBURNE'S GAMES at CHESS
SELECTED, ANNOTATED AND ARRANGED HIMSELF

EDITED, WITH A BIOGRAPHICAL SKETCH AND A BRIEF HISTORY
OF BLINDFOLD CHESS

P. ANDERSON GRAHAM
LONGMANS, GREEN, AND CO.
39 PATERNOSTER ROW, LONDON
NEW YORK AND BOMBAY

1899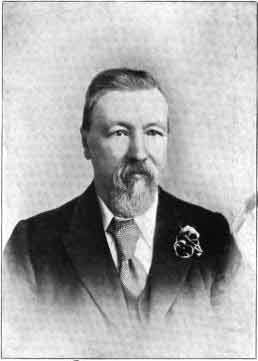 (from a photograph by J. Pettingall)




I Wish Mr. Blackburne could or would have written his own life. No one else can so happily recall the series of mimic " battles, sieges, fortunes," that form the history of a great chess player. In conversation I have known few who could so vividly reproduce the tone, gesture and accent of the dead or absent, and it would have been pleasant to let him tell his story in his own way, especially as the life of Blackburne must practically be the history of English chess for the last thirty years.
He was born at Manchester on the 10th of December, 1842—the same year as that in which Staunton's handbook was published, that is to say, at a time when great interest was felt in chess. And yet it was not this game but the simpler draughts that first engaged his attention. In those days London did not possess her present superiority in games of skill. They were almost monopolised by the north, at any rate the Trent may be said to have divided the bad players from the good. From Manchester to Edinburgh it seemed as if everybody knew about draughts. They could, at least, talk learnedly of the openings, whose very names proclaimed the region in which they originated—the Soutar, Laird and Lady, Ayrshire Lassie, Dyke, The Maid o' the Mill, all have the North-country brand. I remember myself, as a boy, how excited the Northumbrian villagers used to get over a contest between two local champions, and how they celebrated the occasion by drinking beer from a huge vessel in which it was the custom to have some penny "baps" and "wigs" floating. James Wyllie, "the herd laddie," enjoyed that supreme reputation in his own game that Roberts holds in billiards and Grace in cricket. It was a favourite pastime with mill operatives and those who followed other sedentary occupations. Thus Blackburne in a draught-playing country imbibed a love of the game with his mother's milk, and he does not remember a time when he did not know how to " huff" an opponent or crown a king. He was soon a capital draught player for his years, and luck gave him the opportunity to try his skill in many quarters. His father, in addition to other occupations, was a great temperance reformer in his day, and when he went to Ireland or Scotland for the purpose of lecturing on abstinence he took his boy with him. Joseph, in the manner of boys, proved more heedful of his favourite game than of those paternal exhortations.
It was not till 1860 that he learned the moves of chess. The year before all England had been set a-talking by the prodigious feats of Paul Morphy, who played blindfold and upset veterans in match play, and altogether flashed like a meteor across the chess world. Blackburne was infected with the general enthusiasm. On his way home from work one day he picked up, for two-pence, at a bookstall, a little book on the subject—he has utterly forgotten name and author, but it was originally published in Edinburgh for a shilling. From this he learned the moves, and judged that he was already equipped for an encounter. But that was only the joyous confidence of youth. Chess was not so popular then as now, and he had some difficulty in finding an opponent. He at last discovered that in a sort of temperance hotel or coffee-house a number of players were accustomed to meet once a week, and thither he resorted. As may easily be imagined his first battle ended in disaster. He was sitting in a profound meditation wondering if he distinctly remembered the Knight's move and the correct method of castling when his opponent announced checkmate. But he procured Staunton's handbook, studied the openings, played when he got a chance, and in a very few weeks was giving odds to his whilom conqueror. He now joined the Manchester Club, and beating one player after another soon came to hold a leading place in it. The first thing to give him an idea of his own strength, however, was his defeat of Pindar. This was the name of a well-known Russian exile who had been long resident in Manchester, and was reckoned champion of the Provinces. Happening to come by accident into the club one night he was pitted against the young hero, and lost two games out of three. The very same thing occurred again about a week afterwards. Various other little triumphs combined to swell his local reputation. In Liverpool there was at the time a youthful prodigy of his own age from whom great things were expected. The two were pitted against one another at a match between the clubs and Blackburne won. His opponent's name was Wellington, and the game has been preserved— it will be found in the off-hand section of this book.
But the success that gratified him most—that yielded more pleasure than many a subsequent performance—was his coming out first in the Manchester Club Tournament of 1861-2. His runner-up was Horwitz, justly celebrated for the precision and accuracy of his end play. It is to the early lessons of Horwitz that Blackburne attributes his own proficiency in this part of the game. This winning of the club championship practically brings to an end one portion of Blackburne's career— that in which he figured as an amateur. Events were shaping to bring him into the ranks of the professional.
There is a certain happy-go-lucky side to Mr. Blackburne's character that must be reflected in his biography. Although in some respects firm and resolute to a degree, he was not one of those who take the helm in their own hands and, blow the wind as it may, doggedly make for a certain point, but rather he spread his sails to the breeze, he floated on the tide, he drifted before circumstances. It never was any ambition of his to depend on chess for a livelihood, and probably he had no inherent love for that kingdom of Bohemia wherein his tent has been continually pitched.
Two things combined to bring him into this career. First, his fame was ever waxing greater, and in the year 1861 it happened that Herr Paulsen came to Manchester on one of his blindfold itineraries. Blackburne took a board, and was beaten in a very pretty game, which will be found in its proper place in the book. The effect of this was to stir within him a great desire to try blindfold play on his own account. The very next day he induced a strong player to begin a contest in which Blackburne should not see the board. He came off victorious, and shortly after played three opponents with the same result. That was in the winter of 1861. In the spring of 1862 he engaged four opponents successfully, the games produced being bright attractive specimens that have been preserved, and will repay the trouble of playing over even to-day. After that he challenged ten members of the Manchester Club, and emerged with the fine score of five wins, two losses and three draws.
As may very well be imagined, these doings gave wings to his reputation. The Manchester people believed they had found a genius, and so competent a judge as Mr. Howard Staunton, the greatest player of his time, said, in the Illustrated London News of 15th February, 1862 : " On this (the first) occasion the unseeing performer was a young English amateur, who, without any previous practice in blindfold chess, succeeded with perfect ease, and with marked ability, in winning four games played simultaneously against as many opponents ". Of the set of ten he remarked : " When it is considered that our young countryman has had very little practice in chess play of any description, and that in playing without seeing the board he is quite a novice, this last exploit appears to us the most wonderful of its kind that has ever yet been recorded ".
Just then arrangements were being made for the Tournament of 1862, and naturally the admirers of Blackburne wished to see their favourite take part in it. And this brings us to the second of the causes that led him into professional chess. Neither he nor any one else appears to have made any definite plan for the boy's future. His father by this time had taken to photography, and the earliest work of the boy was to assist in producing the daguerreotype then in vogue. But that was given up, and he had entered a hosiery warehouse—a very useful calling, no doubt, but not likely to call forth devotion or enthusiasm. At all events young Blackburne was engaged there when asked to take a part in the great tournament of 1862. He accepted, but I doubt if in doing so he was inspired chiefly with a love of chess. Bather he regarded it as a pleasant outing. He had not previously been to London ; he wished to see the great exhibition then on ; and, best of all, his expenses were paid. So he bade what proved to be an eternal adieu to the hosiery business, and set out for the first of the great chess struggles in which he was to take part. Before touching on it, I may as well close the account of his very brief career as a business man. It was the time of the cotton famine, and business was very dull in Manchester. When he returned from his prolonged holiday his employers said that his place had been filled up and his services were no longer required. He found another situation, but, truth to tell, regular hours and desk work did not very well suit his constitution, and the doctor told him that travelling was good for his health. He had also found the air of Bohemia far from unpleasant, and so he glided back to the alluring pastime.
The Tournament of 1862 had been promoted by the British Chess Association, whose history was as follows : Before modern travelling facilities were invented, it had been felt that country clubs were too much isolated. The members played with the same opponents year in and year out ; they adopted the style and peculiarities of their one best player ; enjoyed few opportunities of measuring themselves with those outside their immediate circle, and scarcely knew what first-class play really was. This did not suit the views of the enthusiasts, and in 1840 a number of zealous Yorkshire players conceived the idea of mustering a number of clubs for what seemed to their minds a grand carnival—a whole day's play. Out of this was developed the Yorkshire Chess Association, and from it in due time the British Chess Association. The meeting of 1862 was the eighth held under its auspices, the seventh having assembled at Bristol a year before. As this is being written, in 1899, London is again the scene of an International Tournament, and we may well pause a moment to consider what changes have taken place in the interval. And first there is that of the men themselves. There are but two names that appear in both lists of players, those of Mr. Blackburne and Herr Steinitz. But the Wonderful Boy of 1862, the boy with an unknown and, because unknown, romantic future before him, is now a grey veteran. As I saw him playing the youthful Maróczy I could not help thinking how thirty-seven years ago he had played the aged Anderssen in pretty much the same relative position as that in which Maróczy stood to him. Hard by sat his life-long rival, Herr Steinitz, in 1862 also at the opening of his career, and now bearing still more than Blackburne the impress of the years. Then there is Mr. Bird, bent almost double, yet full of vitality—he was not in the Tournament of 1862, though, nevertheless, in his prime. It may be useful, however, to give the two lists for purposes of comparison.

Players In The Tournament Of 1862.

Foreign. English.
Herr Anderssen. Mr. Barnes.
Herr Löwenthal. Mr. Blackburne.
Herr Paulsen. Mr. Deacon.
Herr Steinitz. Mr. Macdonald.
M. Dubois. Mr. Mongredien.
Mr. Owen.
Mr. Green.
Mr. Robey.
Mr. Hannah.

Like many other tournaments, it was as remarkable for the names left out as for those included. To mention a few, Paul Morphy was out, and Bird and Boden, Heydebrand, Petroff, Jaenish, Harrwitz, Kolisch, St. Amant, Journoud, Laroche and Max Lange. There was also a handicap won by Captain Mackenzie, to whom Anderssen gave Pawn and move. To-day a new generation of players has sprung up, but they are nearly all foreign, as will be seen by comparing the two lists. Here are the names of the players in the Tournament of 1899 :—

Players In The London Tournament Of 1899.

Foreign. English.
Herr Lasker. Mr. Blackburne.
Herr Marocsy. Mr. Bird.
Herr Schlechter. Mr. Lee.
M. Janowski. Mr. Tinsley.
M. Tschigorin.
Herr Teichmann.
Herr Steinitz.
Herr Cohn.
Mr. Pillsbury.
Mr. Showalter.
Mr. Mason.


And here, too, are many vacant places—Dr. Tarrasch and Walbrodt and Lipke and Charousek and Burns, for example. It will be observed that the English contingent is composed of middle-aged or elderly men, whereas the most conspicuous foreign masters are young. The pursuit of chess is not sufficiently lucrative to attract talented English lads, though the number and ability of our amateurs show that the game is more popular with us than ever it was before.
A change of manners as well as of men has taken place, and some of the regulations in force thirty years ago look quaint to-day, as, for example : " Two-thirds of the players agreeing may compel Pawn to King's fourth to be played on each side every game ". The minimum rate of play was slow, viz., twenty moves in two hours, but yet it was enacted that " the game shall be played out at a sitting ". Time was measured by sand-glasses. The chess clock, which, by-the-by, was first suggested by Mr. Blackburne, had not yet come into existence. For the first time, at this tournament was adopted the modern system of every player playing at least one game with each other competitor.
It was not to be expected that Blackburne would do well at this tournament, as his previous practice had all been with provincial players, who were not so strong then as the same class is now, and this was the first occasion on which he had met really strong men. He gave a taste of his quality, however, by defeating Steinitz in the first encounter that ever took place between them, but, finding his position hopeless, he withdrew at an early date from the contest. Before that, however, he had given a blindfold display that' once and for all established his reputation as an expert.
I can scarcely do better than quote from the book of the tournament the contemporary account of this exhibition, and I do so the more willingly because several of the distinguished men who opposed Mr. Blackburne are still alive and remember the scene perfectly.
Friday, 4th July.—This day's proceedings were the most brilliant of the series. It was the occasion on which Mr. Blackburne was to exhibit his marvellous faculty of blindfold play. Much interest had been excited, and speculation was rife as to the ability of a youth of nineteen to achieve success in a department wherein Messrs. Morphy and Paulson so pre-eminently shone. At an early hour, therefore, there was a large throng of amateurs to witness the performance. At one o'clock Mr. Blackburne took his seat, and all other preliminaries having been arranged as in Mr. Paulsen's case, the blindfold player commenced by taking the move in all the games. In each case it was Pawn to King's fourth. The following were his ten antagonists :—

1. Lord Eavensworth. 6. W. Chinnery, Esq.
2. H. T. Young, Esq. 7. J. P. Gillam, Esq.
3. W. J. Evelyn, Esq. 8. Eimington Wilson, Esq.
4. A. S. Pigott, Esq. 9. A. G. Howard, Esq.
5. H. B. Parminter, Esq. 10. A. G. Puller, Esq.

There was a notable difference in the minds of the spectators of this match and of those who looked on at Mr. Paulsen's feat. In the latter case there was the certainty that what had been promised would be performed, Mr. Paulsen having often given proof of his wonderful capacity. But amongst those who came to see Mr. Blackburne play there was a slight nervous feeling that possibly the young athlete had over-estimated or over-taxed his powers, and that some unlucky mistake, occurring at a critical moment, might so confuse him as to render him incapable of further effort. As the games proceeded, however, it became evident to all present that no apprehension need be entertained. The rapidity and precision of his moves elicited universal admiration, it being remarked that he seemed to play with greater ease than even Mr. Paulsen. An incident that occurred at Mr. Evelyn's board still further heightened the gratification of the spectators. A certain move on the part of Mr. Evelyn was announced to Mr. Blackburne ; this he pronounced to be impossible, great curiosity being excited as to the party liable for the error. The moves from the beginning of the game were then called by Mr. Blackburne from memory, and it was then discovered that the position on the board was wrong. The rectification of this error drew forth loud cheers from all sides.
After Mr. Chinnery struck his flag there remained but one antagonist, Mr. Puller. No better fate than that of the majority awaited this gentleman. At a quarter to eleven o'clock, amid the loud and long-continued applause that greeted him, Mr. Blackburne won this game also, swelling the list of the vanquished to five. The final score was :—

Blackburne - - - - - - 5
His adversaries - - - -2
Drawn - - - - - - - - - 3


The result was a genuine triumph. Nothing could exceed the enthusiasm which was evoked at the conclusion of an effort that rivalled the performances of the greatest masters in this peculiar department.
I have at some length described the Tournament of 1862 because it is the starting-point of Mr. Blackburne's career as a professional player of chess. He did not, however, rush into chess all at once. It will be noticed that while 1862 and 1863 are well represented in the games, the subsequent years up to 1867 are almost blank. During that period he played very little in public, but gave his attention largely to business. It will interest the reader to know that the inventive faculty which produces effects so charming in chess was equally marked in other pursuits. Mr. Blackburne is pre-eminently a man of ideas, and has either suggested or vastly improved several useful mechanical contrivances as well as new games. Had the commercial instincts been equally developed, he might have made a fortune out of them, but where he sowed others reaped the harvest. The power to do things is not always joined to an aptitude for taking advantage of it.
One congress is so like another that it would be tedious to go through them all with the same detail, especially as the list of successes concluding this brief account gives nearly all that is required. In the notes to the games Mr. Blackburne has himself touched upon many a vivid little incident connected with them. His life naturally divides itself into three parts. First there are those great contests occurring almost annually and consuming nearly two months of every year. In the second place comes his experience as an itinerant performer, and thirdly, the ordinary day-by-day existence of a chess player in London that would be hum-drum were it not so curiously Bohemian.
As a tournament player Blackburne never has had an equal, if regard be paid to the long period during which he has held his place in the first rank. He has never failed to secure a prize, and that in itself is a great deal to say when we consider how much a man's form must vary in the course of forty years. Often he has been at the top, and even when not there has generally managed to distinguish himself by a fine victory over his more fortunate competitors. The beautiful game in which he defeated Herr Lasker in the 1899 contest may be cited as an example. Indeed it is a noteworthy circumstance that his most brilliant combinations have been produced against his strongest opponents. It was so in 1867, when, defending the King's Gambit against Neumann, the winner of the tournament, he played one of the greatest games on record, and it was equally so in 1899. The same thing is true of his blindfold and simultaneous games—the best of them are against the most skilful players.
Apart from the game itself there is not much incident connected with chess tournaments, but that of 1870 was an exception. The International Congress was held that year at Baden-Baden, and while the players were conducting their mimic warfare on the boards, France and Germany were making ready for the terrible conflict that left Sedan and Metz and Paris with new historical associations. While the players were engaged in conducting their various gambits and openings, troops were marching, and war correspondents hurrying, to Baden-Baden, where the French were expected. Most of the players had in the end to scuttle off home in hot haste, and Blackburne himself was arrested as a French spy. It would not have been a serious adventure to any one but a peace-loving chess player. On one of his bye-days he had made an excursion to Radstadt, and was calmly ordering dinner in his hotel when a German officer entered, placed two sentinels at the door, and asked to see his papers. Blackburne was then told—though with perfect civility—that he must consider himself under arrest, and would not be permitted either to communicate with any one or leave the hotel that night. Next morning, however, the carriage was brought to the door, and he was not only released, but the whole of his expenses at the hotel and back to Baden-Baden were paid. The only change he noticed was that the conveyance had a new driver, and it afterwards turned out that the Jehu who had acted in that capacity the night before was really a French spy, who in this disguise had hoped to enter the fortified town of Radstadt. It is a contrast on which a philosopher might enlarge—that of grown men producing mimic strife with little wooden kings and queens, while living princes were leading two great nations to the stern arbitrament of war. A reference to the Evans Gambit played between Blackburne and Steinitz will convince any one that the concentration of the players was not interrupted by any outside disturbance got up by Bismarck and Napoleon.
Blackburne does not easily become excited. They used to call him " the giant," " the man with the iron nerves " and " Black Death," phrases which show how he differs from the average chess player. Most of the proficients are small in stature, and a great number are emotional. Indeed it is almost pathetic to note what a contrast there is between the beginning and end of a contest. The competitors go forth to battle all gay and light-hearted ; the vain full of swagger, and the merry with jests on their lips. But after two or three weeks the hard fighting begins to tell. To one who plays chess for amusement only the inside of a congress room then becomes a revelation and no pleasant one. The brainwork and anxiety develop all the physical weaknesses of the players ; if a man has an infirmity he becomes more infirm ; if he is subject to disease the disease is almost certain to attack him. Mr. Blackburne is no exception to this rule, and the end of a congress generally brings on the bronchial complaint from which he has suffered so much. And the development of physical weaknesses is the least of it. The mental strain produces effects still more disagreeable. These modern gladiators, though they wage war only with harmless bits of wood, engage in as cruel a conflict as ever did those who wielded the sword and the retiarius. Not only money and fame, but even the means of livelihood depend on the issue, and when the last games come to be played, and those who have hoped against hope begin to see at last that victory is not for them, dejection and depression seize even on the light-hearted, and losers have been found sobbing like children in the corridors. On the other hand I can fancy I see old Anderssen leaning on his stick and flinging his hat in the air with joy when sure of the first prize, and Maróczy clapped his hands with boyish glee when he won the last of his games in 1899.
Mr. Blackburne seems scarcely to know what nervousness is. When a hard-fought game is trembling in the balance the limbs of many players twitch and quiver with excitement, some break out into a heavy sweat, others stare at the table as if trying to penetrate it. But let the game go well or ill the face of Blackburne wears always the same impenetrable mask. There was a description published of him in the book of the Vienna tournament of 1873, which, allowing for the changes made by the years, might stand for to-day. Says the writer : " The pale, lean, muscular young man opposite is the iron Blackburne, the Black Death of chess players. But very seldom there falls from his moustache-covered lips a laconic English word. He surveys the game with the eye of a hawk ; even now he is tearing to bits a snare laid for him by his unsuccessful opponent, and a demure smile steals over his face."
In personal matches Mr. Blackburne has not been so successful as in tournament play. He has, it is true, won many ; but he has lost on several important occasions, and attempts have frequently been made to explain why.
In chess it is exactly the same as in literature—talent is always more sure of success than genius. The most ordinary " wood-shifter," by long study and analysis, can acquire a steady defensive style of wood-shifting, and if patient and fairly intelligent can work up to a high standard of play. One of his sources of strength is that he depends entirely on what, as a Scot would say, " is putten in wi' a spune ". Any man of sound, clear common sense could become a chess player of the first rank, provided always that the fire and shadow of passion and fancy did not interfere with the steady, cold, calculating brain. But genius is something other, something beyond the first rank, and it is rare in chess as it is in letters. You could count on one hand all who deserve the name. I would go to the Café de la Régence for the first, for Philidor is the leader of the moderns. Breslau would give us the next, in point of time at all events ; but who shall decide whether Anderssen was greater or less than Paul Morphy? With these the subject of this memoir deserves a place. He, too, has something beyond a talent for the game—he has genius. And I by no means say that this gift is always a blessing to its possessor. Talent is more under command, is more manageable, and while it is content to labour, genius has a haughty self-reliance that is not always justified. But just as one would never dream of admitting a man's name into the brief list of great writers simply on account of a vast sale of books, so the genius of a chess player is demonstrated not by his victories but by the quality of his play. A modern match, indeed, is largely a trial of patience. Each competitor gets up an opening—a safe and sound one like the Buy Lopez or the Queen's Gambit—and day after day toils at its variations. Genius will never shine at that task—you might as well harness Pegasus to a broomstick.
There is no chess contest in this country that excites keener interest than the annual match by cable with America. It originated in a struggle between the Manhattan and British Chess Clubs, but some one had the happy thought of giving this an international character. For various reasons it is very popular. The prize is honour and honour alone as far as the individual player is concerned, and it is well understood that both nations do their utmost to put their best team in the field. Mr. Blackburne has always played top board on these occasions against Mr. Pillsbury, the champion of America, and is seen at his very best in them. Out of four contests he has drawn twice and won twice. I shall not easily forget the scene that occurred in the Hotel Cecil in 1899. England had done badly. Several of our players after obtaining the best of it had allowed victory to slip through their fingers, and at eight o'clock we did not seem likely to win a game. The only possible chance lay with Blackburne, and he had a position where the advantage was so infinitesimal, if advantage there was at all, that in ordinary cases the game would have ended in a draw. At one time it was being analysed on at least twenty boards, for it seemed as though all the chess talent of London was there that night. But no sooner did any one prove a win than somebody else demonstrated there was no win. Of course, all this was unknown to the player, who sat behind the ropes smoking his pipe and no doubt meditating what could be done with the position. He never played an end game better, and the enthusiasm was something to remember when at last Pillsbury was compelled to resign. In was one of those well-fought struggles that Englishmen always love to witness.
On several occasions Mr. Blackburne has been invited to go abroad and exhibit his marvellous powers of blindfold play—one of the most remarkable of these excursions being that to Habana in 1891. Asked by a cablegram, directed to Simpson's, if he would care to visit the famous club there, he answered with a concise " yes," and travelling via New York in due time arrived. He played two set matches, one with Senor Golmayo, the champion of Spain, and the other with Senor Vázquez, the first player of Mexico, winning both. The respective scores were, in the first match :—

Blackburne - - 5
Golmayo - - - 3
Drawn - - - -- 2
Total - - - - - 10

And in the second :—
Blackburne - 5
Vázquez - - - 1
Total - - - - - 6

During the seventh game with Golmayo a curious incident occurred. The Spaniard had played a Scotch Gambit, and, by a queer coincidence, a party in an adjoining room were amusing themselves with Scottish airs. " Scotland is always to the fore," said Mr. Blackburne, as he was losing, and " Scotland for ever and ever," sang out Senor Machado and other onlookers.
On this occasion Mr. Blackburne also took part in a number of interesting consultation games, and also played a set of six blindfold games. Of the latter he won four, lost none and drew two. Specimens alike of the blindfold, match and consultation games will be found in their respective places in the book. It was, on the whole, a pleasant and successful visit.
On the other hand it was severe illness that led to his Australian tour in 1885. For a long time his life was almost despaired of as he suffered, among other things, from congestion of the lungs. The doctor ordered a long sea voyage, so that he went for health and not for the purpose of playing chess. Being there, however, he received many requests to exhibit his power as a blindfold player, and that this was not impaired will be evident from the scores he made, and the selection of games which will be found within these covers.
Earlier than that he had, on the invitation of the Dutch players, visited Rotterdam and the Hague, where he engaged most of the prominent players in blindfold play. A set played at Rotterdam was afterwards edited and published in the form of a Dutch pamphlet, with very copious notes, for which he supplied the material. At the Hague he played in the Orange Palace six players, of whom the Prince of Orange was one. His Royal Highness proved himself an amateur of no mean capacity.
No other great chess player is so well known in the provinces as Mr. Blackburne, and this comes from his habit of making annual tours for simultaneous and blindfold play. He began this as early as 1863. The doctor told him, too, that travelling was essential to his health, and he knew no other way of getting about than by offering to visit clubs for blindfold play. He is always welcome and always popular. Before his day it was customary to make a solemn function of these exhibitions—Löwenthal, whose very name will suggest a hundred droll stories to chess players,—went in full dress, and was as silent and pompous as a father confessor. He was shocked when Blackburne flung these traditions to the wind, met his audience in ordinary apparel, and all the time he was playing bubbled over with chaff and irony all his own. Very entertaining is it now to hear him when in the vein calling up reminiscences of these journeys, but they would lose half their attraction in print, because, being a born mimic and possessor also of a dry, pungent wit, his way of telling such stories is the life of them. He is at his very best when playing two or three stiff simultaneous games, his brain screwed to concert pitch in his endeavour to find one of these ingenious mates that render his games so delightful, throwing off jests as a bye-product, so to speak.
One can imagine that he needs some relief to the hard, continuous brain-work. He calculates that since 1861 he has played no fewer than 50,000 games at chess, and I think the estimate is probably under rather than over the real figure. A brief calculation will show my reason for so believing. He goes off on his chief tour early in October and does not return till Christmas, beginning another early in January. During the autumn of 1898—and it was no exceptional season—he played close on 1100 games. The record of a single week's play will enable the reader to judge for himself. It is for a week in January, 1889, and is no more than representative of hundreds of other weeks.
On the 19th he played 29 simultaneously at the Manchester Athenaeum.
Result—23 won, 4 lost, 2 drawn.
On the 21st he played 30 games simultaneously at Newcastle-on-Tyne.
Result—20 won, 3 lost, 7 drawn ;
the draws due to want of time on the part of his opponents.
On the 22nd, at the same place, he played 8 simultaneously blindfold.
Result—5 won, 3 drawn.
On the 24th he played 30 simultaneously at Manchester Reform Club.
Result—23 won, 1 lost, 6 drawn.
On the 25th he played 20 simultaneously at the St. Anne's Club, Manchester.
Result—14 won, 4 lost, 2 drawn.
In one week, therefore, he played 117 games in public, of which eight were blindfold.
Between 1st October and 25th December he, as a rule, has played from 1000 to 1100 games. January and February are equally busy, and during the succeeding months his engagements are irregular, so that it is a fair estimate that he has been in the habit of playing at least 2000 games a year. If allowance be. made for the few seasons during which illness or some other cause kept him at home, it will be seen that his estimate of the total cannot be very far out.
These journeys have given him a unique knowledge of English players and their style. In some respects these have changed greatly during the last twenty years. At first, when he used to travel, and to some extent even yet, it was like going from circle to circle. Each group modelled itself on the strongest local player. If he happened to be of the safe and cautious type most of the others were so likewise ; if he were dashing and brilliant, lively games were the order of the day. Recently, however, the multiplication of chess columns in the newspapers and the frequency of inter-club play has tended to modify this state of things. He illustrates this by reference to the famous Blackburne trap, as it is popularly called: He used to catch three or four a night in it, whereas now every tyro is up to the dodge. As a matter of fact the particular mate was first produced by M. de Kermar, Sire de Legal, in 1702, in a game wherein he gave the odds of Queen's Rook. It was he that taught the great Philidor to play. The game was as follows, and I give a diagram to show the trap :—

White. Black.
M. de Legal. His opponent.
1. P-K4 1. P-K4
2. B-B4 2. P-Q3
3. Kt-KB3 3. Kt - QB 3
4 Kt-B3 4. B-Kt5
5 KtxP5

Black to make his 5th move.
Black.


White—Legal.

5. BxQ
6 BxP + 6. K-K2
7 Kt-Q 5 mate.


It looks a very simple affair, but the position may arise in a variety of ways. Chess players will remember that in the match played at St. Petersburg during the winter of 1893, between Dr. Tarrasch and M. Tschigorin, the Eussian champion was caught in it on the tenth move of the fifth game, the position being as follows : —

Black—Tschigorin.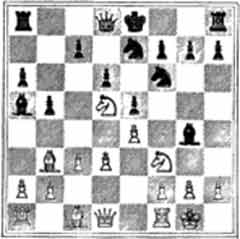 White—Tarrasch.

Tarrasch played Kt x P, and though Tschigorin is too experienced a player to pounce on the exposed Queen his game was irretrievable. But that such a thing should occur in first-class play renders it the less wonderful that Blackburne should have had great fun with his famous trap in the provinces. Often the victim steps in while he is even on the look-out for it, and many of us know and remember the affectation of surprise, the little start, with which Mr. Blackburne appears to discern that he has left his Queen en prise, and the suavity with which successive checks follow. Yet, although this is his fun, he carries on any number of strong, sound games along with it, and despite the education afforded by the press and the general improvement in play, he holds his own now as well as ever he did. I remember, on the 23rd of December, 1898, being present while he played thirty members of the City of London Chess Club. Among1 them were several strong amateurs who play well up in the matches of what is probably the strongest club in the world. He did not lose a game and drew only five. Moreover, he won the rest in beautiful style, conducting at once half a dozen endings that were immensely admired for their ingenuity and beauty.
Except for the everlasting strain on nerve and brain all this wandering with its incessant change and variety would be by no means unpleasant. A great chess player in our day has an opportunity of observing men and manners of many different places. There are few countries in Europe wherein Mr. Blackburne has not played chess, and, as will be seen from the games, not many towns in Great Britain where his is not a familiar figure. It only remains to describe as briefly as may be the life of a chess player in London.
I sometimes think that Mr. Blackburne is ultimus Romanorum the last of the great English chess players. The generation to which he belonged is dying out and another is not arising. Yet the paradox is that chess never before was so popular or the number of clever amateurs greater. Scarcely a year passes, for instance, without the universities producing a fine player, and many that are excellent spring up at the clubs. But they never become more than first-class amateurs. At an international tournament one is struck by the number of young foreign masters and the absence of new faces from this country. Without exception our representative players are past their prime, while Lasker, Pillsbury, Janowski, Maróczy, Lipke, Charousek, are all young. As the ability of our youthful players is beyond question, we can only attribute their standing out to the fact that professional chess does not offer a sufficient pecuniary inducement. The fact is, that a man with brains enough to become a chess player of the first rank has a hundred better chances of earning a livelihood here. For it is curious that the most intellectual pastime yields the least return to its professionals. This country pays more for muscle than brain. Cricket, football, boxing, billiards, golf—anything is better than chess. I by no means say this is to be deplored, and the advice of any sensible man to a lad meditating on this career would be that of Punch to those about to marry—Don't. But the fact that we have no young man who can be looked to as a successor of Blackburne is worth noting.
One reason probably is that it is a game which has usually been played for small stakes. Among amateurs, indeed, there is seldom a wager on chess. In Simpson's famous divan in the Strand, where, in their time, Staunton and Buckle, and Zukertort and Steinitz have played, the old traditions are kept alive, and a stranger entering is solicited to play for a shilling a game. However, not many masters of the first rank condescend to that, and, in point of fact, the playing of all-comers for small sums of money has been practically discontinued by men of chess reputation. A more admirable and useful practice is for a club to engage a master as coach. In this capacity Mr. Black- burne acted while living at Hastings, and the results were excellent in every way. The club in London with which he is most closely connected is the City of London, of which the president is Sir George Newnes, a patron of chess and a player of no mean capacity. Since 1867 Mr. Blackburne has taken an active interest in it. The City of London Chess Club, as far as the number of players and their playing strength are concerned, is undoubtedly the strongest in the world at the present moment (1899).
Simpson's was the great and almost only chess resort when he began playing in 1862. The Philidorian rooms and Purssells were, however, still in existence. The Divan now has many rivals, and where there used to be one chess resort in London there now are hundreds.
Into the details of Mr. Blackburne's life outside of chess it would not be proper to go in the case of one who, as this is written, is not only well and strong, but holding his own against young and old in the International Tournament at the Aquarium, and as capable as ever he was of baffling his adversaries with a combination. Besides, it seems to me that the biographical interest of his life centres in 1862, when the young lad from the country, not dowered with superior education or advantages of any kind, came up to London and played ten good players at chess blindfold. The whole landscape was all in front of him then, and of a hundred sunny tracks it was a question which he should follow. It lies behind now, but the games show where the path led. I think he has derived pleasure from fighting his old battles over again and recalling in his vivid way the scenes and incidents by which they were accompanied. There is many a chess friend in whom these pages will stir similar recollections.

Mr. Blackburne's Successes.

The following is a list of the more important distinctions won by Mr. Blackburne in the course of his chess career. I begin with the one in Manchester because, though the least, it was the first, and probably he never was so proud of another victory as he was of this :—

1861-2 Won first prize in Manchester Club Tourney. Horwitz second.
1868 The B. C. A. Challenge Cup and Championship of England. De Vere tied, but Blackburne won in the play off.
1870 He divided third prize with Neumann in the International Tournament at Baden-Baden. Anderssen and Steinitz first and second.
1872 Second in London Tournament. Steinitz first, Zukertort, De Vere and Macdonell tying for third place.
1873 Second at Vienna—this was where the German called him the "Black Death" of chess players. Blackburne ought to have been first as he beat Steinitz in the match, and if he had vanquished his last opponent, Rosenthal, would have been the winner of the tourney. He turned unwell, however, and lost this game, letting Steinitz tie, and still being ill ho lost to Steinitz in the play off. 1876 First at Divan Tournament. Zukertort second, Potter third.
1878 Third at Paris. Zukertort and Winawer had tied for first and the former won the tie match.
1879 Defeated Bird in a match by 5 to 2.
1880 First with Englisch and Schwarz at Wiesbaden Tournament—there were sixteen entries.
1881 First at Berlin, followed by Zukertort, Tschigorin and Winawer. This was a splendid victory as Blackburne had three games to spare at the end. In the same year he defeated Gunsberg in a match wherein he allowed his opponent two games start.
1882 Sixth prize at Vienna.
1883 Third prize in London Tournament—that was the year in which Zukertort was first, followed by Steinitz.
" " Second at Nuremberg—only half a point divided him from the first— Winawer.
1885 Second at Hamburg. In hunting parlance, a blanket could have covered all the players at the end. Gunsberg was first, then, only half a point behind, came a group of five, viz., Blackburne, Englisch, Mason, Tarrasch and Weiss.
" " First at Hereford International. Schallop and Bird tied for second place, Mackenzie was fourth.
1886 First in London B. C. A. Handicap Tournament. Bird and Gunsberg tied for second. " First in " Criterion " Tournament. Burn second.
1887 Defeated Zukertort by 5 to 1 and 7 draws.
" " Second prize, tied with Weiss, at Frankfort International Tournament.
Mackenzie first. " Third prize, London B. C. A. Burn and Gunsberg tied for first.
1888 Sixth at Bradford.
" " Defeated Bird in a match by 4 to 1.
1889 Fourth Prize at New York—he played splendidly at the beginning and came out top at the end of the first round, but went quite out of form in the middle of the second round.
1890 Defeated Lee by 6 to 2 and 7 draws.
" " Second prize at Manchester International. Tarrasch was first, Bird and Mackenzie tied for third.
1891 Defeated the Spanish champion, Golmayo, by 5 to 3 and ? draw, and also Vázquez, the champion of Brazil, by 5 to 1.
1892 Second in Five Players' Tournament—Lasker first—at British Chess Club. " First in Black and White Tourney. Special prize for best score against prize-winners at Dresden. 1894 Fourth prize at Leipzig International Tournament.
1896 Special prize for best score against prize-winners at Nuremberg.
1897 Third prize at Berlin.
1898 Special prize for best score against prize-winners at Vienna.
1899 Sixth prize at London International Tournament.