Lawrence Totaro, chess collector and chess detective who lives in Las Vegas, Nevada, came across my previous entry of Diane Savereide and generously offered some of his own information and paraphernalia to help round off our picture of Ms. Savereide. But his offerings, simple on the surface, are bound with some complexities.
The story begins in Lone Pine, California where the Louis D. Statham Chess Tournaments, generally called the Lone Pine Tournaments, took place between 1971 and 1981. Each tournament has had it's own unique mystique and, oddly enough, while this story took place at the 1976 event, it really had nothing to do with the event itself.

Diane Savereide was the US women's champion at this time. While she was attending the Lone Pine Tournament, she wasn't qualified to play in it. Also attending the tournament, yet unqualified to play, was Ruth Volgl Cardoso. Ms. Cardoso, 20 years older than Ms. Savereide, was the Brazilian women's champion who was awarded her WIM in 1969. Far more than simply being the Brazilian champion, Mr. Cardoso was the strongest woman chess player in that hemishpere and had a list of victories in both national and international events to prove it. At this point in time her most recent impressive achievement had been winning the women's trophy, ahead of Ms. Savereide, in the 1975 U.S. Open, played in Lincoln, Nebraska.
While not pertinent to this page, the Nebraska Chess Assoc. page relates an anecdote it culled from the Nov., 1975 issue of Chess Life & Review's article, The US Open at Lincoln, by Tim Redman.
The ceremony was presided over by Lincoln's first woman mayor, the charming Helen Boosalis, who 'threw out the first pawn' against top-rated Bill Lombardy. Before making the move she welcomed the players and addressed herself to the occasion.
"While I understand that pawn to King-four is the most common opening', she said, 'in light of these
modern times I choose to play pawn to Queen-four."
(It is appropriate to mention that Ruth Cardoso won the women's trophy, despite strong competition from the current US Women's Champion, Diane Savereide)
After about ten minutes, when things had settled down, we noticed that Lombardy's opponent had not yet appeared. We found him in the hall outside the tournament room, nervously pacing back and forth.
"Aren't you going to play your game?" he was asked.
"But I've never played 1 P-Q4 in my life; I don't know what to do," he replied.
We assured him that the mayor's move was only ceremonial and that he could play whatever he liked. Relieved, he hastened to his rendezvous with Grandmaster Lombardy." ..."
For the record, Cardoso placed 85th with 7 pts.; Savereide placed 135th with 6.5 pts.
One would think that with Cardoso's record which included numerous Brazilian and Argentine championships, many Olympiads (including the best women's results in 1972 Skopje), winning two Canadian Opens, two U.S. Opens, a World Open and even the Women's Championship in New Jersey , Diane Savereide would have been outclassed. But, much to Savereide's credit, the close results in the 1975 U.S. Open indicated otherwise.
These two ladies attended the 1976 Lone Pine tournament but neither was rated high enough to qualify. According to Jerome B. Hanken in the California Chess Reporter, 1976 (online at ChessDryad.com):
In 1975, there was a lady in the tournament, Alla Kushnir, who received a lot of attention and did quite well. No woman entered in 1976, but Arthur Dake noted after Round one that Diane Savereide, United States Women's Champion, and Ruth Cardoso, United States Open Women's Champion, were both present, but not high enough rated to play. Dake suggested a match and Doris Statham came through with a prize of $100 to the winner and $50 to the loser. The match was arranged and set up on a card table in the extreme west
end of the playing hall, and yours truly was pressed into service as the official arbiter. Cardoso was ill with the flu and hung a rook in game one. Game two was postponed, but when it was played, Savereide had a pawn more, but could not win. In Game three, Savereide again could not push home a pawn advantage and when Cardoso sacrificed successfully in the last game, the match was declared drawn and the cash split.
Once again Savereide demonstrated she was equal to this world-class woman chess player.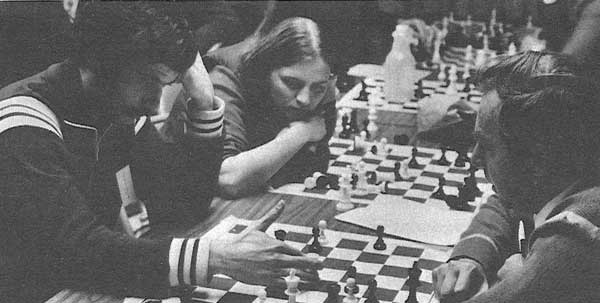 John Fedorowicz analyzing with Oscar Panno as Diane Savereide watches.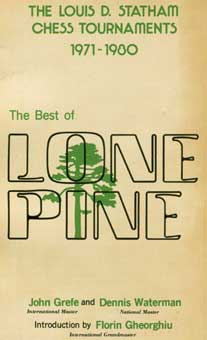 Louis D. Statham was a chess benefactor in Southern California. He died n 1983.
The picture above was scanned by Lawrence Totaro from page 169 of
THE LOUIS D. STATHAM CHESS TOURNAMENTS 1971-1980 The BEST of LONE PINE by John Grefe and Dennis Waterman, introduction by Florin Gheorghiu and the actual photo was from the 1978 tournament.
Mr. Totaro specifically offered something more interesting than a scan from a book.
Below are 3 of the 4 actual scoresheets of the match between Diane Savereide and Ruth Cardoso that ended in a draw.
Game 1 is missing. Below are games 2,3 & 4.
Notes by Mr. Totaro.
---
Game 2:
Louis D. Statham - Lone Pine Master Chess Tournament 1976 // Special Chess Match between Ruth Cardoso (U.S. Open Women Champion) and Diane Savereide (U.S. Women Champion) // Game #2, Result Draw // Wednesday, March 10, 1976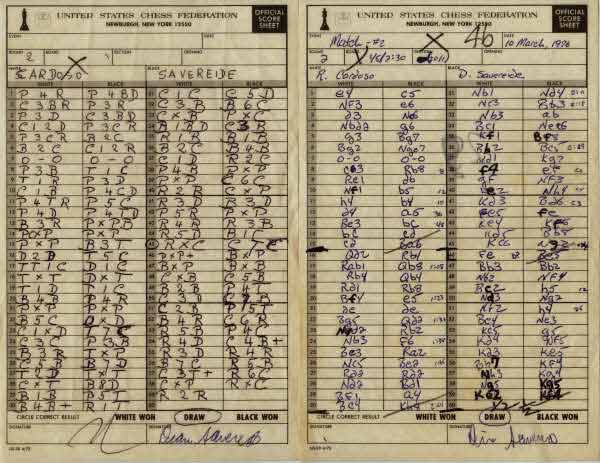 ---
Game 3:
Louis D. Statham - Lone Pine Master Chess Tournament 1976 // Special Chess Match between Ruth Cardoso (U.S. Open Women Champion) and Diane Savereide (U.S. Women Champion) // Game #3, Result Draw // Thursday, March 11, 1976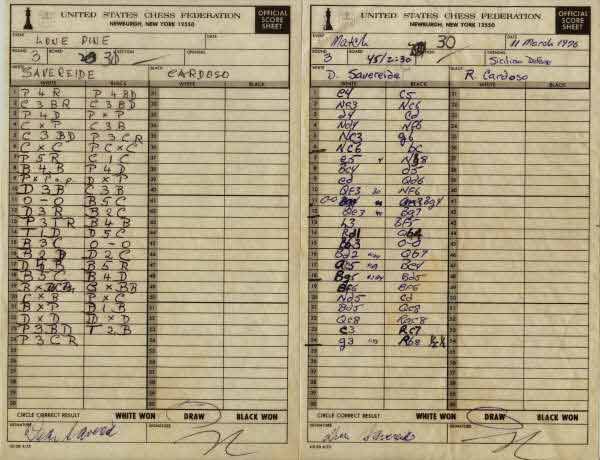 ---
Game 4:
Louis D. Statham - Lone Pine Master Chess Tournament 1976 // Special Chess Match between Ruth Cardoso (U.S. Open Women Champion) and Diane Savereide (U.S. Women Champion) // Game #4, Result 1-0 // Friday, March 12, 1976 // This Special Chess Match (funded by Doris Statham and suggested by IM Arthur Dake) ended in a tie 2-2 (Savereide won #1, Cardoso won #4, with games #2 & #3 both drawn)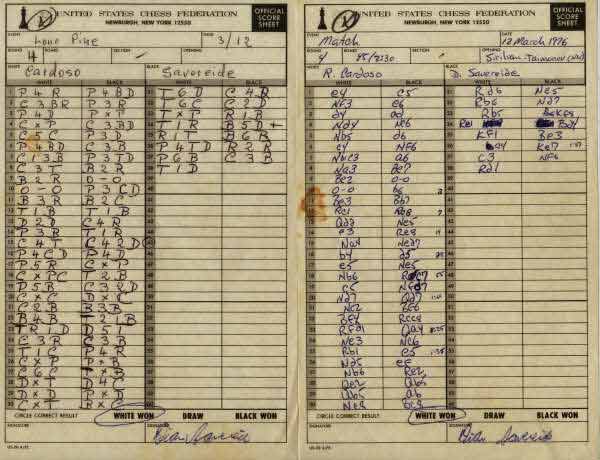 ---
Mr. Totaro included scans of the following related newspaper articles from 1976
State Chess Title - New York Syracuse Herald American, August 29, 1976
Richard Shorman: Chess - California Hayward The Daily Review, March 21, 1976