Erbo Stenzel was a noted Brazilain sculptor. According to the Curitiba site, - Curitiba is the capital city of the state of Paraná, Brazil - Stenzel, besides being a sculptor, was both a teacher and an amateur chess player. The records are scant, but show that in Oct.- Nov.1943, he participated in a tournament in Rio de Janero (won by the Austrian, Erich Eliskases) achieving fourth place. Born in 1911, he was a relatively old man, at age 49, when he played in his first Brazilian Championship tournament in 1960. He played in three more: 1962, 1965 and 1967. While he didn't win any of these, he made a decent showing. According to Chessmetrics, his highest rating, 2347, was achieved in 1966 2347, ranking him as #491 in world at that time.
vonKrolock of chessgames.com who is from Brazil informs us that "in the Delta-Larousse for 1967, a Brazilian Encyclopedia, Stenzel won his entry as Chess Player (Enxadrista in Portuguese). But it's also good to remember that Chess here was purely amateur - the Tourneys and Championships, for instance, were played (somehow as in XIXth Century's North-America or Europe) on holidays, like Easter Week...."
In 1953 he created his sculpture, Homem Nu, the Naked Man, meant to symbolize a free, unfettered Paraná, ready to meet the future.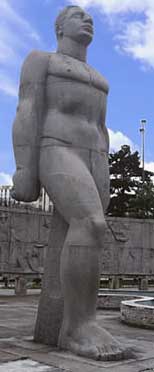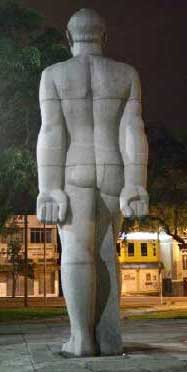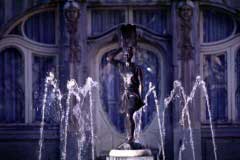 In the 1940's he created the statue Água pro Morro that sits atop the Maria Lata D'Água Fountain located in the Generoso Marques Square
One more famous piece is the Panel of Erbo Stenzel which depicts the founding and settlement of Paraná
Paraná State, and Curitiba, started a Chess tradition linked to the Portuguese colonization, joined later by all European immigrants - of course that those from Central and East-Europe were among the enthusiasts that collaborated to the organization of Chess life - Stenzel, Bernardo Schulman (Russia 1887 - Curitiba 1971), Otto Mak (Germany 1906-Curitiba 1983), are significant names from the 30's and 40's (- vonKrolock)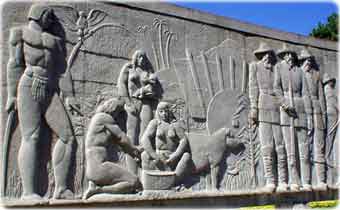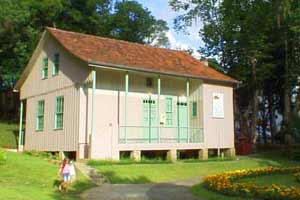 His home has been preserved and relocated as part of the Parque São Lourenço in Curitiba and serves as a museum displaying some of Stenzel's works.

His house "displays a 'Chess Room', arranged by L. Holzmann."

The viewer below contains all of Erbo Stenzel's games from:

27th Brazilian Championship
July 16, 1960 - Aug 2, 1960
29th Brazilian Championship
Oct. 14, 1962 - Nov. 4, 1962
32nd Brazilian Championship
June 27,1965 - July 17, 1965
34th Brazilian Championship
July 13, 1967 - July 21, 1967

(click once to activate, then click on "choose game")
Download the pgn here
vonKrolock of chessgames.com, who introduced me to this artist/chess-player mentioned that:
In October 1979, his city [paid homage] to him with the foundation of the "Clube de Xadrez Erbo Stenzel" - the director of the Art Museum that was the first local of the club, Jair Mendes; and the chessical mentor and first instructor of the club, Zalmen Kornin, visited Stenzel in his retreat place (he was suffering from a very painful type of arthritis in the extremities, that impeded that he walked, or worked with the hands... his consolation was Chess - he donated some books to the Club, in this way the library started).
Erbo Stenzel died in 1980.