According to a January, 1947 article in Chess Magazine entitled Automaton Chess by C. Gilmore:
Prince Eugene de Beauharnais bought the machine for 30,000 francs and Maelzel gave part of the money to Beethoven. In 1817 Beauharnois sold it back again to Maelzel for the same sum. No cash was handed over but Maelzel was to pay from any profits he might make. About1825 the heirs of Prince Beauharnais sued Maelzel for the balance so he went to the U.S.
One of the great American chess composers was Eugene Beauharnais Cook.
The name similarity can't be a coincidence, so we can probably assume his mother named him after Prince Eugene de Beauharnais.
Cook's mother was Martha Elizabeth Duncan Walker Cook. She was born in 1807 in the Bellefonte borough of Pennsylvania. Her father was Jonathan H. Walker*, a well-known President Judge in Centre County. He had fought in the Revolutionary War, studied law at Carlisle, and became the first Judge of of the United States Court for the Western District of Pennsylvania. Her brother was Robert J. Walker, United States Senator from Mississippi 1830, Secretary of Treasury of United States 1845 under Polk, Governor of the Kansas Territory.
From an article on page 3 of the Democratic Watchman in the May 17 1867 edition:

COMPLIMENT TO BELLEFONTE

"The following complementary notice of Bellefonte society, and distinguished individuals who have been citizens at our common weekend from a Pittsburg paper. It says, "Bellefonte has been noted for producing great men, and indeed the society is that the most cultivated and refined, kind.
In 1815, Martha Walker married New Jersey resident William Cook who would later become Major General Cook.
According to Appletons Encyclopedia:

Mrs. Cook was for nearly two years, 1863-'4, editor of the "Continental Monthly," published in New York, and contributed many poems, sketches, and tales to that periodical. She was a good linguist, and translated several works from the German and French. Among these were Liszt's " Life of Chopin," translated from the French (Philadelphia, 1863); "The Undivine Comedy, and Other Poems," by Count Sigismund Krasinski, translated from the Polish through the German and French (1875); and "Life of Joan of Arc," from the German of Guido Goerres, published as a serial in the "Freeman's Journal."

E. B. Cook's father, William Cook graduated with honors at West Point in 1822 specializing in Engineering. Later, he worked as an engineer for every worthwhile railroad in his day and served as consultant on others:

The Camden & Amboy, the Philadelphia & Trenton, the Freehold & Jamesburg Agricultural, the Burlington & Mount Holly, the West Jersey, the Salem, the Cape May & Millville, the Long Branch & Seashore, and the Pemberton & Hightstown, as well as the Gibson and Grand Gulf Railroad in Mississippi.
The mystery lies in why would such "American" minded people name their child after a European "Prince"?
Who was Eugene de Beauharnais?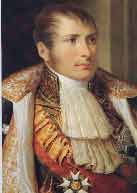 Born in 1781, he was the son of the general Viscount Alexandre de Beauharnais and Josephine Tascher de la Pagerie. His father, who served in both the American and French Revolution was beheaded by Robespierre. His mother, Josephine, married Napoleon Bonaparte (yes, it was THAT Josephine) After Napoleon coronated himself emperor, Eugene was given the title of "Prince," with an annual stipend of 200,000 francs. When Napoleon turned the Republic of Italy into the Kingdom of Italy, Eugene was made Viceroy. He also became one of Napoleon's most successful generals. After the fall of Napoleon, Eugene retired to Munich, Bavaria, as the "Duke of Leuchtenberg" and "Prince of Eichstdt" until his death in 1824.
If I were a hostess and my Journal a feast to which you were invited, the meal today must be particularly unsatisfying - more a tidbit rather than a full course.
But it gives some food for thought.
* Interesting to note: Judge Walker was a slaveholder - see Bedford County Slaveholders
Archives by Title
---
links
---
personal
Sarah's Serendipitous Chess Page
The Life and Chess of Paul Morphy
Sarah's Chess History Forum
---
chess - general
Chesslinks Worldwide
---
chess - history
Mark Week's History on the Web
Chess Journalists of America
Chess History Newsgroup
Hebrew Chess
Chess Tourn. & Match History
Super Tournaments of the Past
La grande storia degli scacchi
Bobby Fischer
Bil Wall's Chess Pages