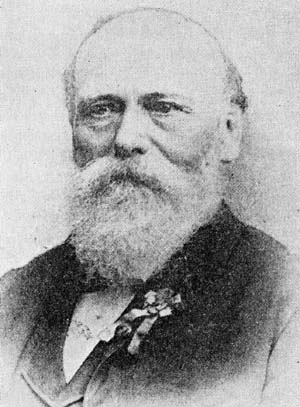 Miron James Hazeltine
I was looking at Google Book's scan of William Lewis' 1819 reprint of the Calabrian - the book of Greco's manuscripts. While it wasn't completely clear, I got the impression that the actual book that was scanned originally came from the library of Miron J. Hazeltine. While his name isn't totally unfamiliar to me - I knew him as a chess writer and journalist as well as a collector - I really didn't know much about him. A little time with Google let me place him a bit more relevantly in the hierarchy of 19th century chess.
Miron James Hazeltine was born on November 13, 1824 in the tiny town of Rumney, New Hampshire. His parents, James and Lydia (Steams) Hazeltine were of German origins. Although he entered Amherst College, a small exclusive college in Amherst Massachusetts, in 1847, due to an accident in the school gymnasium in which Hazeltine was severely injured, he had to drop out of school in 1849. The injury left him a semi-invalid for life. Hazeltine eventually moved to Lowell, Massachusetts where he lived for four year while studying law. He married Hanna M. Bryant in 1853. Together they had seven children. He then moved to New York City where he took a position as principal of the Clinton Institute, a private academy, from 1859-1861. He moved to Campton Village, New Hampshire, in the late 1860's and became a Justice of the Peace in 1871. His last move was to Thornton, New Hampshire, where he died on February 24, 1907. Noteworthy is that Hazeltine was also a classics scholar and made translations of the poems of 6th century B.C. Greek lyric poet, Anacreon.
More relevant to this journal are Hazeltines chess connections.

Hazeltine is generally credited with having had the first newspaper chess column in the U.S. in the New York Saturday Courier February 3, 1855 issue but it would be his next chess column, started in August 1856 in the New York Clipper, that would become his life's work. According to Bill Wall, he never missed a single issue in the 51 years that his column appeared there (1856-1907). Also, according to Mr. Wall, Hazeltine is the first writer to leave out the word "to" in game scores, changing for example "P to K4" into "P-K4."
Miron Hazeltine's contribution to chess, since his playing strength seems unknown, was, as opposed to most of his contemporaries, in the literary field. His Clipper column has been the source of many games that would have otherwise been lost. On the Michigan Chess Association site, that wonderful chess historian, Neil R. Brennen, opines:
The Michigan Chess Association (MCA) has been supporting chess in Michigan continuously since its founding in 1931." So reads the first sentence on the "About the MCA" webpage at www.michess.org, and no one in Michigan doubts the truth of the statement. However, there was chess in Michigan before 1931, and there was even a state association to support it.
What little we know of this predecessor group, the Michigan State Chess Association, we owe to New York Clipper chess columnist Miron J. Hazeltine. The chess editor not only featured material on Michigan chess in his column, he also carefully preserved a detailed report from an unidentified Michigan newspaper on the 1870 MSCA tournament on pages 126 to 128 of his Scrapbook number 65. I'll use the phrase "scrapbook article" when referring to this newspaper tournament report.

Again, according to Bill Wall, Hazeltine had one of the largest chess libraries, around 600 volumes, in the U. S. at the time of his death in 1907.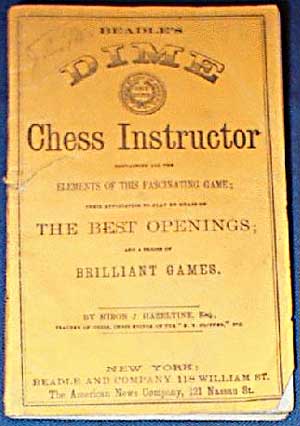 Hazeltine was also an author of chess books. His most notable one was Brevity and brilliancy in chess: A collection of games ... with scientific problems. Culled from the whole range of chess literature, 1866. But he also authored a volume, entitled Chess Instructor, for the fashionable "Dime Novel" company, Beadle.
Beadle was established in 1859 in New York by two brothers, Irwin and Erastus Beadle. Their concept, the Dime Novel was an instant success and they flourished even during the Civil War. Their Dime series wasn't restricted to novels but extended into biographies, sports, music, and other topics.
Hazeltines booklet was published twice by Beadle. The first edition, released on December 15, 1860, was a small sized edition comprised of 50 pages. The second edition was of standard size and 80 pages, including 2 of advertisements. The booklet was published a third time in 1898 (with 50 pages) by James Sullivan; M. J. Ivers & Co. publisher
Although David Lawson cited two examples of Hazeline writing about Judge Meek in the May 2, 1867 issue of the Macon Telegraph, one of which mentions the 1st American Chess Congress, it seems clear that Hazeltine neither wrote for the Macon Telegraph nor attended the Congress.
In the Macon Telegraph of May 2, 1867, Miron Hazeltine, chess editor and chronicler of the Morphy era, related the following anecdote of another of Morphy's visits to Mobile:

A good story passed current among the players and we believe got into print (Frank Leslie's Illustrated Newspaper, October 11, 1856), to the effect that, Paul Morphy being in town (Mobile), during a session of the Court over which our subject (Judge Meek) presided, the Judge concocted some pretext for an adjournment for the day, went over to the hotel, and buried the anxiety of clients and the wranglings of Counsel in the willing oblivion of his favorite pastime, en lutte with his favorite young master. On being rallied about it he used to adjust his spectacles; and with a merry twinkle of his eyes, remark that he thought they embellished that a little at his expense.

-----

When our subject (Judge Meek) visited New York in 1857 it was to introduce the conqueror of us all, Paul Morphy—and that as our conqueror. "Oh! Yes" was the credulous answer, "he beats you and Dr. Ayers, and his uncle and Rousseau, rusty with inaction: but wait until he gets here." Nobody boasted in Judge Meek's presence, but the inference was plain enough. Then, one who ever saw him will remember the light that would fill those pleasant eyes, the smile that overspread those noble features, and that peculiar manner in which he would adjust his glasses, and with quite confidence agree that they would see. Did ever the event more thoroughly justify the judgment of expectation? Morphy arrived. At once it was evident that the tenderest ties of honor and friendship existed between them. No father could watch with more tender anxiety, or glory with more exultant pride in the triumphs of a favored son, than this great man, in the victorious career of his protégé. And the youthful hero in turn, reverenced his noble friend as a father could not more have reverenced
Hazeltine isn't mentioned at all in Fiske's Book of the 1st American Congress, nor was he on any committee, nor did he subscribe to the book (so he never received a copy), nor did he claim to have been there. This seems strange since Fiske and Hazeltine, together, founded the Chess Monthly that very year:
The Chess Monthly was started as a joint venture by Daniel W. Fiske and Miron L Hazeltine in January 1857. However, Fiske observed the rising star of Morphy's reputation during the Congress in October and wished him to join the magazine as co-editor. Since Fiske was apparently the principle party in the venture, it seems he eased Hazeltine out. Within a month after Morphy's arrival in New York, Fiske was expressing the hope that Morphy would be editing with him, beginning in the new year. Before the middle of December the matter was settled, and the printer notified that Morphy and Fiske would be co-editors beginning January 1858.
-David Lawson, The Pride and Sorrow of Chess
It also seems strange that a person so immersed in the chess culture of that time would forgo attending the Congress when it was so close by and when it was organized by his fellow chess editor.