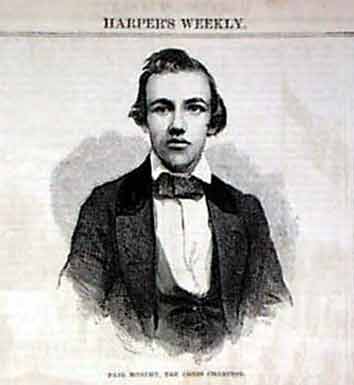 Harpers Weekly September 25, 1858
On May 31, Morphy was feted by the Boston Chess Club, this time at the Revere House Hotel with 140 invited guests. Among those presents were Dr. Horace Richardson (president of the Boston Chess club), Jared Sparks, President Walker of Harvard College, Prof. Pierce of Harvard, Speaker of the House Charles Hale, Rev. Dr. Huntington, Prof. Lowell, Chief Justice Shaw, Joel Parker, Prof. Agassiz, Prof. Longfellow, Rev. T. Starr King, Mayor Lincoln, Joshua Quincey, Jr., Edwin P. Wipple, James Fields, B. F. Thomas and Massachusetts senator, Henry Wilson. Oliver Wendell Holmes gave the introduction. 18 speeches were given and James Russell Lowell wrote and delivered a 100 line poem for the occasion.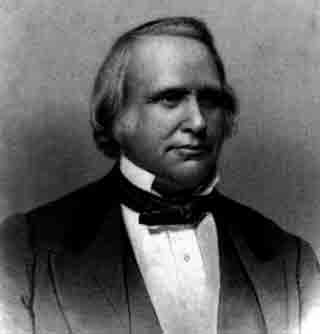 Henry Wilson
Henry Wilson was born as Jeremiah Colbath in Farmington, New Hampshire on February 16, 1812. When he was 10 he was indentured as a farm worker but when he earned his freedom in 1833, he legally changed his name to Henry Wilson. moved to Natick, Massachusetts and learned the shoemaking trade, attended college and taught school. During this time he had become an ardent abolitionist. He eventually became a shoe manufacturer. By 1841 Wilson grew interested in politics and held positions in the state legislature. He failed in his bid for governor of Massachusetts in 1853, but was elected to the U.S. Senate in 1855. During the Civil War, Wilson both raised and commanded the 22nd Regiment of the Massachusetts Volunteer Infantry. In 1872 he wrote a 3-volume tome, History of the Rise and Fall of the Slave Power in America and attained the office of Vice-President as U.S. Grant's running mate. He died in office on November 22, 1875.

According to The Life and Public Services of Henry Wilson: Late Vice-president of the United States
by Elias Nason and Thomas Russell. 1876, page 256
A few days afterwards (June 1), [Senator Henry Wilson] was present at a meeting in honor of Mr. Paul Morphy, the American chess-player, at the same hotel, where, on the announcement of the tenth regular toast, "Our national representatives, -- their position gives them a special interest in national success," -- he most fittingly replied, "I suppose we
all feel proud of the achievements of our American representatives in the Old World. We all unite to do honor to him who has achieved honor for the American nation abroad. As we have read of his brilliant achievements with pride and admiration, we have loved him because he has been throughout a modest and quiet American gentleman. Surrounded as Mr. Morphy has been by royalty, learning, and genius, in all his splendid triumphs he has borne himself with modesty, and he ought to be welcomed by every American. We have witnessed here to-night his modest demeanor and noble carriage with pleasure. In conclusion, he gave this sentiment: "The modest bearing of your guest, -- worthy the imitation of American scholars, artists, jurists, and statesmen, who uphold the intellectual character of America among the nations."