This story begins and ends in New York City.
Man Ray
Emmanuel Radnitzky was Philadelphia born but New York raised. While working as a commercial artist, an illustrator for cartography, Manny Radnitzky discovered Cubism and a new way to look at art. He was especially influenced by what he saw at the legendary Armory Show in 1913 where a piece entitled Nude Descending a Staircase, No. 2 had caused quite a stir, both ridiculed and admired. The same piece had been rejected from a Cubist show by the Société des Artistes Indépendants in Paris the previous year. Two years later when he met and befriended the creator of that piece, a French émigré named Marcel Duchamp, Manny had already changed his name to Man Ray. Duchamp and Ray would remain close friends for life. In 1921 Ray moved to Paris where he set up a portrait studio to support himself and his art.
Les_Joueurs_d'Echecs 1911 by Marcel Duchamp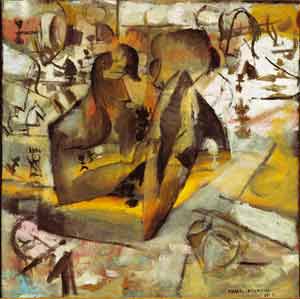 Paris was the fulcrum that leveraged art, especially modern art. But war was ravaging France. The Dada movement that began in Switzerland and spread across Europe, both politically and artistically screamed out against the absurdity of war. Rejecting all bourgeois established confines, Dadaists played without rules, creating anti-art.
Marcel Duchamp
Both his two older brothers (and later his younger sister) were successful artists who not only influenced him, but included Marcel in their artistic circles. Duchamp's style very early leaned towards the abstract. The 1911 picture on the left, Les_Joueurs_d'Echecs, depicts his brothers playing chess. Somewhat Cubist in style, Duchamp seems to have tried to capture the thought processes of the two chess-players - the moves, the emotions, the struggle, the intimacy. But Duchamp was more inclined towards Dadaism and his ideas became increasingly radical and conceptualized. In 1917 he once again shocked the art world, and managed to have another one of his pieces, Fountain, (Fountain was simply a urinal, an example of Duchamp's "readymades" which exemplified Duchamp's concept of art as a process rather than a product) expelled from a show, the first exhibition of the Society of Independent Artists (founded by Duchamp, Man Ray and the Arensbergs) - one that accepted all entries who paid the $6 entry fee. Fountain, ironically enough, in a December 2002 poll of 500 British art experts, would be considered the most influential work of art of the 20th century.
Dreier and Duchamp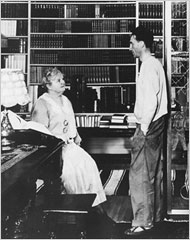 In 1920 Duchamp and Man Ray joined with Katherine Dreier, an abstract artist and art patroness, (as well as with Henry Hudson, and Andrew McLaren) to form the Société Anonyme, an organization for promoting, collecting and exhibiting modern art. Dreier donated their fabulous collection (450 pieces) to the Yale Art Gallery in 1941. Marcel (and Ray) associated himself with other movers and shakers such as Peggy Guggenheim, the American heiress and art patroness, André Breton, the founder of Surrealism, and the Arensbergs, a wealthy couple from Pittsburgh who supported the modern art movements. Then in 1923, after moving to Paris, Duchamp suddenly decided to devote the bulk of his energies to Chess. While he never reached the highest levels of chess, he did become a strong player.
A partial list of Duchamp's chess involvement (until 1940) would look like:
French Championship at Nice, 1925
French Championship at Chamonix, 1927
Championship of Paris, 1927
1928 Chess Olympiad at The Hague
French Championship at Paris, 1928
Paris Team Cup, 1929
International Master Tournament, Paris, 1929
International Tournament, Nice 1930
International Tournament, Paris 1930
1930 Chess Olympiad at Hamburg
1933 5th Chess Olympiad at Folkstone

In 1937 he had a regular chess column to the Paris daily newspaper Ce Soir.

He co-authored a book with the Ukrainian born problemist, endgame theorist and Paris Champion of 1925, Vitaly Halberstadt (1903-1967) entitled, L'Opposition et Cases Conjugees sont Reconciliées (Opposition and Sister Squares are Reconciled) Published by L'Echiquier, Edmond Lancel, Brussels, 1932.

Julien Levy, 1927, by Berenice Abbott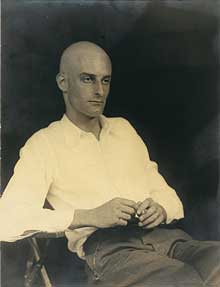 Julien Levy
In 1927, on one of his many voyages between New York and Paris, Duchamp was accompanied by a 21 year old Harvard student named Julien Levy in order to introduce him to Man Ray who had moved to Paris in 1921 to pursue creating experimental films. Man Ray was primarily interested in photography and film-making. Ray ended up making several movies with some of the most prominent surrealists such as Duchamp and Paul Eluard (Max Ernst, around this time, was living with Paul and Gala Eluard, indulging rather openly in an affair with Mrs. Eluard). On the ride Duchamp introduced Levy to Chess. In Paris Duchamp introduced him to the Parisian avant-garde artists and writers and pushed him to abandon Harvard for art collecting and dealing. In Paris, Levy also met and married Joella Haweis the daughter of the feminist poetess/artist, Mina Loy. Mina and Joella, at that time, were involved in creating lampshades, a business partially subsidized by Peggy Guggenheim. Mina, in turn had been married to Dadaist, Arthur Craven, who had disappeared at sea shortly after their marriage.

Levy himself was well-off after receiving his inheritance from his wealthy family. He and Joella used this money to open his NYC art gallery in 1931, in the middle of the Great Depression. The photograph of Levy (above, left) was taken by Bernice Abbott, Man Ray's secretary, who joined with Levy to purchase the photographic portfolio of Eugene Atget who had recently died. The investments in the portfolio and the gallery during the Depression evaporated his inheritance but not his vision and in 1932 he held the first Surrealist show in the U.S. Levy, who often received pieces as payment for shows or purchased them outright from the artists he promoted, bought The Persistence of Memory (Melting Clocks) from Salvador Dalí for $250.
Max Ernst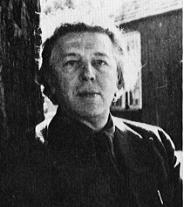 André Breton
The Levy gallery opened in 1931 with an exhibition of the works of Max Ernst. When Levy was romancing Joella in 1927, Ernst was was working on his second marriage. Affairs de coeur would prove to be a constant with Ernst during his formative years. Ernst had pioneered several artistic techniques and was one of the early Surrealists. He was also an avid chess-player. Ernst dropped his second wife upon meeting Leonora Carrington, a British heiress and Surrealist painter in 1937. Since Ernst was a German living in Paris (initiated by the invitation from André Breton in 1921), at the onset of WWII, in 1939, he was detained in a French concentration camp. Although he was released, in 1940 he was sent to a different camp. Carrington suffered a nervous breakdown while trying to secure his freedom. However, when he was finally released, he dropped Carrington for Peggy Guggenheim who arranged for his emigration to America in 1941. Once in New York Ernst and Guggenheim married. Carrington made it to New York on her own.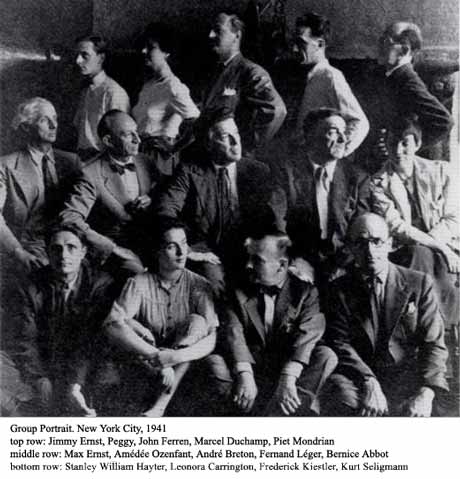 Dorothea Tanning
A small town girl with a strict religious upbringing and no real formal art training was working as a commercial artist for Macy's when she visited the Fantastic Art, Dada and Surrealism exhibition at the Museum of Modern Art in 1936. It wasn't so much that what she saw was new to her, but rather that Dorothea Tanning recognized her own conceptions in what she saw and finally felt a sense of validation. Julien Levy discovered her in the early 1940's, included her in his shows and introduced her to modern artists such as Breton and Max Ernst. Tanning had a passing interest in Chess, a fact that factored into her first private meeting with Max Ernst:
It was snowing hard when he [Ernst] rang the doorbell...."Please come in," I smiled, trying to say it as if to just anyone....We moved to the studio...and there on as easel was a portrait, not quite finished. He looked at it while I tried not to. At last, "What do you call it? he asked. "I really haven't a title." Then you can call it "Birthday." Just like that.
Something else draws his attention then, a chess photograph pined over my drawing board. "Ah, you play chess!" He lifts the phrase like a question and sets it down as a fact, so that my yes is no more than an echo of some distant past exchange...
We play. It has grown dark, stopped snowing. Utter silence pervades the room. My queen has been checked twice and is in a very bad posture. Finally I lose. What else could I do under the circumstances? Al thoughts of defense, counterattack, and general strategy are crowded off the chessboard and i see only the room with two pieces in it, my space challenged, my face burning.
There is something voluptuous, close to the bone, about chess. "Your game is promising. I could come back tomorrow, give you some pointers..." So the next day and the next saw us playing frantic chess (save when I was bent over my drawing board, doing advertising illustration). Thin laminae of an old husk, decorum, kept me sitting in the prim chair instead of starred on the bed. Until a week went by and he came to stay.
-Art Lover: A Biography of Peggy Guggenheim by Anton Gill. page 311
-Between Lives: An artist and Her World by Dorothea Tanning. page 64
At that time Ernst was married to Peggy Guggenheim. Ernst and Tanning became lovers while in the meantime, Guggenheim began her own tryst with Duchamp:
She [Peggy] regretted she had recently told him [Ernst] that he made love badly. More importantly, however, she and Duchamp had activated a long-simmering, mutual sexual attraction. In her memoirs, she wrote dismissively, "While Max was away [for a show in New Orleans] I was untrue to him for the first time, with Marcel, at last after twenty years.
-Mistress of Modernism: The Life of Peggy Guggenheim By Mary V. Dearborn. page 205
Tanning and Ernst married on October 24, 1946 in a double wedding along with their friend Man Ray who married artist's model/dancer Juliet Browner (after ending his affair with his model, Lee Miller, who would later become a noted photographer in her own right). It must have been an auspicious ceremony since both couples remained together for life.
By the early 1940's a cadre of artists fled Europe, particularly France, for America, particularly New York. Some artists, like Max Ernst, were completely anti-war while others found it expedient, safer or even necessary to escape from their war-torn lands. Many ended up in the East End of Long Island, the Hamptons, as well as Oyster Bay and Flushing. Although they escaped the war front, there were food/gas rationings and electrical blackouts to endure, as well as the guilt from leaving Europe while friends and family remained behind. As one writer put it, "they played chess, bicycled the byways, shocked the locals with their bare feet and, stirred by their serene surroundings, created art."
André Breton rented a house in the Hamptons for himself, his wife, Jacqueline Lamba Breton, and David Hare, the surrealist sculptor and Jacqueline's quite overt lover (she was also rumored to have taken Mexican artist, Frida Kahlo, as a lover as well as Matta. She and Hare later married). Max Ernst, Dorothea Tanning along with Julien Levy and his wife Muriel rented a house in Great River. Tanning wrote:
"A summer Long Island, in a place called Great River, grows out of that winter. At the bottom of a long green lawn, wicketed for croquet, is Long Island Sound, slapping sluggish water against the sides of a small rowboat, a bateau ivre that waits vainly for the rift and dip of oars and voices. Vainly, because the renter house, one of those soulless houses responsible to nothing more substantial that the renters' relief at getting away from the city heat, but intended to provide summer fun for Muriel and Julien Levy with friends Max Ernst and Dorothea Tanning, turns out to be a prison, surrounded as it is by armies of blood-thirsty mosquitoes. They wait for us outside the screens. We, plucky divers, plunge from time to time into the garden (sown and nurtured by Max when the lease was signed in May) to pull up a tiny carrot or lettuce. Otherwise, we are screened and safe in the big verandah. We gaze sometimes at the forlorn croquet mallets outside while playing chess (Julien was dead serious about chess, and as we didn't play with a clock, a single brain-cudgeling parti with him could last for days. He had also delved deep into esoteric sciences from Buddhism to Blavasky and knew how to read the tarot. So on rainy days before the chess there was your fortune to attend to, with Julien telling the cards as a special favor, solemnly, respectfully, perhaps direly - and only if he thought you could take it.) Or we might be making chess pieces and chess pictures that come back to town, where they figure in Julien's winter exhibition, The Imagery of Chess."
-Between Lives: An artist and Her World by Dorothea Tanning. pp. 90-92
Isamu Noguchi, Jean Hélion, Matta, Breton and Frederick and Steffi Kiesler all had houses in the Hamptons. Robert Motherwell, who came to visit Ernst there, ended up building a house and a studio.
Not all Surrealists were holed up in Long Island, of course. Alexander Calder, the kinetic artist, was living a domesticated life with his wife, Louisa, in Roxbury, Connecticut (as eventually would David and Susie Hare). The newly-married painting couple Yves Tanguy and Kay Sage also sought refuge from the Greenwich Village scene in Woodbury Connecticut, while the Spanish painter, Julio De Diego lived in Chicago. Man Ray was in sunny California where he lived until he returned to Paris in 1951. The magical Kurt Seligmann who had assisted other refugee artists to escape from Europe, settled with his wife, Arlette, in Sugar Loaf.
At any rate, the congregation of these and other artists in America, especially in and about the NYC area, was an artificial and temporal one brought about by the situation in Europe. At the war's end, some would stay and some would return to from where they came. It was only fitting that such a group should come together, at least once, with a common theme. Marcel Duchamp had introduced Julien Levy to chess seventeen years before when Levy was just a seeker on his way to meet Man Ray. Now, in 1944, Levy was the impetus behind Surrealism but Duchamp, although not a Surrealist himself, was probably the most respected mind in art and hovered commandingly in the background.
Duchamp's position in the Surrealist movement was demonstrated in the article, A Friend Fondly Remembered-
Enrico Donati on Marcel Duchamp by Kim Whinna
[In] 1942: Donati was sitting in the Larré Restaurant in New York City with about a dozen friends, when he saw a well-dressed gentleman approach the restaurant. The man came inside and headed towards their table as André Breton stood to greet him. To Donati's surprise, Breton bowed to the man, expressing his reverence. Donati wondered who this great man must be that the founder of surrealism, or the "pope" as Donati calls him, would bow down at his feet. The gentleman soon satisfied Donati's curiosity, saying "Call me Marcel. Who are you?"
The same André Breton, may have at one time looked fondly at chess, but when Duchamp pushed his art to the background in 1921, giving chess top priority, Breton's view of chess became quite dismal and he wasn't shy about expressing his view on the topic
"A simple game of chess which doesn't interest me in the least--man, whoever he may be, being for me a mediocre opponent. What I cannot bear are those wretched discussions relative to such and such a move, since winning or losing is not in question. And if the game is not worth the candle, if objective reason does a frightful job--as indeed it does--of serving him who calls upon it, is it not fitting and proper to avoid all contact with these categories?" - from Manifesto of Surrealism by André Breton 1924

The evolution of an idea (Marcel Duchamp, 1911):


Study for Portrait de Joueurs d'Echecs Study for Portrait de Joueurs d'Echecs Pour Une Partie d'Echecs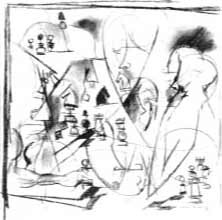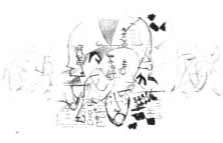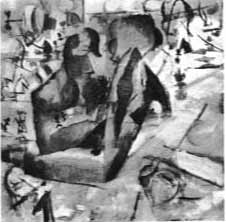 Study for Portrait de Joueurs d'Echecs Pour Une Partie d'Echecs Les Joueurs d'Echecs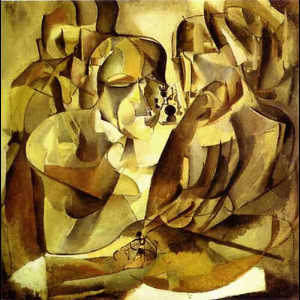 Portrait de Joueurs d'Echecs by Marcel Duchamp 1911
"Chess was also a good metaphor for surrealism: a ritual of violence enacted against a background of pure rationalism."
So says the astute author of the Newsday article, Their Artistic Field of Dreams.
In 1944, Duchamp, Ernst and Levy conspired to put on a show with Chess as it's theme, entitled Imagery of Chess.
While the show wasn't noteworthy enough to afford hardly a footnote in the History of the Levy Gallery, it was covered extensively enough by art magazines, chess magazines and newspapers to give it some significance. The show venue was New York City, of course, and the contributors consisted mainly of those refugee artists, poets, architects and musicians living in that area at that period of time. It ran from December 12, 1944 through January 31, 1945 and featured American and European artists exhibiting side-by-side, elevating America's place in the art world.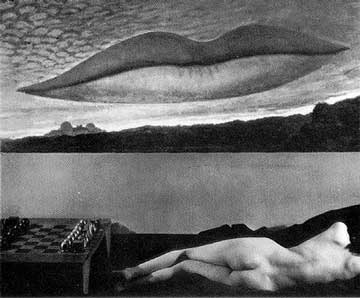 Observatory Time - The Lovers
l'heure de l'observatoire—Les Amoureux
Lee Miller's lips, Man Ray's painting, Paris sky. 1936
next: Imagery of Chess
---
Chess Games of Marcel Duchamp
Click once to activate, then click "choose game"
---