Isaac Franklin Russell is just a blip on the radar of History. His lifetime achievements, while not considered great, were certainly noteworthy. Even less than a blip on the Chess History screen - he wasn't even a chess player - he hovered in the periphery, his connection by association rather than by participation.
Isaac Franklin Russell earned his B.A. degree from University of the City of New York, now New York University, in 1875 and his M.A. degree two years later. He joined the teaching staff at the same University in 1881 and in 1886 introduced the study of Sociology into the school. When Dr. Emily Kempin, a Swiss professor who developed the first women's law program, returned to Switzerland to teach in 1892, Professor Russell replaced her and served in that capacity for then next twelve years, during which he developed a unique and successful curriculum. He would continue to participate in and influence the women's law program until his death in 1831. His lectures were compiled, and published, under the title, Outline Study of the Law.
He would become a prominent lawyer and Judge.
John S. Hilbert wrote an article entitled, To Checkmate the Kaiser: American Correspondence Chess at the Conclusion of the Great War that mentions Prof. Russell's chess connections:
And obviously it wasn't just well-known chess players and their family members who responded to the call to duty during World War I. Judge Isaac Franklin Russell of Brooklyn may have held a record for his family's interconnectedness of chess and the war effort. His oldest son, William M., had been drafted "in the fifth class," as it was called, and was sitting on the Local Advisory Board of District No. 62. William was known in the city as a player and organizer. Franklin F., another son, who also happened to be a Rhodes scholar, and was known too to be an avid fan of chess, was in London serving with the Railway Transportation Corps. George, the judge's third son, arrived in Europe at the start of August as a soldier serving in the 315th Infantry. And his youngest boy, Austin A., was in training school for electrical engineers. Helms wrote in his August 15, 1918 column that the family clearly was "doing their bit in this crisis of the world's history."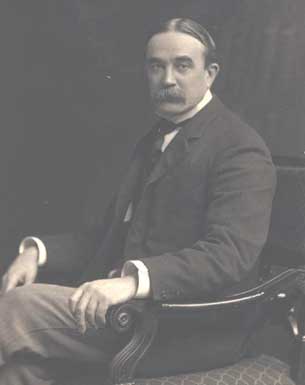 Isaac Franklin Russell
All this was brought to my attention by Lawrence Totaro who sent me an except from the American Chess Bulletin, July 1912.
Chief Justice Isaac Franklin Russell of the New York Court of Special sessions, and father of
F. F. Russell, New York University chess champion and now Rhodes Scholar at Oxford University, had the following good word to say for chess in a recent interview:

While I can readily understand the grave peril to health from excessive devotion to so exacting a game as chess, I am not unmindful of the real merits of the game, particularly in cultivating a habit of mental concentration so needful in our modern life. As compared with football and other really dangerous sports, so much in vogue among college students, it is easy to make choice of the more intellectual pastime.
Blindfold and simultaneous chess as heroic stunts, I do not encourage, in view of the calamites that have befallen many of their devotees. But, within the limits of reason, I know no more manly diversion; and, but for my years, I would be glad to play chess myself
Archives by Title
---
links
---
personal
The Life and Chess of Paul Morphy
---
chess - general
Chesslinks Worldwide
---
chess - history
Mark Week's History on the Web
Chess Journalists of America
Chess History Newsgroup
Hebrew Chess
Chess Tourn. & Match History
Super Tournaments of the Past
La grande storia degli scacchi
Bobby Fischer
Bill Wall's Chess Pages