First and Last Days of Paul Morphy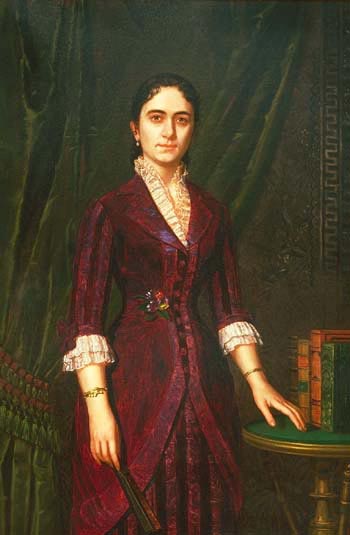 was an unpublished memoir by Léona Queyrouze, written under the pseudonym Constant Beauvais, covering her experience with Paul Morphy.
The little-known, hand-written manuscript is retained at the The Williams Research Center of the Historic New Orleans Collection (part of the Kemper and Leila Williams Foundation) at 410 Chartres Street, New Orleans.
Fortunately the buildings of the The Historic New Orleans Collection were spared from the worst that Katrina dished out. The homepage wryly states, "The Historic New Orleans Collection is open to the public, Tuesday through Saturday, excluding holidays and hurricanes from 9:30 A.M. until 4:30 P.M."
Madam Queyrouze wrote this in 1938 just prior to her death at age 77. She was almost blind so her original draft of huge handwriting on large sheets of paper (she eschewed all attempts to learn how to type) had to be transcribed by her younger brother, Maxim, who read aloud what he had transcribed, allowing her to make corrections before he scripted the final draft. Even the final draft was written on 76 sheets of lined paper with penciled in corrections scattered throughout. Maxim attempted to have it published posthumously, but found no interested publisher.
Léona Queyrouze,1880 by John Genin (1830-1895)
Léona Queyrouze was born on February 23, 1861.
Her family, like Morphy's, were wealthy Creoles. Her father was Leon Queyrouze, born in 1818, the son of the first officer of Napoleon's empire. Though born in France, he came to New Orleans in 1830. He attended college in Lexington Kentucky. A few years later, he continued his studies in Havana, Cuba, and returned to New Orleans in 1835. He worked as a clerk, then a business owner and finally a wine merchant. He joined the Orleans Guard Battalion as a major, eventually serving P. G. T. Beauregard as a colonel. He was wounded at Shiloh and arrested while convalescing in New Orleans. He escaped to Cuba, eventually making his way to Mexico, serving under General Mejia at Matamoras along with other former confederate soldiers. Returning to New Orleans, Leon reopened his business, advertised as "Wholesale Grocer: Importer of Wines and Liquors." The family owned a plantation named "Leona" in St. Martin's parish, but their home was located at 17 St. Louis Street, New Orleans. Leon became prominent as president of the Democratic Club, l'Union Francais, and the Casadoras Association, while he also helped found the prestigious Athénée Louisianais, basically a Creole association the purpose of which was to preserve and promulgate the French culture in Louisiana. He died on January 18, 1895 at age 77.
Her mother, Anne Marie Clara Tertrou, was the daughter of Laurent Tertrou and Louisa Beauvais. Léona would later adopt Beauvais as part of her pseudonym, Constant Beauvais.
Léona was privately tutored and her curriculum was as rigorous as her parents' expectations were high. She studied Greek, Latin, Philosophy, European Literature, Science, Music and Art. Then at 15, she was sent to France to complete her education. She became fluent in French, English, Spanish, Italian German, Latin, Greek and Creole. One of the unusual aspects of her education involved participating in the Queyrouze salon soirées hosted by her father at their home to which were invited the brightest minds in Louisiana for discussion of religion, literature and philosophy. Because of her precocious involvement in this group, people referred to her as "little Mme. de Staël," (Germaine Necker, baronne de Staël-Holstein was an extremely popular woman writer in Europe at that time, noted for her advocacy of women rights and for her affairs du coeur).
She took fencing instruction from the fencing master, C. S. Jones, as did her brother Maxim. Her brother became the Southern Fencing Champion but freely admitted that his sister was the better of the two of them. She had been described as "a pretty young Creole woman with black hair and brown
eyes" and a "young, pretty girl, unmistakably a Creole from her jet black hair and deep
brown eyes..." A petite woman, approximately 5'4", she was also described in a New York magazine as "short, dark, very foreign-looking with an arm on which the flesh is hard as marble from her constant use of the fencing foils, big mystical eyes and a masculine mouth."
She took music and piano lessons from Thelcide Morphy. In 1885 two of her works, Victory
Military March and the Fantaise Indienne were performed for the for the World Cotton
Centennial Exposition in New Orleans by the 8th Calvary of the Mexican Army Band, directed of Captain Encarnación Payen.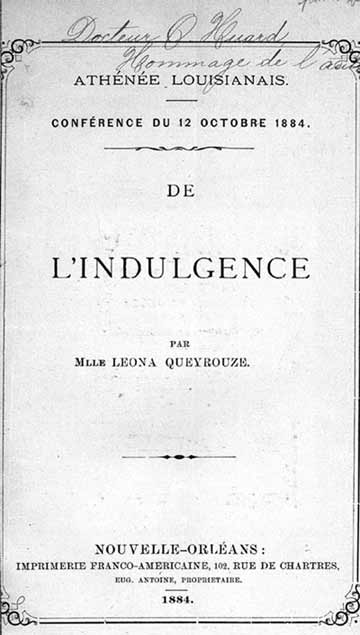 When Léona returned from studying in France, she met a Times Democrat reporter named Lafcadio Hearn (who would later become a locally celebrated writer). With his encouragement she published some poems in the French language newspaper, L'Abeille de la Nouvelle-Orléans under the pen-name Constant Beauvais (her grandfather's actual name).
In 1880 her Étude sur Racine (Essay on Racine) was published in Les Comptes-Rendus de l'Athénée Louisianais. She broke traditional thinking by giving the first public speech by a woman in Louisiana - a public reading of her essay Étude sur Racine for the Athénée Louisianais at the Grunewald Hall on Baronne Street. She gave a lecture on religious tolerance, entitled Indulgence at the Union Francaise in 1884 and in 1887 she gave a third lecture entitled, Wagner and Patriotism at the Continental Guards Armory on Camp Street
1885-6 found her in New York City translating French dramas and adapting them for American audiences.

Besides her own name and that of her grandfather, Constant Beauvais, Léona published poems under the names Salamandra [Greek for Fire-Lizard] and Adamas [Greek for Unconquerable] in a wide variety of publications from the Time Democratic and The Crusader (as well as the French language Les Comptes Rendus de l'Athénée Louisianais and L'Abeille de la Nouvelle-Orléans and the Spanish language El Moro de Paz) in New Orleans to the El Buscapie in Puerto Rico. Among her better received poems were "Vision," "Atlas," "Magdalena," "Moise," "Samson," and "Ce qu'ont dit les montagnes."
Mostly due to her adherence to the French style rather than the more modern and commercially suited styles, her fame never extended much beyond her immediate locale (with a few exceptions - one being a tribute to her from Mr. Combes, president of the Academy of Sciences and Letters in Bordeaux, France: Ce sont de beaux vers que ceux que vous avez bien voulu m'offrir de la part de Mlle Leona Queyrouze, votre petite-fille, et il y a lá l'imagination et l'âme d'une vrai poète de l'école deLamartine et de Victor Hugo)
The Queyrouze salon soirées introduced Léona to an exceptional array of local luminaries among which were Charles Gayarré (who wrote The Creoles of History and the Creoles of Romance and History of Louisiana); Placide Canonge (journalist, art critic, and director of the French opera house); the poet Charles Testut (also editor-in-chief of Les Veillées Louisianaises and author of Portraits Littéraires de la Nouvelle-Orléans and three historical novels); Dr. Alfred Bubos, editor of L'Abeille; Louisiana Supreme Court Justice Alcibiade de Blanc; novelist Mollie Moore Davis (The Virginian and Under the Man-Fig) whose husband edited the Picayune; the most remarkable Father Adrien Rouquette a missionary to the Choctaw Indians who wrote La Nouvelle Atala; General P. G. T. Beauregard; Dr. Armand Mercier, a distinguished Creole physician; Dr. Alfred Mercier, author of Habitation St. Ybars, and on whom the French government bestowed the title "Officier de la Légion d'Honneur"; Rudolph Matas, president of the American Surgical Association and considered the father of modern vascular surgery; and, of course, the subject of her final sketch, Paul Morphy, once chess champion of the world.
All these people, and others, Léona knew and conversed with since her childhood.
Paul Morphy was 23 when Léona Queyrouze was born - the same age she was when Morphy died. Her highly stylized biographical sketch supposedly idealizes Morphy whom she knew all her life. She wrote that his "most salient characteristic always was an invincible aversion to popularity, which gradually developed into an unusual disdain of celebrity."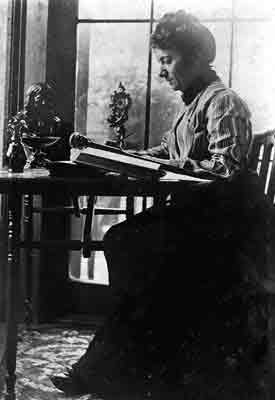 Léona married Pierre Marie Etienne Barel at St. Mary's Church in New Orleans on Dec. 26, 1901 at age 40. Not much is known about Barel who died long before Léona. From the lack of loving references to her husband from among her papers, their marriage is considered to have been more one of convenience than one of love.
Even into her final years, she dwelled in the faded tapestry of what was once the Creole culture she tried so hard to preserve.

The Civil War, the Americanization of New Orleans, the blurring of the races that delineated and defined the Creole bloodline, all conspired to vaporize and dissipate the entire culture, leaving only some vague residue devoid of any real substance.
Léona Queyrouze died of congestive heart failure in January, 1938. She was 77 years old.

Agonie
by Constant Beauvais
24 Août 1911


Mon âme avait jadis une chère patrie
Où le chêne puissant de l'amitié croissait.
Pour soutenir le ciel sa cime se dressait
Et ses rameaux chantelent à l' étoille fleurie.
A son ombre s'ouvrait, fille de l'Ionie,
La tendre violette; et sans peur mûrissait
La moisson de l'espoir q'un rayon caressait
Etait-ce donc un rêve en mon âme meurtrie?
Quel insecte a rongé le bel arbre vainqueur?
Quel parasite a bu la sève de son coeur?
On n'entend plus les chants dans la haute ramée;
Une pesante nuit tombe de l'au delà;
L'étoille s'est eteinte et la fleur s'est fermée.
C'etait un rêve, helasun reve tout cela!

Once my soul held a cherished vision
and like a tree, it grew in strength and love.
Its very summit held the skies aloft
with branches blooming among the stars.
The night sky opened for the daughter of Ionia;
the tender violets bloomed without fear,
the harvest of hope blessed by light.
So when were the dreams of souls broken?
What insidious worm began to gnaw at its core?
Which parasite drank up the sap of its heart
and silenced the music of the heavens?
Leaving my soul in the darkness of tombs
with its stars extinguished and blossoms closed.
It was a dream, alas! A dream all!

Much of the biographical information, as well as the above poem and it's translation, was gleaned from the doctorate dissertation of Donna M. Meletio, a poet in her own right.