The 1902 International Chess Tournament of Monte Carlo
---
Let the games begin...



CHESS AT MONTE CARLO
Pillsbury Unexpectedly Beaten by
Maroczy in First Round of Masters'
Tournament,
____________

(special to Eagle)
Monte Carlo. February 3 -- The twenty chess masters who participated in the opening of the international congress here yesterday presented themselves at the Cercle des Etrangers at 9 o'clock this morning, prepared to begin hostilities in the tournament arranged for their benefit.
No time was lost with preliminaries and manager De Rivière at once proceeded with the drawing of the pairing by which the masters were to be matches in the first round to-day.
The result was that the sixteenth pairing of the Berger schedule was selected, bringing Pillsbury, the American champion, together with Maroczy, champion of Hungary. Marshall faced Albin of Paris and Napier the youngest player of them all, met Eisenberg, the Russian, who, like Napier, is making his international debut. The complete pairing follows:
Sixteenth round = Mason vs. Blackburne, Tschigorin vs. Tarrasch,
Maroczy vs. Pillsbury, Marshall vs. Albin, Wolf vs. Reggio, Mieses vs.
Mortimer, Schlechter vs. Teichmann, Janowski vs. Gunsberg, Popiel vs.
Marco, Napier vs. Eisenberg and Scheve vs. Taubenhaus.
When the adjournment was taken at 1 o'clock this afternoon, only two games had been brought to a conclusion. Pillsbury lost to Maroczy, greatly to everyone's surprise, while Janowski obtained a verdict over Gunsberg of London. The American champion was in anything but his best form and played somewhat listlessly. Maroczy quickly got the upper hand and, exerting a steady pressure on his opponent's position, scored first blood in good shape. Janowski, champion of France, outplayed Gunsberg from the start and won handily.
Among other games, Napier, who conducted a scientific game all through the session, is considered to have much the better of it and will probably win out during the afternoon. Wolf has the call on Reggio. The remaining contests were adjoined in even positions.
Brooklyn Eagle, February 3, 1902
FIRST WEEK OF CHESS
AT MONTE CARLO

Janowski of France Leads the Experts
Marshall a Close Second
__________
BROOKLYN MASTER THE STAR
His defeat of Three Froeign Champions
and Poor Start of Tarrasch
the Features
__________

(Special to the Eagle)
Monte Carlo, Mon. February 8 - The first week of international chess ended here this afternoon. It has been fraught with great interest throughout and there has been no lack of excitement. Startling surprises occurred in the very first round and unlooked for upsets have been of almost daily occurrence.
Not all the favorites are to-day where their friends expected they would find them. Notably is the case of Tarrasch of Nuremberg. No chess master enjoys a more general respect and admiration. Not until to-day, however, when he played his second game with Gunsberg, in consequence of the draw with that player on Thursday, was the winner of the great Vienna tourney able to notch a victory.
The games played by Tarrasch in the first, second and fourth rounds were all lost to Tschigorin, Marshall and Janowski respectively. Tarrasch, however, has started this badly before and has emerged dangerously close to the leader in the end. The week's practice, after a long absence from the international arena, has made a new man of him, as Gunsberg now knows to his cost.
Pillsbury is another popular idol who has failed to come up to expectations. He, too, will be heard from later on, and those who met him in the first four rounds may account themselves fortunate. It was not so much a shock to find him succumb to Maroczy on the opening day, for the Hungarian champion is distinctly in the Yankee's class. Pillsbury has never had much success in the past against this noted master.
Since Monday the American champion has picked up a bit and winds up the week with a plus score. He drew with Wolf in the second round and won the second game with that player on the following day. On Thursday Teichmann forced him to an even score and the second game has yet to be played. In the fourth round Pillsbury succeeded in conquering Popiel.
The hero of the week is Frank J. Marshall, the youthful Brooklyn master, whose intrepid play at Paris, two years ago, completely upset all calculations and made him a figure in the chess world.
Marshall enjoys the distinction of defeating, in a first encounter in international competition, such men as Lasker and Pillsbury, who went down before him at Paris and Tarrasch, the recognized head of German chess, who yielded to the Brooklynite on Tuesday. Tschigorin of Russia, encountered by Marshall at Paris, here, a year ago, and again this week, has yet to win a game from him.

No less a feat than defeating Tarrasch and Tschigorin, was the lowering of the colors of Carl Schlechter. The Austrian, who kept Pillsbury from first honors at Munich, is an undaunted fighter, with a defense most difficult to wear down.
It surprised no one, on the other hand, to see Marshall bowled over by the weakest of the quartet he was called to meet, namely Albin, the Viennese, now hailing form Paris. The latter drew with him on Monday and on Wednesday tallied an additional half point at his expense.
Thus the close of the week finds Marshall with the second highest total of victories. Considering the makeup of the total, it is considerably better that the three straight games of Mieses, who won from Albin, Mortimer and Wolf.
Janowski, winner of the first tournament held in the Riviera, seems bent on duplicating his performance of a year ago for he has survived the week without a defeat, drawing twice with Maroczy. His victims were Gunsberg, Mortimer and Tarrasch. His meeting with Marshall is awaited with uncommon interest. Maroczy's score was compiled by defeats of Pillsbury and Scheve and the two draws with Janowski.
Napier, the other member of the American trio and former champion of the Brooklyn Chess Club, has shown that he finds the company congenial and not at all too fast. His book knowledge and appreciation of combination play appear second to none. His qualities as a stayer have yet to be more fully developed. His record to date of winning from Eisenberg, losing to Gunsberg, after obtaining a superior game, drawing with and then losing to Mason, and finally drawing with Albin is one he has no reason to be ashamed of.
This being the bye day, the time was devoted to replaying of all drawn contests not hitherto disposed of. These consisted of the adjourned second game between Teichmann and Schlechter from Wednesday, reported this morning as a draw, and games between Gunsberg and Tarrasch, Napier and Mason, Janowski and Maroczy and Reggio and Scheve.
As indicated in the earlier dispatch, Tarrasch had the call against Gunsberg and won in due course of time. Mason, too, held to his advantage over Napier, and , though the latter resisted manfully, the day could not be saved. Janowski and Maroczy drew a second time, as did Reggio and Scheve.
There remains pending, to be played off on Wednesday, the games drawn between Pillsbury and Teichmann in the third round and between Albin and Napier in the fourth.
The fifth regular round will begin early Monday morning, The records of the competitors up to to-night are as follows:

Player
W
L
Player
W
L
Albin...................
Eisenberg...........
Gunsberg............
Janowski.............
Marco.................
Maroczy.............
Marshall.............
Mason.................
Mieses................
Mortimer.............
2
1
1¼
3½
2
2½
3¼
¾
3
0
1½
2
2¾
½
1
½
¾
2¼
0
4
Napier...................
Pillsbury...............
Popiel....................
Reggio..................
Scheve..................
Schlechter............
Tarrasch...............
Teichmann...........
Tschigorin...........
Wolf......................
1½
2
2
½
1½
1½
¾
2¾
1
2¼
2
1½
2
3½
1½
1½
3¼
¾
2
1¾

Brooklyn Eagle, February 9, 1902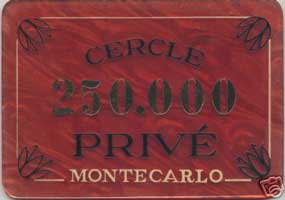 The first 140 games for the 1902 Monte Carlo tournament were published by G. Marco in his Weiner Schnachzeitung periodical between 1902 and 1908. The tournament book, published by The Chess Player in 1997, states clearly that Marco had all of the game scores, but no trace of these has been found. After Marco's death in 1923, his books were sold at two auctions in Vienna, but there was no mention of manuscripts or the missing game scores. Many of the last 95 games were found in various newspapers of the day and were included in the tournament book.
In the May 1952 issue of Chess Review Hans Kmoch and Fred Reinfeld wrote an article "Tall Tales of
Teetotalers"
The connoisseurs will take Marshall's exploitation of the missing pipe cleaner as nothing short of masterly [in Marshall vs Burn, 1900 ]. But we are by no means finished with the problems raised by tobacco. You can also chew it, as did James Mason , the Irish master who lived in this country for several years and won the Fourth American Chess Congress at Philadelphia, 1876.
Though his other successes were only moderate, Mason was a player of considerable gifts. (Unfortunately, abstemiousness was not one of them) Emanuel Lasker had a high opinion of Mason. When analyzing a position, Lasker would say, half-jocularly, half-seriously: "Now what would Mason do in this position?" On this point, as on so many others, David Janowski was in furious disagreement with Lasker. It was beyond Janowski's understanding how a civilized man could chew tobacco, and he consequently considered Mason an outcast. Janowski might have been more tolerant if the "outcast" had not beaten him consistently. Janowski was choleric enough at the best of times, but a beating from Mason made him frantic - to the amusement of others besides Mason.
One of the most remarkable of these encounters was the game which Mason won from him at Monte
Carlo, 1902. Mason was in a hurry to leave and had to retire from the tournament before it was finished. as he was in poor health - he died three years later - a forfeit or two was a matter of indifference to him. But one of his un-played games was with Janowski, and he hated to forfeit a sure point. He made no bones about it: "I can't leave the tournament before beating Mr. Janowski."
Janowski was not the man to skulk away from a challenge. He considered himself the strongest player of all time - and unlike some others who have made the same claim - was always ready to take on anyone. Burning with eagerness to beat Mason, he agreed to play him out of turn. He promised everyone that he would trounce Mason just as easily as he always had - pardon! - would have done previously if some absolutely incredible things hadn't happened. Ma parole! (I give you my word.) Nobody took this too seriously , especially as Janowski, who was no Frenchman, pronounced it Ma paroy.
To make Janowski more disconsolate, Mason received the First Brilliancy Prize for this game and then
defeated him again a few months later in the tournament at Hanover [Janowski vs J Mason, 1902] - and that, despite the fact that Janowski won the tournament ahead of Pillsbury, Marshall, Chigorin and Mieses, among others!
One of the main features, and possibly biggest drawback, in this and the other Monte Carlo tournaments was how the draws were handled. Draws had to be re-played, not only affecting how they were scored, but adding more games to an already difficult schedule. This particularly affected the weaker players, but it didn't spare the better ones either.
Tim Harding, in his article Chess in 1902, wrote :
Pillsbury ... had to settle for second prize by the smallest possible margin, a quarter of a point, behind the Hungarian Geza Maroczy. The quarter of a point arose because of the system of scoring draws. These were replayed, as in many former tournaments, but with the difference that the first game was scored ¼-¼ with the second game deciding the second half point.
This made for a tough schedule if you had several draws. However, as the event was spread over five weeks this was perhaps not too arduous. With 20 players, there were 19 rounds but one of the back-markers, L. Eisenberg, had to play 23 games. With a draw and then a loss against Marshall, Eisenberg would have scored ¼-pt and Marshall ¾-pt under the rules of the event. In all, Eisenberg had four first-round draws of which he lost three replays (for ¼-pt apiece) and won one replay (for ¾-pt), and his total score for these four mini-matches was 1½ points. He scored 3/15 in the matches that were concluded by the first game.
Tournament winner Geza Maroczy (Hungary) had an even more arduous time, playing 24 games. With Janowski, Mason, Chigorin and Tarrasch — all very tough opponents — he not only began with a draw but also the replays were a draw, so it took him 8 games to score 2 points against them! His other draw was against Mieses but he managed to win the return game with Black to score three quarters of a point in this mini-match. Against the other fourteen players in the tournament, he made 12 wins and 2 losses at the first attempt, including the decisive win against Pillsbury. His losses were to Gunsberg and Schlechter.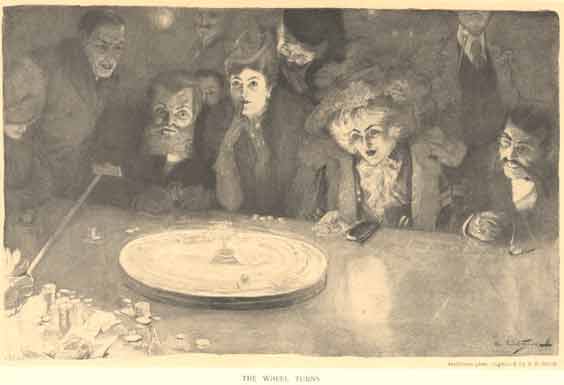 from At Monte Carlo Casino by Andre Castaigne. Harper's Monthly Magazine Vol. CV, no. 629, 1902
One of the fascinating features of this tournament was that, despite it's length, the ending proved quite exciting and uncertain. Marshall, who had a strong start, was out of the running. Pillsbury, who had a mediocre start, was leading at the end of round 17 with 12 pts, closely followed by Maróczy with 11.5 pts. and Janowski with 11 pts. Then in the final four rounds, Pillsbury seemed to run out of steam, scoring only 2½ pts. to Janowski's 3 pts. and Maróczy's 3¼ pts.
-Pillsbury drew with Chigorin, beating him in the replay; drew with Marco; lost to Chigorin in a replay; lost to Marco in a replay; beat Mortimer and beat Marshall .
-Janowski beat Marco; lost to Mason; beat Marshall and beat Teichmann.
-Maroczy beat Albin; drew with Mieses and beat him in the replay; beat Popiel and drew with Tarrasch in both the first game and the replay.
Here is a unverified and unsubstantiated PGN file containing 235 of the games from Monte Carlo 1902
Below are eight games of interest
Frank Marshall-Mikhail Tschigorin

Marshall beats Tschgorin who played the Tschigorin Defense

Georg Marco-Frank Marshall

Marshall manages an early material advantage but gets totally out-maneuvered by Marco in this slugfest.


Frank Marshall-Heinrich Wolf

Marshall makes some incredible oversights against a weaker opponent


Von Popiel-Georg Marco


Tim Krabbé called this the most famous game of premature resignation. 36. ...Bg1 wins.


J. Mortimer-L. Eisenberg

Mortimer's only win


L. Eisenberg-H. N. Pillsbury

Eisenberg does the unthinkable, and does it nicely


Arturo Reggio-Dr. Tarrasch

Tarrasch's a nice instructive miniature against the Italian champion


H. N. Pillsbury-Dr. Tarrasch

Tarrasch lets Pillsbury open the h-file and mate ensues out of the blue