Where to start?
Finding a simple introduction proved futile....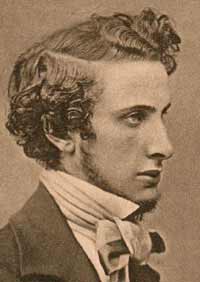 Owen Meredith was the pseudonym, acquired at age 24 with the publishing of a book of poems entitled Clytemnestra, of Edward Robert Bulwer-Lytton.
Edward Robert Bulwer-Lytton was born on November 8, 1831. His father was a minor political figure/novelist named Edward George Bulwer-Lytton, 1st Baron Lytton, 1st Baron Lytton of Knebworth (1803-1873). Edward George Bulwer-Lytton invented such popular phrases as
"the Almighty dollar" and "the pen is mightier than the sword" (from The Last Days of Pompeii). He is also infamous for the opening lines to his novel Paul Clifford, "It was a dark and stormy night."
George Bulwer-Lytton's brother was Sir Henry Bulwer (Sir William Henry Lytton Earle Bulwer-Lytton -1801-1872) , an extremely competent British statesman and diplomat.
Edward Robert Bulwer-Lytton was also a diplomat. His career started when he served as secretary to his uncle, Henry Bulwer, who was at that time Minister to Washington D. C. After a succession of diplomatic posts, he eventually was appointed Governor-General of India where he served from 1876-1880. His service there is not considered to have been very effective and particularly devastating was that his policies towards the Afghan peoples directly led to the second Afghan War.
He retired in 1880 as the first Earl Lytton and died November 24, 1891.
His most noted works include:
Clytemnestra and Other Poems (1855)
The Wanderer (1858)
Lucile (1860)
The Chess-Board
Those evenings in the bleak December,
Curtain'd warm from the snowy weather,
When you and I play'd chess together,
Checkmated by each other's eyes?
Ah, still I see your soft white hand
Hovering warm o'er Queen and Knight!
Brave Pawns in valiant battle stand;
The double Castles guard the wings;
The Bishop, bent on distant things,
Moves, sidling through the fight.
Our fingers touch; our glances meet,
And falter; falls your golden hair
Against my cheek; your bosom sweet
Is heaving. Don the field, your Queen
Rides slow her soldiery all between,
And checks me unaware.
Ah me! the little battle's done,
Dispers'd is all its chivalry;
Full many a move, since then, have we
'Mid Life's perplexing checkers made,
And many a game with Fortune play'd,—
What is it we have won?
This, this at least—if this alone;—
That never, never, never more,
As in those old still nights of yore
(Ere we were grown so sadly wise),
Can you and I shut out the skies,
Shut out the world, and wintry weather,
And, eyes exchanging warmth with eyes,
Play chess, as then we play'd, together!
Archives by Title
---
links
---
personal
Sarah's Serendipitous Chess Page
The Life and Chess of Paul Morphy
Sarah's Chess History Forum
---
chess - general
Chesslinks Worldwide
---
chess - history
Mark Week's History on the Web
Chess Journalists of America
Chess History Newsgroup
Hebrew Chess
Chess Tourn. & Match History
Super Tournaments of the Past
La grande storia degli scacchi
Bobby Fischer
Bil Wall's Chess Pages