While trying to discover something about John Singer Sargent's involvement in chess, I came across something else that caught my eye.
Edwin Booth, the most famous actor from the 19th century and equally famous as the older brother of John Wilkes Booth, founded a club in NYC. As he himself put it:
"An actors' club combining the convenience and advantages that you speak of has been a dream of mine for many years, and I had the house in question in my mind's eye for the purpose of some far-off future day."
The private club is still in operation and expresses it's purpose as:
And today, Booth's dream of a club that promotes social intercourse among professionals from almost* every walk of life is still thriving.

The Players has always been a club where people of the theatre meet and mingle with individuals from a variety of professions and businesses. In addition to the warm camaraderie and convivial atmosphere, The Players Grill has long been recognized as "one of the best bars in New York ...

*The only profession to be specifically excluded at Booth's insistence were critics, whom the founder called "crickets." How, he said, could actors enjoy a respite at their Club if critics were present? But, in 1960, critic Brooks Atkinson was given an honorary membership, opening the door.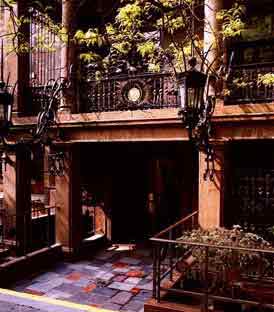 The club is called The Players and it's quite exclusive. I may be the only one who had never heard of it since I don't follow actors, but I was stunned for a moment in reading some of it's roll, past and present. What initially attracted my attention was the statement:
John Philip Sousa was The Players' last chess tournament champion. The year was 1917.
Nothing else on their site, unfortunately, mentions chess, but I thought it would be fun to list some of the members of this club. This list come directly from their site (which also has a membership application if you feel you might want to attempt joining - good luck!)
Entrance to The Players
Incorporators of The Players
Edwin Booth (1st Pres.)
Mark Twain
John Drew (3rd Pres.)
Joseph Jefferson (2nd Pres.)
William Tecumseh Sherman
Lawrence Barrett
Laurence Hutton (Sec.)
Augustin Daly (1st VP)
Albert M. Palmer (VP, Treas.)
Joseph F. Daly (VP)
William Bispham (VP-Treas.)
Brander Matthews (Sec.)
James Lewis
Stephen H. Olin
Henry Edwards
John A. Lane

Notable Members (past and present)
Maxwell Anderson
Lauren Bacall
John Barrymore
L. Frank Baum
Harry Belafonte
Ludwig Bemelmans
Humphrey Bogart
Carol Burnett
James Cagney
President Grover Cleveland
Henry M. Cohan
Judy Collins
Walter Cronkite
Alfred Drake
Jose Ferrer
Morgan Freeman
Charles Dana Gibson
Rex Harrison
Ernest Hemingway
Henry James
Tommy Lee Jones
Everett Raymond Kinstler
Alan J. Lerner
Frederick Loew
Rue McClanahan
Arthur Miller
Sherrill Milnes
Frank Morgan
J.P. Morgan
Thomas Nast
Eugene O'Neill
Gen. John J. Pershing
Christopher Plummer
Sidney Poitier
Cole Porter
Tyrone Power
Jason Robards
Harold Ross
Augustus Saint-Gaudens
John Singer Sargent
Marian Seldes
John Steinbeck
James Thurber
Louis Comfort Tiffany
Spencer Tracy
Liv Ullman
Cornelius Vanderbilt
Robert Vaughn
Thornton Wilder
James Woods
Archives by Title
---
links
---
personal
The Life and Chess of Paul Morphy
---
chess - general
Chesslinks Worldwide
---
chess - history
Mark Week's History on the Web
Chess Journalists of America
Chess History Newsgroup
Hebrew Chess
Chess Tourn. & Match History
Super Tournaments of the Past
La grande storia degli scacchi
Bobby Fischer
Bill Wall's Chess Pages