A British correspondent (Jimmy Adams, editor of UK's CHESS magazine) informed me that JFK's Press Secretary, Pierre Salinger, had been a chess player.
I didn't know that and, so, did a Google search that led me to this autobiographical article: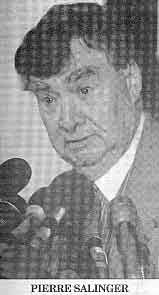 It's true that I had gotten into music very heavily. Not only was I studying the piano assiduously but I was also studying composition and conducting, and I'd recently taken up the violin. It is, however, also true that I was becoming less and less pleased with the life I was leading. I'm afraid Art Hoppe was right - I was a nerd. I had no friends my own age, and I had rarely swung a bat or thrown a ball. My only nonmusical, nonschool activity was chess (which I'd learned from the French composer LaViolette, with whom I was studying conducting); and with my usual level of intensity, it took me only one year, until I was twelve, to become a Junior champion. So the decision to de-emphasize music and to attend Lowell High School Just like all the other students (well, almost just like them) was my decision, as well.
According to his obituary:
Pierre Emil George Salinger was born in San Francisco on June 14 1925, the son of a Jewish impresario and musician. His mother was French, and a Roman Catholic. Pierre was bi-lingual from childhood and a musical prodigy at six, when his family was living in Toronto, he gave piano recitals at the 1931 Canadian National Exposition.
Salinger died in France at age 79 on October 16, 2004.