I remember having read an interview with Peter Yarrow (formerly of the legendary folk trio Peter, Paul and Mary) in which he said that as an art student at Cornell (Cornell is where Daniel Willard Fiske served as Librarian and Professor of North European Languages) all the music majors painted and all the art majors played guitar. In Russia it seems that all musicians play chess.
I'm not schooled in classical music and would be more inclined to listen to Peter, Paul and Mary, but I understand the qualitative distance that separates the two of them. So, when Lawrence Totaro sent me some casually offered information on the great Russian conductor, Sergei Prokofiev, I decided to look into his relationship with chess.
Prokofiev was born on April 27, 1891 and died on March 5, 1953. He was considered a child prodigy having composed his first opera at the age of nine (two years after he learned to play chess). He was a notable pianist as well as one of the great composers of the 20th century. Working in different genres - opera, ballet, symphony, concerto, even children's music - his works were considered quite controversial and avant-garde.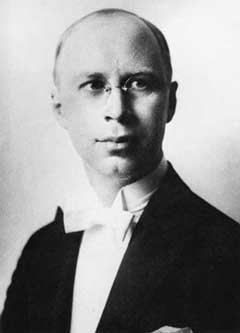 Mr. Totaro had sent me excerpts from three books mentioning Prokofiev's interest in chess:
Prokofiev. Contributors: Florence Jonas - transltr, Israel V. Nestyev - author. Publisher: Stanford University Press. Place of Publication: Stanford, CA. Publication Year: 1960.
Page 20
The future composer was very observant and inquisitive about everything around him. Once, on a train, he wormed his way into the engineer's cab, where he inquired in detail about the mechanics of a locomotive. ("It wasn't especially comfortable in the cab, but I looked at everything around me with delight. Any fourteen-year-old boy would have envied me!") At that time Seryozha was also very much interested in photography, botany, and chess. Among his childhood manuscripts, musical sketches alternate with records of chess games.
Page 81
Along with music Prokofiev was extremely enthusiastic about chess. He frequented the chess club in St. Petersburg, spending hours on simultaneous games and seeking opportunities to play with formidable opponents. He also took some interest in sports, and for a while he regularly attended the gymnastic drills of the Sokol. This led him to write a sports march, which the society published.
Page 409
He neither visited the Composers' Union nor attended concerts; he no longer conducted and almost never played the piano; he did not go to the telephone; he even gave up chess, which he had loved since childhood. Everything was subordinated to his work. As before, he refused to abide by his doctors' orders. "The doctors really do not understand," he said, "that it is easier for me to jot down a melody than to keep it in my head." He found disruptions in his routine distressing. In 1949 he became so ill that he almost died. Once again he was put on a "starvation diet" of work -- one hour a day -- but no restrictions could curb his imagination.
Composers on Composers. by John L. Holmes; Greenwood Press, 1990
Page 111
STRAVINSKY'S view of Prokofiev was this:
Prokofiev was the contrary of a musical thinker. He was, in fact, startlingly naive in matters of musical construction. He had some technique and could do certain things very well, but more than that, he had personality; one saw it in his very gestures, biological personality let us call it. His musical judgments were usually commonplace, however, and often wrong.... But one could see Prokofiev a thousand times without establishing any profound connection with him, and we rarely discussed music when we were together. I used to think that Prokofiev's depths were engaged only when he played chess. (Igor Stravinsky, Memories and Commentaries ( London: Faber, 1960), 6768.)
Notes of a Moscow Pianist. Contributors: Dmitry Paperno - author. Publisher: Amadeus Press. Place of Publication: Portland, OR. Publication Year: 1998.
Page 78
Chess played an important role in his life, except for his final years, when the doctors forbade him to play. He had friendly relations with two world champions, Capablanca and Botvinnik. A poster of his match with Oistrakh, another potent chess player, is preserved in one of Moscow's clubs. Both were ranked in the first (quite a high) category in chess.
Page 152
In the summer of 1970, we vacationed again in Päarnuu, one of our favorite spots. There we met more and more often with David Feodorovich Oistrakh, spending several hours a day playing chess and preference (an old Franco-Russian card game, something like bridge), and talking with ever-increasing candor. Oistrakh's lifelong love of chess is widely known. Officially ranked in the first category, he actually played at the level of a master's candidate, was friendly with many leading grandmasters, including a few world champions, and never missed an opportunity to attend chess tournaments and world title matches. It was a real pleasure to play casual games with him (he always brought a chess clock to Päarnuu) -- his graceful manners and unaffected chess style made him the best possible partner.

---
My own investigations resulted in the rest of this page



On May of 1914, Prokofiev took part in three simuls - on three consecutive days - given by Capablanca during the St. Petersburg Tournament. He lost the first game ("

I was a bit annoyed with losing - till then, I had never lost a simultaneous game").

In recompense, he had met Lasker who gave him an open invitation to visit with him in Berlin.
In the second game, Capablanca fell for a trap ( "I was thrilled that I had caused Mister Champion a problem") and Prokofiev secured what he believed to be a winning position but Capablanca equalized and then won with a fine combination. ("I couldn't prevent myself saying 'You devil!').
The final encounter the following day gave Prokofiev the victory he sought. This time it was Prokofiev who found a fine combination, winning a piece and ultimately the game.
After this simul, Prokofiev and some others, including Capablanca were invited to a friend's house for tea ("I watched Capablanca and it was interesting to see how unaffected he was"). Prokofiev entertained the group on the piano to see Capablanca's reaction ("He listened with obvious pleasure but displayed total ignorance"). Prokofief was only 23 and had not yet reached the height of his fame, but, as we'll see later, he must have made an impression on Capablanca.

[see http://www.sprkfv.net/journal/three02/thegame.html
for the full text of Prokofiev's games with Capablanca]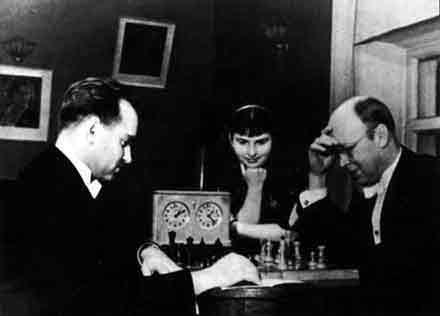 David Oistrakh and Sergei Prokofiev, 1937
David Oistrakh was one of the greatest violinists of the 20th century. He was also a category one chess player. This story is told of the first meeting between Prokofiev and Oistrakh: Prokofiev attended a concert in Odessa in 1927 in which 18 year old David Oistrakh was performing a selection from Prokofiev Violin Concerto No. 1. Prokofiev became incensed at Oistrakh's interpretation and shouted from his seat, "No, that is not the way to play it, young man!" Everything was suspended as Prokofiev marched on stage and accompanied Oistrakh on piano with the intention of directing his play. Ten years would pass before these two men would meet again and under much different circumstances. Oistrakh, now an award-winning (First Prize at the Queen Elisabeth Competition in Brussels, 1937) soloist, met Prokofiev from across a chessboard. [see http://www.carnegiehall.org/textSite/box_office/events/evt_6376.html]
The November 9, 1937 match was won by Oistrakh.
The terms were that ten games were to be played at the rate of twice a week and in the evenings. The time control was thirty-six moves in two hours and ten moves every hour after that. Only seven games were played and only the score of one game remains.
The remaining material is culled from Edward Winter's Chess Note 4913
Mikhail Botvinnik wrote an article of Prokofiev in 1954 that was published, along with this photograph, in S. Prokofiev Autobiography Articles Reminiscences (Moscow, 1959).
I met Prokofiev in 1936 at the height of the Third International Chess Tournament in Moscow. He was a first-rate chess player himself and never missed a match. His position in the tournament was a delicate one and he maintained a strictly neutral attitude throughout, for while his sympathies were naturally with me as the young Soviet champion, he could not wish for the defeat of the ex-world champion Capablanca, who was a personal friend of his.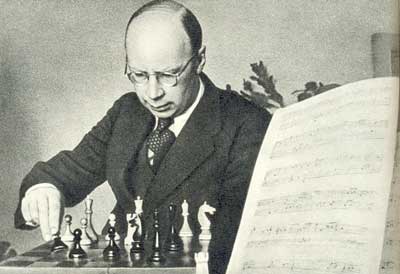 Several months later Capablanca and I shared first place at the tournament in Nottingham, England. When the tournament was over I received a telegram of congratulations from Sergei Sergeyevich. I was naturally very pleased and, without thinking, I showed the wire to Capablanca, who was with me at the time. At once I saw that I had made a mistake – from the expression on Capablanca's face I realized he had not received a wire from Prokofiev. Two hours later Capablanca came to me beaming – he had received a telegram too. Of course, Sergei Sergeyevich had sent both wires at the same time, but evidently the Moscow telegraph office clerks had felt that the Soviet champion ought to get his message first.

Sergei Sergeyevich was passionately fond of chess. He took part in the chess activity of the Central Art Workers' Club. Moscow chess players still remember his rather unique match with David Oistrakh – the winner was awarded the Art Workers' Club prize and the loser had to give a concert for the club members.
[The full text and larger picture can be found at http://www.chesshistory.com/winter/winter32.html ]