---
The Puzzle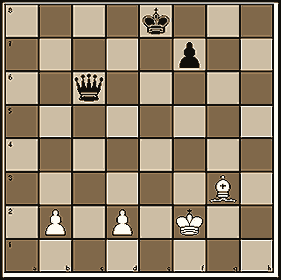 You happen upon this position on my board and I tell you that during the game
No pawn ever reached the 8th rank.
Am I telling the truth or am I lying?

---
Answer:
I'm am lying!!
The dark square bishop's original position was on c1. Since both pawns (b2 and d2), that block the bishop have never been moved, the original bishop could never have moved off c1. Since it's not on c1, it must therefore have been captured. Since the dark square bishop is on the board, the only possibility is that a pawn had promoted to bishop.
---
Meanwhile, an acquaintance of mine from Girona, Catalunya wrote:
I liked the Sherlock Holmes problem very much. If you want to solve a problem a little more 
difficult, but with the same idea, you can see it in my blog [Matgala].

As it is in Catalan, I translate the problem: 
in the position, it's white turn to move. 
Has a pawn ever reached the 8th rank in the game?
Click on the Matgala link and give it a try.