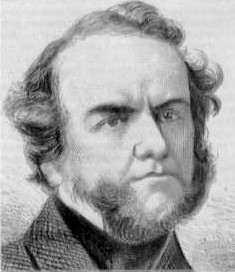 Th e Oxford Dictionary of National Biography lists Howard Staunton as the illegitimate son of Frederick Howard, the Fifth Earl of Carlisle. Frederick Howard was born in 1748; Howard Staunton was born in April of 1810 - 62 years apart. There is no mention of Staunton in Howard's will. Staunton's heritage is and probably will remain a mystery. It's generally believed that "Howard Staunton" wasn't his original name - perhaps a stage name since his first love was Shakespeare and his first vocation was acting. He was fond of recounting how he had once played the part of Lorenzo in The Merchant of Venice in which the famous actor, Edmund Kean, played the part of Shylock. It's not know when Staunton first took up chess, but in 1836 his name is on a subscription for George Walker's Games at Chess, actually played in London, by the late Alexander McDonnell Esq. and he started frequenting the Westminster Chess Club (founded in 1832 by George Walker) though he never joined it [Edge]. It was located on the first floor of a coffeehouse on Bedford-street, Covent-garden, owned by a man named Huttman. In 1835 this club dissolved and reformed, now meeting in Mr. Ries's drawing room adjoining the Divan in the Strand. It was here that Staunton spent all his time. In 1838 Staunton lost matches to both Aaron Alexandré, the Bavarian chess the author of the Encyclopédie Échecs, and to Captain William Evans, inventor of the Evans Gambit. In 1840, however he won a match against H. W. Popert (by one game) which gave him some recognition. For the last half of that year he edited a chess column for the New Court Gazette. The next year he took over editor of the British Miscellany which he turned into the Chess Player's Chronicle, England's first successful chess magazine, a position he held until 1854.
1843 was a busy year for Staunton. He played a match with Henry Thomas Buckle, spotting Buckle odds of Pawn & move. The first game was drawn, Buckle won the next six. Next he played John Cochrane two matches. The first, giving Cochrane, Pawn & move, ended in a draw with each winning three game. The second match, played on even terms, Cochrane won with two draws and three wins versus Staunton one win. Staunton then played a short match with the French champion, Saint Amant. Saint Amant won this match (and one guinea) +3 -1 =2.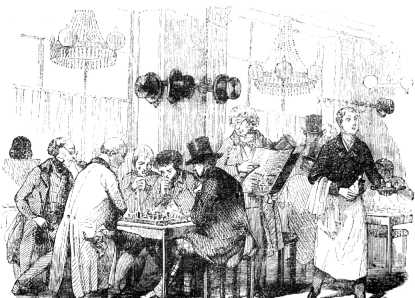 Unsatisfied with this, Staunton challenged Saint Amant to a second, longer, match (this time for £100) to be played at Café de la Régence in Paris. This was an interesting match on many levels. First was that Staunton had employed a great deal of home preparation, working out the details of some rather modern lines (such as 1.c4 which would from then on be called the English Opening) with H. W. Popert and John Cochrane, hoping to surprise Saint Amant over the board - which is what happened. Staunton also brought with him Worrall, Capt. Evans, and later Harry Wilson, to assist him. In short, Saint Amant who was basically a coffeehouse player, was steam-rolled. Staunton took an early 9-2 lead in the match while Saint Amant lost all his confidence and had to be encouraged by his friends to even continue the match. But Saint Amant had finally worked his way through these openings he wasn't prepared for and was making a strong comeback, winning 4 of that final 6 decisive games for a finally tally of +11 -6 =4 in favor of Staunton. Saint Amant wanted a third match, but Staunton, who had developed heart trouble during the match, refused. Staunton contemplating his move against St. Amant, Paris 1843
Around 1840, the Westminster club had closed for a second time. Aaron Alexandré had establish a chess café in Paris called the Café de l'Echiquiér, hoping to survive by gaining members from the more established Cafés de la Régence et de Procope, but instead failed almost immediately after opening. Upon meeting Staunton, Alexandré suggested they open an establishment together, which they did at the exclusive Waterloo Chambers. They immediately added about 30 members to the role, but before a year was up, Staunton and Alexandré had disagreements that became so nasty the members themselves requested the Club be dissolved. George Walker secured a site at Beatties Hotel on George Street and these members formed the St. George's Club there. Beattie's business failed and the St. George's Club moved to the Polytechnic Institution on Regent Street. This is where Staunton played his first match with Saint Amant. Some time after its creation, Staunton became an honorary member of the club in deference to his position in English chess.
Staunton took over as chess columnist for the Illustrated London News in February of 1845, a position he would hold the rest of his life. Just two months later, Staunton and Capt. Kennedy (Hugh Alexander Kennedy will also happen to lose the first international telegraphic game to Serafino Dubois in 1862), sending their moves from the Portsmouth suburb of Gosport, played two consultations games against "a group of players at the London Vauxhall railway terminus" via telegraph (This group of player was comprised of Evans, Perigal, Tuckett, and Walker - with Buckle kibitzing). The first telegraph match took place in America in 1845 when Washington played Baltimore; this was the first telegraph match in England. The quality of the games was poor. Both ended in draws. But they were more intended for the sake of the experiment rather than the result.
In 1846 Staunton beat both Bernhard Hörwitz (+14 =3 -7) and Daniel Harrwitz in matches. Neither players were considered particularly strong at that time. The match with Harrwitz was unusual, as were the results - a total of 21 games: 7 at Pawn & 2, won by Staunton 4-3; 7 at Pawn & move, won by Harrwitz 6-1; and 7 even, won by Staunton 7-0.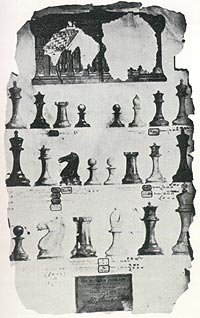 Staunton married Frances Carpenter Nethersole on July 23,1849.
Nathaniel Cook, the editor of the Illustrated London News, had designed a neo-classical chess set which Staunton endorsed. Staunton's new brother-in-law, John Jacques, manufactured them while Staunton plugged them in the Illustrated London News, calling them the Staunton pattern and each set box was signed by Staunton and stamped by Jacques. Staunton received a royalty for each set sold.
An ad in the Illustrated London News read:
"A set of Chessmen, of a pattern combining elegance and solidity to a degree hitherto unknown, has recently appeared under the auspices of the celebrated player Mr. STAUNTON. A guiding principle has been to give by their form a signification to the various pieces - thus the king is represented by a crown, the Queen by a coronet, &c. The pieces generally are fashioned with convenience to the hand; and it is to be remarked, that while there is so great an accession to elegance of form, it is not attained at the expense of practical utility. Mr. STAUNTON'S pattern adopts but elevates the conventional form; and the base of the Pieces being of a large diameter, they are more steady than ordinary sets."
London was sponsoring the Great Exhibition of 1851. Staunton had the idea to hold a tournament in conjunction with the event. His idea went further than just a tournament. He wanted a grand tournament bringing in chess experts from all over the globe. The first international chess tournament was held in London from May to July of 1851. It was won by Adolf Anderssen. Staunton took a distant fourth. But that same year, he won matches against Carl Friedrich Von Jaenisch from Russia (+7 -2 =1) and from Elija Williams of England (+6 -4 =1). In 1853 Staunton traveled to Brussels, Belgium to confer with Baron Tassilo von Heydebrand und der Lasa about the standardization of chess rules. They played a match which Lasa won (+5 -4 =3).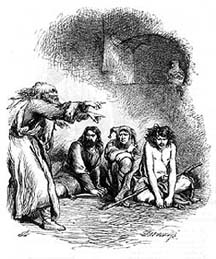 Besides chess, Howard Staunton was a leading expert on William Shakespeare. In 1856 he contracted to produce an annotated edition of the complete works of Shakespeare. It was published in monthly installments from 1857 to 1860. This was the work that Staunton claimed hindered him from playing Morphy.

Staunton's Books on Shakespeare:

The Complete Works of William Shakespeare

The Globe Illustrated Shakespeare: The Complete Works Annotated
Originally published: The plays of Shakespeare. London : G. Routledge, 1858-1861

Complete Illustrated Shakespeare
First published by G. Routledge ; in three volumes in 1858,1859, and 1866.
Sir John Gilbert drawing from Staunton's
Complete Works of Shakespeare

Paul Morphy's opinion of Howard Staunton as a chess-player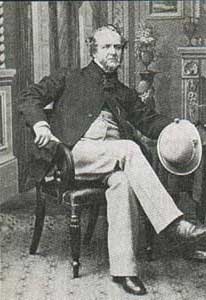 Howard Staunton died, appropriately so, sitting in his library chair at his desk, from a heart attack in 1874.

His considerable chess writings include:
1847 - The Chess-player's Handbook: A Popular and Scientific Introduction to the Game of Chess, Exemplified in Games Actually Played by the Greatest Masters, and Illustrated by Numerous Diagrams of Original and Remarkable Positions
1849 - The Chess-Player's Companion
1849 - Chess Player's Text Book
1852 - The Chess Tournament - London 1851
1860 - Chess Praxis
1876 - Chess: Theory and Practice - published posthumously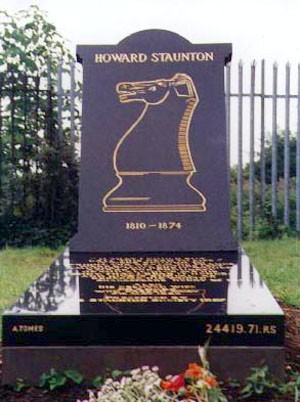 Howard Staunton
April 1810 - June 22, 1874
Actor, Shakespearian Scholar,
Chess Champion of England,
Architect of the First International Chess Tournament, held in London1851,
Author of The Chess-Player's Handbook and The Chess-Player's Companion,
Kensal Green Cemetery, London, England