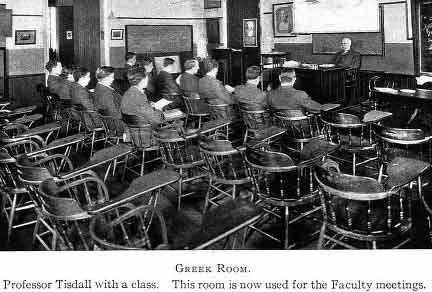 The book:
The City College: memories of sixty years
edited for the Associate Alumni of the College of the City of New York
by Philip J. Mosenthal and Charles F. Horne
New York,: G. P. Putnam, 1907

P.263

Tutor Tisdall [...our dear Professor Tisdall, who seemed to know so much that was profound and beyond our ken of Latin and Greek. p.248] wore a certain aura of renown because our unwritten chronicles had it that he could play several games of chess at once blindfold, and that he had met defeat with honor in the lists of Ca´ssa at the hands of the invincible Paul Morphy.

---
The story continues ....
Fellow Morphy admirer, DrKurtPhart of chessgames.com, noted the above and located some additional information previously uncovered Jeremy Spinrad in an article called, When Blindfold Chess Became Easy.
In the years 1861 to 1863, at least four New Yorkers you most likely have not heard of before were giving simultaneous displays that would have been the sensation of the world just a few years earlier.

The first of these blindfold players was a young man named Fitz Gerald Tisdall. The Spirit of the Times chess column of September 10, 1859 notes

"the recent appearance in Brooklyn circles of a young gentleman named Fitzgerald [sic] Tisdall, aged nineteen years, who learned the moves some ten or twelve months since; but who now with both facility and celerity can conduct four or five games simultaneously without sight of men or board: and that too with a force scarcely exceeded by our most skillful players."

The column then gives the following game, which was part of a four-board simultaneous blindfold exhibition. Tisdall lost to Perrin, but won all the other games. Perrin was a strong local player, and would have been tough for anyone other than Morphy even in a single blindfold game ....

Tisdall is one of those "failures" who gives up serious chess after a very promising start. His obituary (New York Times, November 12, 1915) mentions his role fighting on the side of law and order during the draft riots of 1863. He became a Professor of Greek Language and Literature at the City College of New York, where he taught for many years; there was a celebration of his fifty years of service to the college on May 1, 1910. His name appears in the paper from time to time, both for his academic work and his activities on behalf of the Republican party. His name is not associated with chess in the newspaper until his obituary, which talks of his fondness for the game and a simultaneous exhibition he gave during "a great chess tournament held in the Academy of Music."
Archives by Title
---
links
---
personal
The Life and Chess of Paul Morphy
---
chess - general
Chesslinks Worldwide
---
chess - history
Mark Week's History on the Web
Chess Journalists of America
Chess History Newsgroup
Hebrew Chess
Chess Tourn. & Match History
Super Tournaments of the Past
La grande storia degli scacchi
Bobby Fischer
Bil Wall's Chess Pages