In 1934 Chess Clubs were murky places where the smells of cigar smoke, pipe tobacco and possibly even brandy and whiskey mingled with the distinctive odor of men's sweat. They were austere and morgue-like in the playing area while the social room was filled with talk of chess, politics, business and women. Men stuff. Women seldom breached those walls. It wasn't so much that women, those chatty, frivolous creatures, were prohibited - though they were in no way encouraged - but more that the atmosphere was distinctly non-feminine and unappealing to the well-bred ladies capable of affording the membership fee. Besides, women were known to play inferior chess and really didn't belong there.
Here, as with most things, there were exceptions to the rules. The exception's name was Marjorie Seaman. Mrs. William I. Seaman, as she was customarily called, hailed from Boston where she was born probably in 1881. She and her husband lived in the Stapleton waterfront neighborhood of Staten Island. Mrs. Seaman was the first and, at the time, only woman member of both the Staten Island Chess Club and the Marshall Chess Club. She was also an unusually strong player.
Caroline Marshall took it upon herself to organize a dozen local women for a chess tournament. These were women with disparate interest and abilities in the game and, while some would drop off along the wayside, many would hang on for the ride through the ensuing years. The tournament was given good publicity and, since it was hosted by the Marshall Chess Club and Frank Marshall himself acted as referee, it reached a certain level of respectability.
Besides Mrs. William I. Seaman, the participants included Mrs. Adele Rivero of Manhattan, Mrs. B. W. McCready of Orange, N. J., Mrs. Harriet Broughton of Manhattan, Miss Adele S. Raettig of Hoboken, Miss Helen White of Manhattan, Miss Hilde Grau of Manhattan, Miss Edith Weart of Jackson Heights, Miss Vera Angus of Brooklyn, Miss Hazel Allen of Kew Gardens, Miss M. J. Smith and Mrs. Leeds.
Marjorie Seaman breezed through with a perfect 11-0 score. But close on her heels were Mrs. Broughton and Mrs. Rivero both with 9-2 scores. Mrs. B. W. McCready came in next with a 6½-4½ score. Miss Hazel Allen, who withdrew from the contest had donated the silver trophy, from that point on called the "Hazel Allen Trophy," the custody of which would remain the main prize for all the Marshall Chess Club women's tournaments. Broughton and Rivero each won a copy of Chess Potpourri with the compliments of the author, Alfred C. Klahre.[1] Klahre and Mrs. McCready won magnetic chess board provided by Alvin C. Cass (a chess referee and one-time trustee of the Metropolitan Museum of Art).
The tournament was an instant success and the idea of offering special Marshall Chess Club membership rates for the ladies to meet one night a week, or on a Sunday afternoon, was kicked around, but nothing seems to have ever come of it. This was Mrs. Seaman's first and last Marshall Club tournament.

A 1934 game between Mrs. Harriett Broughton and Mrs. B. W. McCready
The plan was to hold these tournaments on an annual basis. The "1935" tournament being planned for the Fall didn't get underway until the Spring of 1936. Before the second tournament was played, it seems that Adele Rivero, one of the second place winners, joined the Marshall Chess Club. In December of 1935 she took part in two inter-club team matches that, with the exception of Mrs. Rivero, involved only men. The first was a 26 board match pitting the Marshall Club against the Suburban Chess League of New Jersey. The Marshall Club won 21-5 and Mrs. Rivero won her individual game played against J. P. Alpaugh. The second was a 9 board match against the Elizabeth, N. J. Chess Club. The Marshall Club won 5½-3½ but Mrs. Rivero lost her individual game to L. Neidich.
Adele Rivero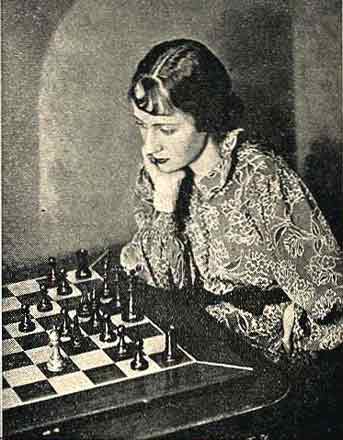 1935
The 1936 tournament featured some of the same ladies that played in the first one. Unfortunately, the very promising Harriet Brighton wasn't among them. Adele Rivero, who had tied with Brighton for second place did play in the second annual Women's Tournament. In 1934 Rivero trailed behind Mrs. Seaman by a point until the last game in which the two faced off. Seaman was 10-0 and Rivero was 9-1. A win by Rivero would have catapulted her into a first place tie; her loss put her in a second place tie. With both Seaman and Brighton out of the picture, Rivero's chances in the second tournament were excellent.
A qualifying tourney was held among the 20 participants with the idea of narrowing down the official tournament to six.
The original 20 players were:
Mrs. Raphael McCready[2], Mrs. Adele Rivero, Mrs. Milton,
Mrs. Wm. Slater, Miss Harrison, Mrs. Mary Bain,
Miss Edith Weart, Miss Helen White, Miss Adele Raettig,
Mrs. Rogosin, Miss Fawns, Miss Hilde Grau, Miss Rae,
Miss Pfister, Miss Helen Allen, Miss Tillinghast, Mrs. Cobb, Mrs. Clark, Mrs. Everet Marshall, Mrs. Stelert.

The six left standing after the qualifying rounds were Adele Rivero, Mary Bain and Mrs. Raphael E. McCready who had tied for first place, Edith Weart and Helen White, who had tied for second place and Mrs. Wm. Slater. These six women played for the Club title. Adele Rivero won easily with a perfect 5-0 score. Mary Bain and Edith Weart tied for second with a score of 3½-1½.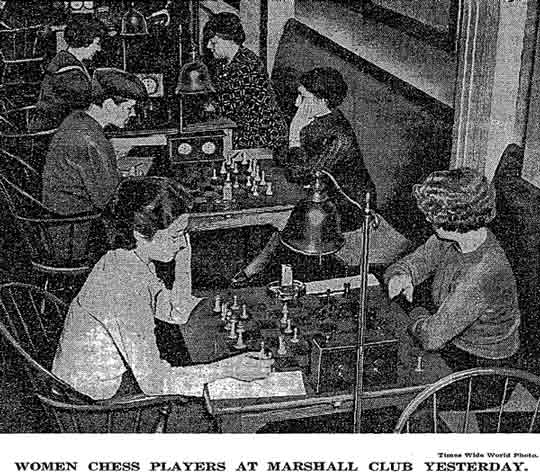 February 2, 1936
The six participants in the final tournament of 1936 would be exempt from qualifying for the 1937 tournament, "and it is hoped that the winner this year will be officially recognized as the leading American woman player and sent to represent this country in the International Ladies Tournament to be held in Stockholm next Summer in conjunction with the International Team Tournament."
In a highly interesting side note, the March 31, 1936 issue of The NY Times reported:
WOMAN IS VICTOR
IN U.S. CHESS PLAY
Miss Raettig Beats Cinton,
Puerto Rican Champion, in
Games Lasting 50 Moves.
---
Miss Adele S. Raettig of Hoboken, N. J., the only women competitor of the forty-eight who started play last night in the United States championship preliminaries, carried off the honors of Group A at the Manhattan Chess Club, where she was the first to finish a game. She defeated Rafael Cintron of San Juan, the Puerto Rico champion, in a queen's pawn opening lasting fifty moves.
Miss Raettig, conducting the white pieces, played very fast and with great confidence and soon reached an ending in which she succeeded in outmanoeuvring her rival.

Adele Raettig had finished 6th in the 1934 Marshall Club women's tournament and was eliminated in the preliminaries for the 1936 tournament.
---
1. Chess Potpourri by Alfred C. Klahre was Published in 1931 was a 55 page illustrated book with the following: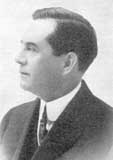 "A Little of This and A Little of That" (a mixture of chess information), "Morals of Chess," by Dr. Benjamin Franklin "Chess in Hades," by Willard Fiske, "Anecdotes, Witticisms, etc." as well as a selection of unusual chess-problems, concluding with "Various References to Chess."

Klahre was born in Union, N.J. in 1872, the son of Prussian immigrants. At the time of the tournament, he was living at lived at 922 Albemarle Rd. Brooklyn, NY. The same year as the tournament, he had published a 20 page booklet entitled, Early Chess in America. [back]
2. It should be noted that there seems to be two distinct Mrs. McCready's. The 1934 tournament listed
Mrs. B. W. McCready, the wife of chess player B. W. McCready of of Orange, N. J. The 1936 tournament listed
Mrs. Raphael McCready of Hackensack, N.J. However, the NY Times on February 3, 1936 reports:
"both Mrs. McCready [i.e. Raphael McCready] and Mrs. Rivero were among the prize winners
in the first tournament last year, which was captured by Mrs. W. I. Seaman of Staten Island."
proving the two names refer to the same person.
Two more McCready's (both male) had their names in the Chess Review during those years: B. McCready who
played for the Suburban Chess League of New Jersey and D. McCready, who playing in the qualifying tournament
for the U. S. Championship held at Marshall's Chess Club.
[back]
3. In 1934 Virginia Sheffield won the Women's Western Tournament (the U. S. Open) in Chicago.

Original source articles:
1934
1936
Marshall Chess Club