1939
was a strange year.
The U. S. Women's Championship was held in the spring. The participants were Mrs. Bain, Miss Karff, Dr. Helen Weissenstein, Mrs. McCready, Mrs. Roos, Miss Raettig, Mrs. Stephens and Miss Wray. Most noticeable was the conspicuous absence of Adele Rivero. We learn from Miss Weart in December that Mrs. Rivero had spent at least part of the year in Florida. There was little reporting on the championship which ended in a three-way tie for first. Mrs. Bain, Miss Karff, Dr. Helen Weissenstein were to have a play-off to determine a winner after the Women's World Championship ended, but it's unclear if a play-off ever took place.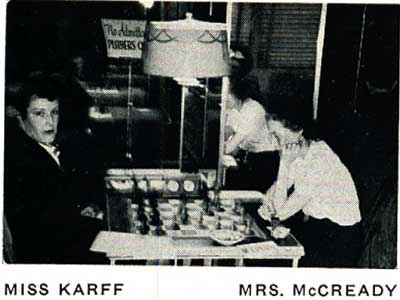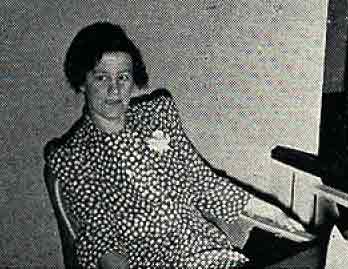 Mrs. Stephens
North American
Women's Championship
1939-1940

Bain
Karff
Weis.
McC'dy
Roos
Raett.
Steph.
Wray
W
L
D
Total
Rank
Mrs. Bain
-
0
½
1
1
1
1
1
5
1
1
5½-1½
I-II-III
Miss Karff
1
-
1
½
1
1
1
0
5
1
1
5½-1½
I-II-III
Dr. Weissenstein
½
0
-
1
1
1
1
1
5
1
1
5½-1½
I-II-III
Mrs. McCready
0
½
0
-
1
1
1
1
4
2
1
4½-2½
IV
Mrs. Roos
0
0
0
0
-
1
1
1
3
4
0
3-4
V
Miss Raettig
0
0
0
0
0
-
1
1
2
5
0
2-5
VI
Mrs. Stephens
0
0
0
0
0
0
-
1
1
6
0
1-6
VII-VIII
Miss Wray
0
1
0
0
0
0
0
-
1
6
0
1-6
VII-VIII
The end of summer saw the unification of the National Chess Federation and the American Chess Federation into the United States Chess Federation. (originally called the U. S. of A. C. F.) While this milestone was widely heralded, it coincided with an almost equally weighted counterstrike. The U. S., which had won the gold in the previous four Chess Olympiads, couldn't raise sufficient funds to support a team in 1939. The players, who were anticipating $2,500 in compensation, were offered only $1,500 which they deemed unacceptable. As a result, the 8th Chess Olympiad, which would be the last one for nine years, was held in the Buenos Aires with the only American representation being that of the U. S. Women's Champion, N. May Karff [1], who participated in the Women's World Championship which was running concurrent with the Olympiad. Mrs. Karff (14-5) earned a respectable 5th place from a field of 20, coming in behind Vera Menchik Stevenson of England (18-1), Sonja Graf, a free agent (16-3), Berna Carrasco of Chile (15½-3½) and Freidl Rinder of Germany (15-4).
At the inception of the Olympiad, Germany invaded Poland. The English team withdrew while France (captained by Alekhine) and Poland both refused to play the German team. Sonja Graf, who originally represented Germany, had her German support removed due to her vocal denunciations of the Nazi regime. She continued playing, however, as a free agent "under the flag of Liberty."

N. May Karff won the 1939 U. S. Women's Open in New York City.
1940
Adele Rivero once again joined the fray in the battle for the U. S. Women's Champion played in the Spring at the Hotel Astor. Winning all but one game in the nine player round-robin event, Rivero took 1st place by a wide margin. N. Mona Karff, the reigning champion, came in 2nd, while 3rd place went to both Gisela Gresser, who had fully expected to win, and Dr. Helen Weisenstein. Mary Bain and Mrs. Raphael McCready tied for 5th. It was noted that Rivero didn't exhibit any of her characteristic anxiety and played with great confidence. After her victory over Adele Raettig, Raettig "bought a beginning chess book. 'I thought I needed it,' Miss Raettig said, apparently somewhat depressed by her poor showing".
First place won a silver tray, presented by George Emlen Roosevelt, the president of the Marshall Chess Club. Second prize was a chess set and a copy of .the book "Chessmen." Third place won an elaborate beauty kit, while fourth place received a smaller version.
Mrs.Adele Rivero vs. Miss N. May Karff

1941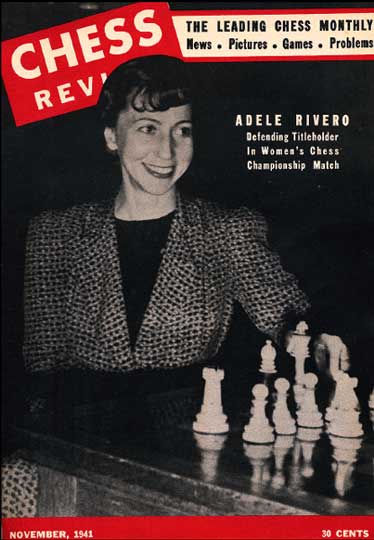 The one significant event in 1941 was what the promoters hope would be viewed as a historically important event - the format change whereby the U. S. Women's Champion Title would be determined through match play rather than through a tournament. The result was that is was more historically significant through its singularity since it was never attempted again.
Adele Rivero, who made a brilliant come-back the previous year to win the title, agreed to play N. May Karff, the 1938-9 title holder, to an eight-game match to determine the U. S. Women's title. The games were played between November 16th and December 7th .
The day before the first game, Adele Rivero married Donald Belcher and played the match under her new name, Adele Belcher. Possibly her newly-wed status coupled with her own natural anxiety affected her play. May Karff swept through the match with a 5-1 victory. Mrs. Belcher's play was uncharacteristically weak and several of her games contained outright blunders. This led Horowitz to write, "Mrs. Belcher, on the other hand, was nervous and self-conscious, made some incredible blunders, showed every sign of being badly out of practice. After losing four straight, she came to life in the fifth game, smartly out-played her opponent, put on a real show for her many admirers, only to lapse into defeat in the sixth and final game."
The winner of the match took possession of the new Chess Review Trophy and each player received a purse of $98.50, splitting the $197.00 raised through contributions.

On the very day of the last game Japanese planes decimated Pearl Harbor throwing America into war.
---
1. Just speculation on my part, but Karff, like most of the chess ladies, was financially secure with wealthy friends and supporters. It's possible that either she paid her own way, had independent backers or at the least, could easily sustain on whatever funding she received from the USCF. [back]