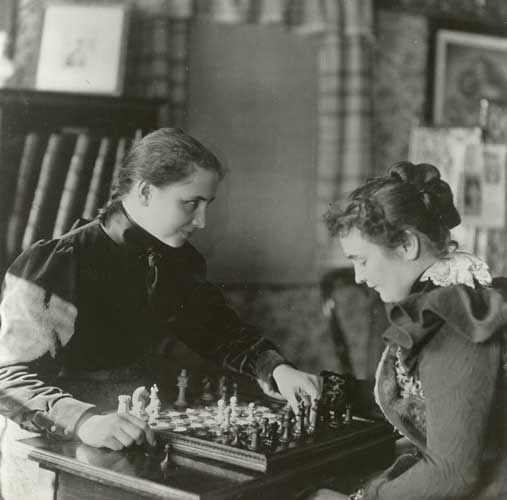 Helen Adams Keller (l) playing chess with Anne Mansfield Sullivan (r) , 1900.


this information was provided to me by Lawrence Totaro of Ultimate Chess Collecting


Mr. Totaro assembled a list of chess references in connection with Helen Keller.

The Story of My Life by Helen Keller Doubleday, N.Y. 1903.
This book was originally a series of articles for the Ladies Home Journal in 1902.
When a rainy day keeps me indoors, I amuse myself after the manner of other girls. I like to knit and crochet; I read in the happy-go-lucky way I love, here and there a line; or perhaps I play a game or two of checkers or chess with a friend. I have a special board on which I play these games. The squares are cut out, so that the men stand in them firmly. The black checkers are flat and the white ones curved on top. Each checker has a hole in the middle in which a brass knob can be placed to distinguish the king from the commons. The chessmen are of two sizes, the white larger than the black, so that I have no trouble in following my opponent's manoeuvers by moving my hands lightly over the board after a play. The jar made by shifting the men from one hole to another tells me when it is my turn.
Helen and Teacher: The Story of Helen Keller and Anne Sullivan Macy by Joseph P. Lash
Addison Wesley, Ma. 1980.
p.663
The Pfeiffers invited her to dinner: "I think you know that I have a collection of chess sets. With your wonderful gift to see and understand intuitively, I believe you would enjoy being in our chess room. One of the chess sets is said to have been made before Columbus discovered America."

Her thank-you letter afterward was a paean to his chess collection. It ended with the suggestion that a book should be written about it. "Why do you not write it yourself, Mr. Pfeiffer? You would certainly not have a more interested reader than myself if you did." She had an imagination that was easily stirred and the rare gift of wanting to convey to those around her how she had been moved.
p.261
She played chess and checkers with unusual concentration, and was an enthusiastic "wheelwoman" often seen on the Cambridge streets on her tandem