When Harrwitz resigned the match against Morphy, claiming ill health, Morphy didn't want to accept the stakes. But because by not accepting them, there would be a question about what the result of of the match really was, affecting those who had side-bets, Morphy finally accepted the £295, but put the money in escrow. This money he sent to Anderssen to defray his expenses traveling to Paris. The Morphy- Anderssen match was played without stakes.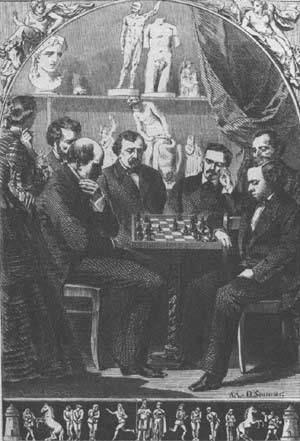 When Anderssen arrived on Wednesday, Paul was still confined to bed and as a result, Anderssen wanted to postpone, even cancel, the match. But Morphy wouldn't hear of it and the match was set to commence on the following Monday with the first person to win seven games declared the winner.
Since Anderssen had never been to Paris, Edge showed him around and, while they visited some sites such as the Louvre, Anderssen gravitated toward to Café de la Régence where he met his old nemesis, Harrwitz, who was also originally from Breslau. They got into a friendly argument over who had won the most games between them in the past and decided to settle it over the board. The result of their six games was Anderssen 3, Harrwitz 1 and 2 draws.
The match was to begin on Monday at 12:00 noon in a special room at Morphy's hotel, the Breteuil at 1 Rue du Dauphin. A few blocks away the crowd was so large that three boards were set up at the Café de la Régence so everyone could see and the moves were carried by messenger every half hour. The only ones present in the room itself were Eugène Lequesne, Saint Amant, Jules Arnous De Rivière, Jean Prèti, Paul Journoud (1821-1882, edited La Régence, La Nouvelle Régence, Le Palemède and Le Sphinx), Carlini, Frederick Edge, Jas. Mortimer and Dr. Johnson (New York Times correspondent).
Anderssen arrived on time but Morphy was late:
Prof. Anderssen arrived precisely 12 o'clock, in the company of messrs. Prèti and Carlini. Mr. Morphy who had not yet risen from bed after his late disposition, did not appear for a half an hour and when he did join the party, looked so pale and feeble that, it seemed he was risking too much in undertaking the task he had before him. However, he declared his head was alright, and rapidly shaking hands with his adversary and the party present, he stepped at once to the board, seized a black and white pawn, changed them under the table, and held out his hand for the Professor to make a choice. Morphy won the move, and the game commenced at once with the Evan's Gambit. - Dr. Johnson
Dr. Johnson also observed the two contestants and gave the following description:
...Nothing could be more unlike than than the physique of the two players. Mr. Morphy is a frail, small boy, with a fine face and head, and a modest, almost timid, air. Prof. Anderssen, on the contrary, is a tall man, slim, about fifty years of age, with a small, bald head, a slight stoop in the shoulders, lively black eyes, a clean-shaven face, and a decidedly German cast of features. He is a quiet, gentlemanly man, with a sympathetic expression of the face, which immediately predisposes in his favor...
The match began Dec. 20 and ended on Dec. 28.

Morphy won with 7 wins, 2 losses, and 2 draws.

After each game, Anderssen would walk over the the Café de la Régence and telegraph the game score to Berlin and Leipzig for the benefit of the German chess fans.

After Morphy lost the first game offering the Evan's Gambit, he remarked to Edge that the game "proved to him that the Evans is indubitably a lost game for the first player, if the defense be carefully played; inasmuch as the former can never recover the gambit pawn, and the position supposed to be acquired at the outset, cannot be maintained."

(yet, of about 80+ Evan's Gambits he played, Morphy only lost 2 playing even and a just a few at Rook and Knight odds)
| | | | | | | | | | | | | |
| --- | --- | --- | --- | --- | --- | --- | --- | --- | --- | --- | --- | --- |
| | game 1 | game 2 | game 3 | game 4 | game 5 | game 6 | game 7 | game 8 | game 9 | game 10 | game 11 | |
| Paul Morphy | 0 | draw | 1 | 1 | 1 | 1 | 1 | draw | 1 | 0 | 1 | 7 |
| Adolf Anderssen | 1 | draw | 0 | 0 | 0 | 0 | 0 | draw | 0 | 1 | 0 | 2 |
| Opening | Evan's Gambit | Ruy Lopez | Ruy Lopez | Ruy Lopez | Center Counter | Anderssen's Opening | Center Counter | Anderssen's Opening | Sicilian Defense | Anderssen's Opening | French Defense | |
| Player with white | Morphy | Anderssen | Morphy | Anderssen | Morphy | Anderssen | Morphy | Anderssen | Morphy | Anderssen | Morphy | |
| Time | 7 hrs. | 5 hrs. | 2 hrs. | 4 hrs. | 5 hrs | 8 hrs. | 2-3 hrs. | 4 hrs. | 30 mins. | 6 hrs. | 4 hrs. | |
-- Morphy-Anderssen casual games

The day after the match, Morphy and Anderssen played 6 casual games in just three hours

Morphy won 5 - Anderssen won 1

Afterwards Anderssen noted:

"Morphy is too strong for any living player to hope to win more than a game here and there."
Anderssen left Paris on January 2, 1859 with the expectation of Morphy traveling to Germany in the spring:
"They wont be pleased with me in Berlin, but I shall tell them, 'Mr. Morphy will come here himself.'"
and it seems that Edge had the same expectation:
"Mr. Morphy may shortly pay a flying visit to Berlin for the purpose of playing a few games with Lange, Drufresne and Mayet."
But such hopes never materialized.

As good an impression that Morphy made on Anderssen, Anderssen in turn made an equally good impression on all those he met.
According to Edge:
"I have never seen a nobler-hearted gentleman than Herr Anderssen. He would sit at the board, examining the frightful positions into which Morphy had forced him until his whole face was radiant with admiration of his antagonist's strategy, and, positively laughing outright, he would commence resetting the pieces for another game, without a remark. I never heard him make a single observation to Morphy complimentary of his skill; but, to others, he was loud in his admiration of the young American. He said to me - 'I win my games in seventy moves, but Mr. Morphy wins his in twenty, but it is only natural..."
Anderssen's own observations about Morphy according to Edge:
"On the morning previous to his departure he (Anderssen) said in my hearing: - "I consider Mr. Morphy the finest chess player who ever existed. He is far superior to any now living, and would doubtless have beaten Labourdonnais himself. In all his games with me, he has not only played, in every instance, the exact move, but the most exact. He never makes a mistake (Morphy, present, here quietly smiled); but, if his adversary commits the slightest error, he is lost."
After defeating Anderssen, Morphy's distaste for chess, especially chess politics, became more and more obvious. Before leaving for Europe, he had offered odds of Pawn and Move (usually meaning he would play black and remove his Queen's Knight's pawn) to any American player. Now he extended that challenge to the world, including Harrwitz and Staunton.

On even terms, he played a promised match against Augustus Mongredian, (played at the Hotel du Louvre, where Mongredian was staying, in the presence of St. Amant and Rivière with Morphy winning 7-0, the first game a draw); three games with Lowenthal; one with Boden; and a few casual games against Rivière and Mongredian (in 1863). Other than these, Morphy never played another game without giving odds.
Rivière engaged Morphy to collaborate on a treatise analyzing chess openings. Before they had gotten too far along in this project, Paul's brother-in-law, John D. Sybrandt, who was in Europe on business, on the direction of Morphy's family, came to Paris to try to hasten Paul's return to America. A hastily planned farewell banquet was arranged at Pestel's Restaurant.
Frederick Edge and Morphy had some sort of falling out, the reasons for which can only be speculated. Edge was beginning his book on Morphy. It's possible that Morphy has seen a draft and the idea of the publicity and the possible treatment by Edge of certain events, such as the Staunton affair, might not have seemed suitable to Morphy. It is known that Morphy issued a statement in the July 1859 issue of Chess Monthly stating: "Mr. Morphy expressly disclaims any connection with it [Edge's book, The Exploits and Triumphs in Europe of Paul Morphy] in any way or manner. There are many passages that might well have been omitted; there are many more which might well have been rewritten."
At any rate, shortly after the Anderssen match, Edge and Morphy parted ways.
On April 6, Morphy, Sybrandt and Rivière left Paris for England.
Morphy attended some affairs and played a number of games at odds. On April 13, he gave an eight board blindfold exhibition at the London Chess Club. His opponents, in board order, were : George Walker, F. L. Slous, F. E. Greenaway, F. G. Janssens, Mongredian, G. W. Medley, G. Maude and J. P. Jones. Among the spectators were Rivière, Löwenthal, Lord Arthur Hay, Marmaduke Wyvill, Barnes and Boden. Morphy won 2, drew 1 (against Walker) and the rest were discontinued due to the lateness of the hour. (the exhibition lasted from 5:00 pm until 1:00 am)
On April 20, Morphy gave another eight board blindfold exhibition at St. George's. His opponents, in board order, were: Lord Cremorne, Capt. Kennedy, H. G. Cattley, Lord Arthur Hay, T. H. Worrall, J. Cunningham, G. Thrupp and Thomas Barnes. The exhibition lasted from 2:00 - 6:30 with Morphy winning 5 and drawing 3.
Between the exhibition on April 20 and April 24, Morphy played many casual games and a 9 game match against Worrell at Knight odds, winning 7-2.
Then on April 26, he played a 5 board simultaneous exhibition (sighted - noteworthy since this was the only one of his career) against , in board order, Rivière, Boden, Barnes, Bird and Löwenthal.
Morphy won 2 (to Rivière and Bird), lost 1 (to Barnes) and drew 2 (to Boden and Löwenthal).see note
The London Sunday Times reported:

"More than once in the course of play his opponents had to call for time, which he conceded with most
good-humoured courtesy, chatting in the interim carelessly with whoever chanced to stand near him."
It's been pointed out that in the only game Morphy lost (against Barnes), he had missed a clear win:
starting with move 36. Rxd6+ cxd6 37. Q-g8+ K-d7
In the July 11, 1884 edition of the New Orleans Times-Democrat, of which Charles Maurian was the chess editor, in a memorial column, it stated:
"In a game with the Queen of England he gallantly permitted Her Majesty to win, but with Napoleon III, he was less gallant."
Nothing more is known for sure about his play with either monarch.

On April 30, he boarded the Persia bound for New York, never to return to England.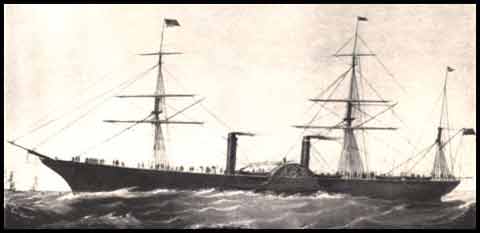 The Steamship Persia, built in1856 by Robert Napier & Sons, Glasgow for the Cunard Steamship Company, was the fastest vessel in it's time to cross the Atlantic - just 8 days.
It cost £130,000 to build, had a cargo capacity 1,050 tons and could carry 200 passengers.