Paul Morphy has been called "The Pride and Sorrow of Chess" and for obvious reasons. But the wonderment that Morphy inspired had the unfortunate effect of shadowing out the great accomplishments and the perhaps greater tragedy of his predecessor.
Charles Henry Stanley was born in Brighton, England in 1819. When he was about 20, around 1840, he lived in London where he met H.W Popert, a strong chess player from Hamburg, Germany. Popert was just visiting London at the time, but suffered a stroke while there. Not long afterwards, he collapsed outside of Simpson's Divan and was transported back to Hamburg where he died in 1844. But Stanley learned a lot about chess in that short time. He was able to hold his own against Staunton at "pawn and 2" odds, beating him in such a match in +3=3-1 in 1841.
Then in 1843, Stanley moved to America. In New York City he beat all the strongest players. But 1845 might be accurately called the "Stanley Year."
His list of accomplishments that year is quite impressive:

- He started the first chess column in America beginning March 1, 1845 and ending October 4, 1848. It appeared in a periodical called "The Spirit of the Times." Later, in this column he printed the first chess problem ever published in America.


- He became secretary of the New York Chess Club.


- He won the first match ever played for a national title when he beat Eugene Rousseau for the U.S. Championship. Though this match is considered unofficial, there was no secret it was to determine the best player in America. Rousseau was a French player living in New Orleans. After he beat John William Schulten in two matches -1841 and 1843- he was considered by the American chess community to be America's strongest player. The stakes for the Rousseau-Stanley match was $1000. Rousseau's second was Ernest Morphy, Paul Morphy's uncle. Paul attended too. He would have been 6 years old. When Paul was 10, he beat Rousseau. Stanley won the match easily and decisively with a +15-8 score.
The next year, 1846, Staney published America's first book of a match, "Thirty-one Games at Chess."
He also founded the "American Chess Magazine" which only lasted a year. It, along with "The Chess Palladium and Mathematical Sphinx", were the first American chess periodicals.
In 1848, after his chess column in "The Spirit of the Times" ended, he began a new one in "The Albion." This was lasted until 1856. Through this chess column, Stanley met a penniless Hungarian
refugee named Jßnos Jakab L÷wenthal. L÷wenthal was known to be a strong European player who became a political refugee from Hungary. He came to America hoping to become a western pioneer, but the elegantly, cultured L÷wenthal was hardly the pioneer type. Stanley and others set him up as chess professional in a cigar divan in Cincinnati. later L÷wenthal moved to England and became a Bristish citizen. Before he left, he also managed to lose to 12 year old Morphy in New Orleans.
In 1850 Stanley got married and also drew a match with L÷wenthal (+3 -3) In 1852 he drew a match with Saint-Amant (+4 -4).
Stanley was also a chess problemist and he helped organize and promote America's first composing tourny in 1855.

Careerwise as well as personally, everything was looking rosy for Stanley. But he had one problem and this one problem haunted the rest of his life. He was a seemingly incurable alcoholic.
By 1857, the year of the First American Chess Congress, Stanley was considered the U.S.Champion but he was also quite destitute as a result of his drinking problem. Paul Morphy won the tournament effortlessly and after the tournament beat Stanley +4-1 in a casual match while giving Stanley the odds of "pawn and the move." There was no doubt that there was a new U.S.Champion. Morphy, knowing the Stanley family's dire straits, gave his winnings to Mrs. Stanley, claiming he couldn't give it to Charles because "he would have drunk it all up."
Mrs. Stanley named her next child Pauline after Paul Morphy and Charles Stanley was so impressed that he wrote and published "Morphy's Match Games" in 1859.
In 1859, he also wrote, "The Chess Player's Instructor" which was popular enough to go into a second printing the very same year. Then, it was published again in 1880 but under a different title, "De Witt's American Chess Manual."

In 1860 Stanley returned to England. There he edited a chess column in the Manchester Weekly Express and Guardian for two years. He tried to establish a reputation as a player in England but failed to make any impression in either match or tournament play.
He returned to America in 1862 and after losing a match to George Henry Mackenzie (+1-2), he retired from chess. From 1880 until he died in 1901, this former U.S. chess champion and innovator lived in institutions in the Bronx and on Ward's Island State Emigrant Refuge and Hospital.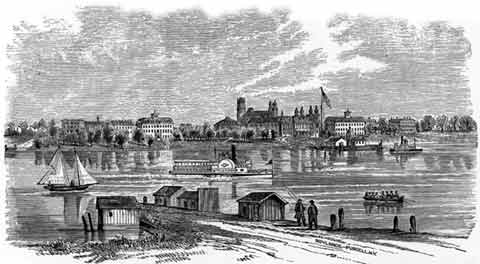 Ward's Island 1880's