Lawrence Totaro of Ultimate Chess Collecting sent me some information on John Singer Sargent as well as a question.
The question concerns John Singer Sargent (1856-1925), one of the greatest painters of the late 19th - early 20th century. His paintings included several depicting chess and The JSS Virtual Gallery (a profuse site dealing with John Singer Sargent) gives this rather limited insight:
Sargent was an avid chess player and was a game he often played on his painting trips. In the summer of 1907 Sargent takes a trip to Purtud which is a little town in the Val d'Aosta on the Italian-Swiss border and there he paints his nieces and friends.
This begs Mr. Totaro's question:
To what extent did Sargent understand the game, are any games available and are there any chess resources that mention "Sargent" as a reference?
Hours of searching uncovered little in the way of answering his question.
The Oxford Companion to Chess has Sargent in its list of artists/chess players. The list also includes Sofonisba Anguissola , Paris Bordone, Georges Braque, Richard Dadd, Honoré Daumier, Eugene Delacroix, Marcel Duchamp, Thomas Eakins, Franceseco di Giorgio, Lucas van Leyden, Lucas van Loo and Henri Matisse
According to the National Gallery - "After he gave up formal portraiture, Sargent returned to outdoor painting in a series of landscapes with figures celebrating the pleasures of resting in the sun, reading, dreaming, playing chess, or sketching."
Time Magazine from Monday, Dec. 10, 1923 wrote:
John Singer Sargent was among 3,000 men and women who attended Varnishing Day at the art gallery in the Grand Central Terminal. His new canvas, The Chess Players, is the first picture to be donated to the season's drawing. His last year's canvas, Artist Sketching, became the property of a Chicago lay member after the Grand Central Galleries had refused a private offer of $8,000 for it.
All of which, unfortunately, really has nothing to do with the question.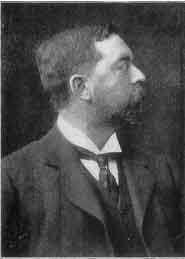 John Singer Sargent
Sargent's paintings and drawings depicting chess: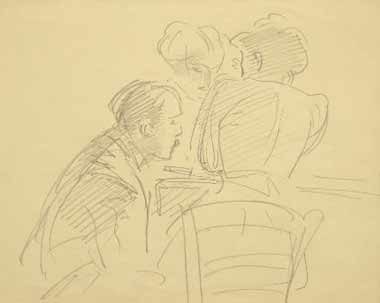 pencil drawing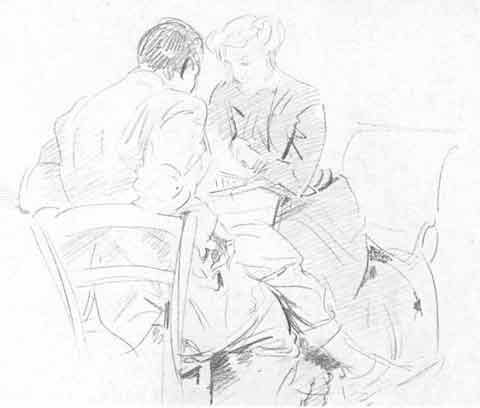 A Game of Chess (Sketch)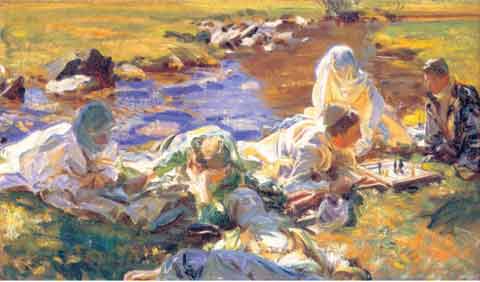 Dolce Far Niente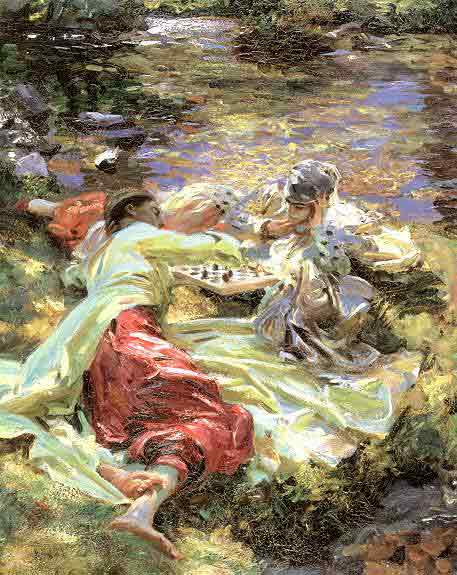 The Chess Game
Oil Painting, 1907