America has never been without good female chess players. On January 31, 1827, Mrs. Fischer became one of the very few individuals to have beaten Maelzel's Turk, operated by William Schlumberger, in Philadelphia. In New York on October 20, 1857, Amelie Paulsen (the sister of Louis Paulsen, both temporary immigrants from Germany) won a game from Judge Meek, one of America's better players. Ellen E. Gilbert, in a correspondence game against J. W. Barry in 1875, announced "mate in 18" and in a 1879 correspondence match against chess-master, George Hatfeild Gossip, announced mated "mate in 35," while announcing "mate in 21" in a separate game from that same match in which she won all her games. Gossip, in turn, wrote an article in 1894 mentioning Nellie Showalter, the wife of the American champion, Jackson Showalter:
"Mrs. Showalter, the wife of the present American champion, whose portrait we give, is the present lady champion, and although only twenty-two, has signalized herself by beating Lasker in a match at the odds of a Knight by five to two games. In a subsequent match at Kokomo, Ind., she easily defeated Mr. C.O. Jackson, drawing the first game and winning the next three games right off. She also won a majority of games of Mr. Arthur Peter, who took first prize in the "Free-for-all" Tourney at Kokomo. She has now been challenged by Mrs. Worrall; but at present holds the title of "queen of chess", abdicated by Mrs. Gilbert, of Hartford, Conn., who once immortalized herself in the Correspondence Match America vs. England by announcing a mate
in twenty-three moves in one game, and also a mate in eighteen in the other companion game, to her astonished opponent across the Atlantic."
Nellie Showalter, in turn, played a match against Harriet Worrall, the widow of Thomas Herbert Worrall, a one-time Knight's-odds opponent of Paul Morphy. Mrs. Worrall played Morphy herself at Rook odds scoring -1=1. The Worrall-Showalter match terminated unnaturally when Mrs. Showalter took ill, but Showalter's 3½-1½ lead indicated her superiority.
In 1902 Rhoda Bowles and Mrs. Frank W. Lynn of Chicago both won simul games against Emanuel Lasker while in 1903, Rosa Jefferson of Memphis beat Pillsbury during a 16 board blindfold simul.[1]
Half-hearted attempts at establishing women's organizations and even a U. S. women's championship occurred during those times. But they amount to little more than wishful thinking and nothing much ever came from them[2]
---
In 1936 the plan for the 1937 Marshall Club women's tournament include hopes that the winner would be the officially recognized leading woman player in the U. S. and that, as such, would be sent to participate as America's representative to the International Ladies Tournament in Stockholm, basically the women's world championship, that summer. Those dreams were only partially realized.
Of the ten women who participated in the 1937 Marshall Club women's tournament, six were pre-qualified - the six contestants from the previous year: Mrs. Adele Rivero of Manhattan, Mrs. Mary Bain of Astoria, N. Y., Mrs. Raphael McCready of Hackensack, N. J., Mrs. William Slater of Doylestown, Pa., Miss Helen White of New York City, and Miss Edith L. Weart of Jackson Heights, N. Y.
The four qualifiers were Miss Adele Raettig of Hoboken, N.J., Mrs. Wm. Davey of New York City, Mrs. Elsie Rogosin of Roselle, N. J. and Miss Elizabeth Wray of New York City.
Unlkke the two previous years in which the Marshall Club sponsored the tournament, the 1937 tournament was held under the auspices of the National Chess Federation which had just sponsored the U. S. Championship. Besides the Helen Allen Trophy, the winner would receive a gold medal donated by Mr. H. M. Hartshorne. The second place prize was a beauty kit donated by Mr. C. A. Pfeiffer.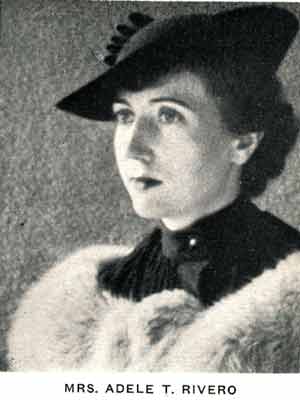 - Once again, Adele Rivero out-classed all the other participants with a near perfect score of 8½ - ½, drawing only to second-placed Mary Bain. Miss Bain scored 7-1, having drawn against Rivero and Kathryn Slater, but she had to forfeit her last game (against Miss Weart) due to illness. Mrs. Raphael McCready came in third with a distant 5-4.
- Adele Rivero was born in Belgium and "learned chess to disprove her Spanish husband's assertion that women didn't have the brains for the game."[3]
- Mary Bain was born in Hungary in 1904. She is said to have drawn against Capablanca in a May 21, 1933 simul match (not a blindfold simul, as is sometimes stated). (The story is that Capablanca resigned on move 11, after which Bain offered him a draw which he accepted). Mary Bain finally won the U. S. Women's Championship in 1951.
- Edith L. Weart, one of the weaker contenders, had her own special place in this era of women's chess. Born in Jersey City, N. J. in 1897, she studied chemistry at Oberlin College and only learned to play chess at age 27. Weart contributed many of the Chess Review articles on women's chess. Weart also compiled a "scrapbook" of articles and newspaper clipping outlining and highlighting the women and their chess events of that time.
Mrs. Wm.Davey vs. Mrs. Mary Bain
Marshall Club Tournament, Spring 1937

Mrs. Adele Rivero vs. W. S. Kimbell
Informal tourney at the Marshall Club, September 1937

One of the plans for this tournament was to decide on a women to represent the U. S. in the International Ladies Tournament in Stockholm. Adele Rivero was unable to attend so Mary Bain filled the position. There were 26 participants in the International Ladies Tournament. Bain won 5th place, a half point behind Sonja Graff and a half point ahead of May Karff. Vera Menchik, as usual, won the tournament by a wide margin.
The other plan for the tournament was to hopefully decide on an officially declared U. S. Women's Champion. Although there seems to be a consensus that this tournament did decide the first woman champion of the U. S., there is nothing to indicate that this was indeed the case. In fact, all evidence points to the idea that nothing of the kind occurred.
Edith Weart, after the 1937 tournament, wrote,
"As the tournament this year was sponsored by the National Chess Federation. Mrs. Rivero now holds the title of woman champion of that organization."

She never mentioned the U.S. championship title. It might be speculated that since this was a National Chess Federation event, and since no one from the American Chess Federation took part, that the title couldn't be justified.
But in the February 1938 issue of Chess Review, Weart wrote,
"Feminine chess takes a step forward with the announcement by the National Chess Federation that a tournament will be held in connection with the regular U. S. Championship tournament to determine the U. S. Woman Chess Champion."
This was the first mention of a definite women's title tournament, and the fact that Weart describes it as a "step forward" indicates that the tournament to be held in 1938 would be the first time.
Also in the February 1938 issue of Chess Review, Weart wrote:
Preliminaries of the annual tournament for custody of the Hazel Allen Trophy started on Jan. 14 with fifteen entries, an unusually large number, considering that nine players are seeded. Added interest is attached to the preliminaries, because they serve as a qualifying tourney not only for the Marshall C. C. Tournament, but, as well (for the New York area) for the U. S. Women's Championship, The players on the exempt list will also be seeded to play in the national tournament.
Exempt: Mrs. Adele Rivero (Woman Champion National Chess Federation),
Mrs. Mary Bain, Mrs. Wm. Davey, Miss May Karff, Mrs. Raphael McCready, Mrs. Kathryn Slater, Mrs. Elsie Rogosin, Miss Edith L. Weart, Miss Helen White.
There is no doubt that the 1938 tournament was to decide the U. S. women's champion. The preliminaries were held in March 1938. The participants included: Section 1- Mrs. W. E. Jackson, Mrs. D. Willard, Mrs. C. Leo, Miss C. Fawns, Miss S. Svarti, Mrs. J. B. Kelley and Mrs. H. Leeds. Section 2- Mrs. E. Harrison, Miss M. Harmath, Mrs. I. Kashdan, Miss H. Ranlett, Miss L. Pfister, Miss D. Lesley, Miss E. Wray and Miss M. Peters.
After some of the seeded women dropped out, the final list of ten contenders for the U. S. crown included:
Mrs. Adele Rivero, Mrs. Mary Bain, Miss May Karff, Mrs. Raphael McCready, Miss Edith L. Weart,
Miss Adele Raettig [4], Mrs. W. E. Jackson, Mrs. Edna Harrison, Miss M. Harmath and Mrs. I. Kashdan.
The tournament started on April 2nd and ended April 24th at the R. C. A. Building in New York City. The first four places were tightly contended. Mona May Karff (who was using the name N. May Karff) took first place, winning 9 and drawing one of her games. Mary Bain lost won and drew one, earning second place. Adele Rivero came in third (+7-2-1) in what seemed to be an upset. Edith Weart, who came in 4th (+7-3), explained Rivero's situation:
We are not as surprised at this showing as you probably are, for we knew the severe handicap under which she entered the tournament - nervous and physical exhaustion from weeks of overwork. We thought it showed in her play, especially in the later stages of her games.
Rivero was usually presented as a nervous player whose anxiety level could be measured by the amount of tissues she shredded in the course of a game. Her loses in the 1938 championship tournament were the first to any woman player in two years. In fact, on May 20th, less than two weeks before the commencement of the championship tournament, Mrs. Rivero played an eight-board simul at the Providence (R. I.) Chess Club - "Playing against the strongest women in the state, Mrs. Rivero made a clean sweep of the eight boards."
For winning first place Miss Karff received possession of the Hazel Allen Trophy and, as permanent property, a silver bowl donated by the committee. Mrs. Bain also received a silver bowl. Mrs. Rivero and Miss Weart received a copy of "Chessman" donated by Gustavus A. Phiffer. The prizes were presented by George Emlen Roosevelt, a yachtsman, cousin of Theodore Roosevelt and president of the Marshall Chess Club who additionally recited a poem he had written, dedicated to the "Also Rans."
Before the tournament, Mrs. Jean Moore Grau [5], woman champion of the American Chess Federation, who was unable make the trip from her home in Muscatine, Iowa to New York to participate in the tournament suggested a match between the winner of the National tournament and herself at some mid-way point. Mrs. Karff was amenable to the idea. Unfortunately, nothing ever seems to have become of the idea.
Anticlimactically, several of the ladies were in an automobile accident on their way home from a chess-related trip to Boston in the summer of 1938. Miss Weart suffered a broken shoulder, while Mary Bain broke several vertebrae. Mrs. Raphael McCready didn't have any serious physical injuries but suffered from trauma. [6]


Mrs .A. Rivero vs. Miss N. M. Karff
Women's U. S. Championship, 1938

---
1. The information on Showalter, Worrall, Bowles, Lynn and Jefferson came from Jerry Spinrad's article "Women in Chess"
[back]
2. Also from ""Women in Chess," an article from The New York Times, Sept 1, 1895
"America has for several years had such an organization, its members holding weekly meetings during seven months of the year. In the Spring of 1893 a few women met informally and organized what is now known as the "Women's Chess Association of America," their plan of organization being closely allied to that of the Manhattan Chess Club of New-York. In January, 1894, they elected their officers, and since that date they have had their weekly meetings at the Ladies' Club, 28 East Twenty-Second Street. Their roll of membership is at present seventy-five, including a number of honorary members selected from among the best women players in England and Ireland, the champion player of England, Miss Mary Rudge, and Mrs. Rowland of Ireland being among the number. For three years a game has been in progress between Mrs. Rowland and a member of the American Association, and the issue is still uncertain. During the coming Autumn, Winter, and Spring months the New York members of the association will hold their weekly meetings in the spacious quarters of the woman's Headquarters, 50 West Fifty-fifth Street."
The Worrall-Showalter match, announced in the New York Times on June 3, 1894, was touted as the first women's
championship of the United States.
Mr. Spinrad further notes:
"Mrs. Lynn came to New York for what was billed as the first American women's chess congress in 1906.
The event must have been a disappointment; only three women entered the "championship" section and six more in a general tournament (see: New York Times, May 8, 1906), with Mrs. Lynn finishing second to
Mrs. Charles P. Frey, as reported in the Times of May 10, 1906. Mrs. Burgess, who won the general tournament, beat Mrs. Frey in a match 4.5 - 1.5, according to the Chicago Tribune of Mar 10, 1907, and held the title of US champion for some years after that; she is still called US women's champion in an article in the Washington Post of Dec 3, 1916."
Four Brooklyn Eagle articles on the Showalter - Worrall match [game 1] [game 2] [game 3] [ game 5] [back]
3. According to Chess Bitch by Jennifer Shahade. 2005. Siles Press. (pp. 219-20) [back]
4. Adele Raettig also played in the preliminaries for the U. S. Championship (played from March 10-28) in Section A
She scored 1 - 7 (8th out of nine contestants in that section) [back]
5. In 1937 Jean M. Grau won the Western Women's Tournament (the U. S. Women's Open) in Chicago. [back]
6. From Aug. 1938 Chess Review:
The A. C. F. Congress (The U. S. Open)
Boston
An unfortunate aftermath of the tourney was the accident which occurred to Mary Bain, Mrs. McCready and Miss Weart. They were returning from Boston during the rainy spell, and their car skidded o a slippery pavement, going into a telegraph pole. The car overturned, pinning Miss Weart, who luckily escaped with a fractured shoulder. Mrs. Bain suffered a fractured vertebra, necessitating the wearing of a cast for several months. We do not know the extent of Mrs. McCready's injuries, but we extend to all three ladies our best wishes for their complete and early recovery.

The 1938 U. S. Women's Open in Boston was won by N. May Karff. This was the first year that this tournament was held in the East. One of the reasons for this was to give the American Chess Federation (formerly the Western Chess Federation) credibility as a national organization rather than a regional one.

Original source articles:
1937
1938
1938 Championship