1942 -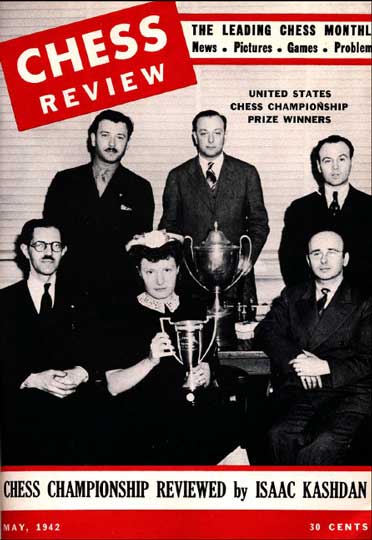 The Women's Championship reverted back to using a tournament to decide the title. 1942's tournament ran concurrent with the U. S. Chess Championship. Along with the reigning champion, Miss N. May Karff, Mrs. Adele Belcher, Mrs. Mary Bain and Mrs. G. K. Gresser were seeded in the tournament. A preliminary tournament was held to determine the other challengers. Mrs. M. Harmath, Miss Raettig, Miss M. Peters, Miss C. Fawns, Miss E. Wray and Mrs. E. Horowitz took part in the preliminary. Of these Harmath, Fawns, Wray and Raettig qualified. Nancy (or Nanny) Roos, one-time Woman Champion of Belgium, also was allowed to play.
Karff won with a comfortable margin 8-0. Belcher and Roos tied for 2nd place with 6-2.
There was a very odd unevenness in the reporting of this event. Although Karff was rightfully highly praised for her accomplishment, one of her games was a dead loss in which her opponent, the low-ranked Adele Raettig, overlooked mate and lost as a result. Without this lucky break, Karff's score would have been 7-1, a very close contest. At the same time, Nanny Roos scored 6-2 and her play was praised as "impressive." while Adele Belcher, who also scored 6-2 was highly criticized: "she again showed her lack of control by blundering away a good position." Karff's unearned win also belies Horowitz' claim that, "she disposed of her rivals with comparative ease."
---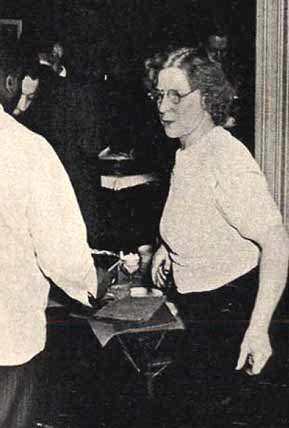 Carrie Marshall, 1942
---
1943 -
was an off-year with very little to discuss. Here are some tidbits from Chess Review in 1943: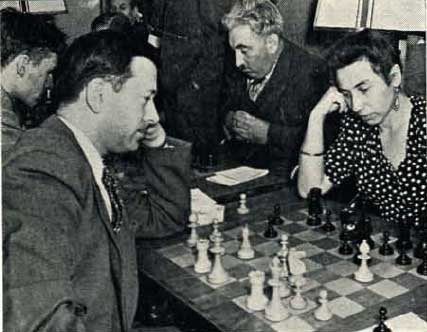 Internationalist Herman Steiner (left) is largely responsible for the growing interest in chess in Hollywood, Calif. Steiner edits a chess column in the Los Angeles Times, actively promotes chess activities, conducts his own chess club at 108 N. Formosa Avenue. In the photo, Steiner is playing Mrs. Nanny Roos, formerly of New York and one-time woman chess champion of Belgium.



U. S. Seamen learn how to play chess . . . . . . under the expert guidance of Mrs. G. K. Gresser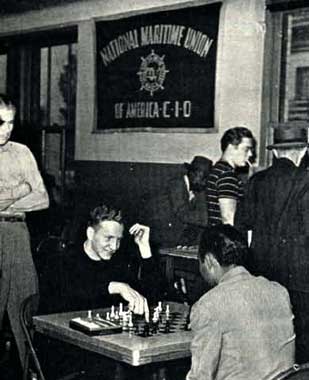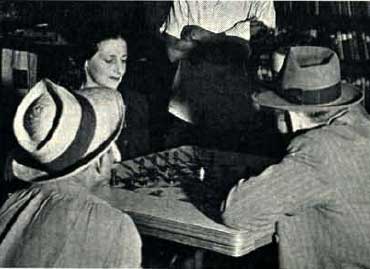 Gisela K. Gresser, one of New York's leading women players, has shown patriotic and chessic initiative by introducing chess to U.S. seamen at the Maritime Workers Union hall. The response has been unexpectedly encouraging and many seamen will have an interest in chess to sustain their morale on the tedious and perilous seas of the world at war.
---

1944 -
introduced Gisela K. Gresser as a power to be reckoned with. In the U.S. Women's Chess Championship that ended on May 7, 1944, Gresser outplayed her 8 opponents with only May Karff coming within spitting distance:
Women's Championship

Mrs. Gresser
8
0
Mrs. Roos
4
4
Miss Karff
7
1
Miss Wray
3
5
Miss K. Henschel
5
3
Miss Peters
½
7½
Miss W. Henschel
4
4
Mrs. Stephens
½
7½
Miss Raettig
4
4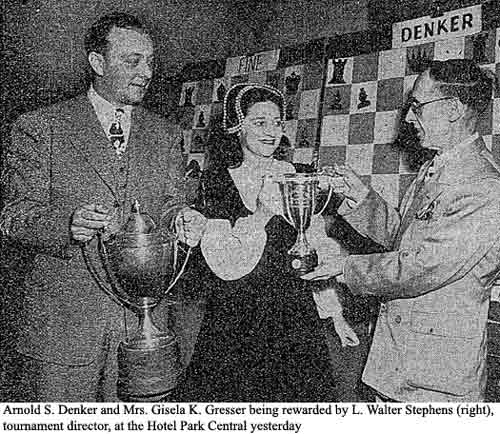 Finishing with eight straight victories, after defeating Miss Adele S. Raettig of Hoboken in an eventful game lasting forty-six moves in the ninth and final round of the women's tournament, Mrs. Gisela Kahn Gresser of this city succeeded as champion Miss N. May Karff of Boston, second, with a score of 7-1. Mrs. Gresser won the final game after forty-six moves.
The third prize was taken by Miss Kate Henschel with 5-3. She lost her last game to Miss Elizabeth Wray in twenty-six moves, but her sister, Miss Wally Henschel, won from Mrs. Stephens in eighteen. Mrs. Nancy Roos of Los Angeles checkmated Miss Mildred Peters in fifteen moves.
Chess Start in 1938
Mrs. Gresser, a native of Detroit and later a resident of Youngstown, Ohio, until she came to New York, in 1928, gained her first knowledge of chess six years ago. She joined the Marshall Club in 1938 and that year witnessed the play at a meeting of the United States Chess Federation.
Two years later, she was a competitor and finished third. In 1942 she was fourth. Most of the new champion's training was gained in special tournaments at the Marshall Club. She benefited greatly, too, through membership at the Manhattan Club.
In 1927 Mrs. Gresser, who is both a painter and a sculptor, was the second woman to win the Charles Elliot Norton Fellowship at Radcliffe College for Greek archaeological research. Her father, Julius Kahn, was one of the organizers of the Truscan Steel Company. Her grandfather, Dr. Alexander Kohut, was a founder of the Jewish Theological Seminary in this city and Albert Kahn, an uncle, was a leading industrial architect.
- New York Times, May 8, 1944
Mrs. G. K. Gresser - Miss N. M. Karff

1945 -
was another off-year. The United States was otherwise occupied with it's victory over the Axis Powers and it's return to normalcy. One interesting affair was the Pan-American Chess Congress organized by Herman Steiner in Hollywood, California from July 28 - August 12. It was comprised of 6 different events, one of which was the women's tournament. Mary Bain and May Karff tied for first place with a score of 7-1. Nancy Roos placed second. Among the other five contestants was the movie star, Mitzi Mayfair (who played using her married name, Mrs. Charles Henderson).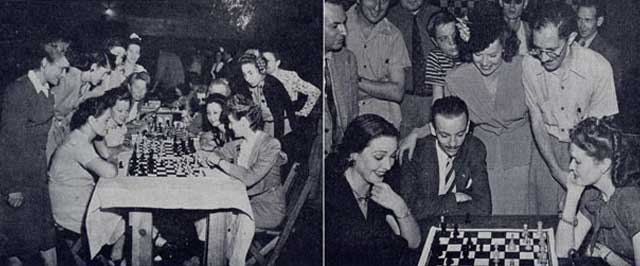 The Women's Tournament attracted a good entry and aroused considerable interest. LEFT: (from foreground to
background) seated on left, Mrs. Bain, Mrs. Henderson (Mitzi Mayfair), Mrs. Harmath. Standing in back of Mrs. Bain
is Mrs. von Sternberg, wife of the noted director. Seated on right (facing Mrs. Bain) is Miss Karff. Miss Roos is standing
behind Miss Karff. RIGHT: Linda Darnell (left) skittles with Rosanne Murray (right). The illustrious kibitzers include
Fine, Rossetto and Kashdan. - CHESS REVIEW, October, 1945
---
Original source articles:
1942
1944
Additional information:
N. May Karff
Gisela Kahn Gresser