Ukraine is an independent republic bordered on the West by Poland, Slovakia, Hungary, Moldova and Romania, on the North by Belarus, on the South by the Black Sea and on the East by Russia. It has only been an independent nation since 1991.
Before gaining it's independence, Ukraine had been a member of the Soviet Union (USSR).
The Soviet Union, formed in 1922, was the most dominant chess nation during the 20th century. Almost immediately after its creation, the USSR formed a Chess Union (1923) which was soon organized (1924) along the same rigid and unforgiving principles as most Soviet programs.
Ukraine was one of the original countries that, after a brief flirtation with independence, formed the USSR, but this relationship didn't arise out of thin air. Before the Russian Civil War of 1918-1921, before the February and October Revolutions of 1917, before Lenin, Trotsky and Stalin, before Leningrad and Five Year Plans, there was the Russian Empire. This empire was vast, consisting of Ukraine, Belarus, Moldova, Finland, Armenia, Azerbaijan, Georgia, Kazakhstan, Kyrgyzstan, Tajikistan, Turkmenistan and Uzbekistan, Lithuania, Estonia and Latvia, parts of Poland and Turkey - all under the rule of the tsar. The last tsar, Nicholas II, before he was executed along with his family, promoted chess and is claimed to have first formally conferred the title of Grandmaster of Chess to Lasker, Capablanca, Alekhine, Tarrasch and Marshall in St. Petersburg, 1914.
In those pre-Soviet days, chess was already popular in the Russian Empire. Alekhine, who left Russia just before the creation of the Soviet Union, made his first mark by winning the Moscow Chess Club Spring Tournament of 1908. He would proceed to win the Autumn Tournament that same year followed by the the St. Petersburg All-Russian Tournament of 1909. But before leaving Russia, Alekhine would win what's considered the first Soviet Championship, the 1920 All-Russian Chess Olympiad.
While Ukraine couldn't boast of Alekhine, it could boast of Alekhine's perpetual nemesis, Efim Dmitriyevich Bogoljubov who was born in Stanislavitsk, near Kiev, on April 14, 1889 as well as Prince Dadian of Mingelia who retired to Kiev in 1895 and Fyodor Duz-Chotimirsky, who also gained international recognition.
In the July 2005 issue of BCM, Efim Lazarev presented an article entitled Milestones of Ukrainian Chess.
Some of the highlights of this article -
| | |
| --- | --- |
| 1903 | The 3rd Championship of the Russian Empire was held in Kiev and won by Chigorin. |
| 1909 | Fedor Dus-Chotimirsky, a frequent Kiev champion, finished 13th in the Chigorin Memorial. He defeated the 1st and 2nd place winners (Lasker and Rubinstein) in individual games and was the first Ukrainian to play in a top-level international tournament. |
| 1912 | Efim Bogoljubow became the first Ukrainian to win 1st prize in an important international tournament (Lodz) |
| 1924 | Kiev hosted the first Ukrainian Championship, won by Yakov Vilner of Odessa. |
| 1925 | Efim Bogoljubow now became the first Ukrainian to win a super-tournament. (Moscow) |
| 1927 | Fedor Bohatirchuk shared 1st/2nd place with Peter Romanovsky in the USSR Championship. In five games vs Botvinnik scored 3 wins and 2 draws |
| 1950 | David Bronstein, who was born in Kiev and Isaac Boleslavsky, who was from Dnepropetrovsk shared the World Championship Candidates Tournament. Bronstein defeated Boleslavsky which entitled his to play Botvinnik for the World Championship, a match that ended in a 12-12 draw. Howeverm Liudmilla Rudenko of Lubny, Ukraine, won the Women's World Championship. |
| 1952 | Efim Geller became the first Ukrainian player to be awarded the title GrandMaster. Geller also won the Chess Olympian in 1952 while playing for Russia. |
| 1953 | Efim Geller played in the Candidates competition for the World Championship. |
| 1967 | Leonid Stein from Lviv, Ukraine, took 1st place in Moscow (ahead of Petrosian, Smyslov, Tal, Spaasky, Bronstein, Geller, Keres, Korchnoi, and Portisch). In 1971 Moscow Stein shared 1st place with Karpov. |
| 1973 | Oleg Romanishin, also from Lviv won the European Junior Championship while his fellow Lvivian, Alexander Beliavsky won the World Junior Championship. Both players were coached by Viktor Kart. |
| 1974 | Marta Litinskaya, a lass from Lviv, reached the semi-finals of the Women's World Championship. |
| 1983 | Lidia Semenova of Kiev lost in her bid for the Women's World Championship to Irina Levitina (of Lenningrad). |
| 1991 | Vasl Ivanchuk from Lviv won the 9th Linares Tournament without a single loss, winning against Kasparov, Karpov and Anand. |
| 1992 | Ukraine earned it's independence in 1991 and in 1992, the first tournament was held in Simferopol, Independent Ukraine and was won by Borovikov. Ukraine also participated in the World Chess Olympiad for the first time. The Ukrainian men's team, comprised of Ivanchuk, Beliavsky, Romanishin, Eingorn, Novikov and Mikhalchishin, captured 9th place while the women's team, comprised of Galliamova-Ivanchuk, Litinskaya, Chelushkina and Semenovo, won Silver medals (second place). |
| 1996 | The Ukrainian men's team, perhaps spurred on by the women's previous performance in Manilla, took home Silver medals from the World Chess Olympiad being held in Yerevan. |
| 1997 | Ruslan Ponomariov from Kramatorsk, Ukraine, became the younger grandmaster in chess history at 14 years and 17 days. |
| 2000 | Natalia Zhukova from Kherson, Ukraine won the 1st European Women's Championship. |
| 2001 | The Ukrainian men's team, comprised of Ivanchuk of Lviv, Ponomariov of Kramatorsk, Vladimir Baklan of Kiev, Viacheslav Eingorn from Odessa, Oleg Romanishin of Lviv and Vadim Malakhatko of Kiev, won the World Team Championship. |
| 2002 | Ruslan Ponomariov beat out Vasyl Ivanchuk in final of the FIDE Knock-Out World Championship to become the youngest ever FIDE World Champion at age 18. Meanwhile, Sergey Karyakin of Kramatorsk, Ukraine became the youngest grandmaster in chess history at 12 years and 7 months. Marta Litinskaya won the Women's Veterns World Championship. |
| 2003 | Katerina Lahno of Kramatorsk became the youngest woman grandmaster in chess history. |
| 2004 | Vasyl Ivanchuk won the European Individual Championship. The Ukrainian men's team, comprised of Vasyl Ivanchuk, Ruslan Ponomariov . Andrei Volokitin of Lviv, Alexander Moiscenko of Kharkov, Pavel Elyanov of Kharkov and Sergey Karyakin of Simferopol, (coached by Vladimir Tukamakov form Odessa) won the World Chess Olympiad. |
Notable Ukrainian Chess Players:
(N.B. some of the Ukrainian connections are tenuous since some players were simply born in Ukraine or even in places that only came under the Ukrainian flag at a later date)
Alexander Areshchenko was born in June 15,1986 at Kramatorsk, Ukraine
Anjelina Belakovskaia born in Odessa, Ukraine
Alexander Beliavsky born December 17, 1953 in Lviv
Ossip Samoilovich Bernstein was born September 20, 1882 at Zhitomir, Ukraine and died November 30, 1962
Fedor Bogatyrchuk was born on November 14, 1892 in Kiev, Ukraine - died September 4, 1984 (In 1911, Bogatyrchuk won, followed by Izbinski, Bogoljubow, etc., at Kiev. In 1914, he took 3rd at Kiev. http://en.wikipedia.org/wiki/Fedor_Bogatyrchuk)
Efim Dmitriyevich Bogolyubov (April 14, 1889–June 18, 1952)
Isaac Boleslavsky was born on June 9, 1919 in Zolotonosha, Ukraine and died on February 15, 1977
David Bronstein was born in Bila Tserkva near Kiev, Ukraine on February 19, 1924.
Oscar Chajes was born December 14, 1873 in Brody, Galicia and died February 28, 1928
Alexander Evensohn (1892 – 1919) [In 1909, Evensohn took 7th at Kiev. The event was won by Nikolaev. In 1911, he took 3rd, behind Efim Bogoljubow and Izbinsky, at Kiev. In 1911, he took 4th at Kiev. The event was won by Fedor Bohatirchuk. In 1913, he won, followed by Smorodsky, Verlinsky, etc., at Sankt Petersburg. In January 1914, he took 9th at Sankt Petersburg. The event was won by Alexander Alekhine and Aron Nimzowitsch. In 1914, he won ahead of Bogoljubow and Bohatirchuk at Kiev. http://en.wikipedia.org/wiki/Alexander_Evensohn ]
Salomon Mikhailovich Flohr (November 21, 1908 – July 18, 1983) was born in Horodenka in what was then Austria-Hungary, but is now in Ukraine.
Maurice Fox was born January 14, 1898 in Ukraine and died June 25 1988
Efim Geller (March 8, 1925 – November 17, 1998)
Edward Gerstenfeld born in 1915 at Lviv and died 1943
Eduard Gufeld (March 20, 1936 – September 23, 2002)
Vasyl Mykhaylovych Ivanchuk was born March 18, 1969 in Berezhany, Ukraine
Gregory Kaidanov was born October 11, 1959 in Berdichev, Ukraine,
Sergey Karjakin was born January 12, 1990 in Kramatorsk, Ukraine
Alexander Konstantinopolsky was born February 19 1910 in Zhitomir, Ukraine and died in 1990.
Irina Krush was born on December 24, 1983 in Odessa, Ukraine.
Yuri Kuzubov was born January 26, 1990 in Ukraine.
Kateryna Lahno was born on. December 27, 1989 in Kramatorsk, Ukraine.
Moishe Lowtzky (1881-1940) was born in Ukraine [In 1903, Lowtzky tied for 6-7th with Eugene Znosko-Borovsky in Kiev (3rd RUS-ch). The event was won by Mikhail Chigorin]
Adrian Mikhalchishin was born November 18, 1954 in Lviv, Ukraine.
Ruslan Ponomariov was born on October 11, 1983 at Horlivka, Ukraine
Stepan Popel was born on August 15, 1909 in Komarniki and died December, 1987
Ignatz von Popiel (July 27, 1863 - May 2 1941) Drohobycz, Ukraine.
Oleg Romanishin was born on January 10, 1952 in Lviv, Ukraine.
Jakob Rosanes was August 16, 1842 Brody, Austria-Hungary (now Ukraine) and died January 6, 1922 was a mathematician at Breslau University. An 1862 game where Rosanes beats Anderssen in a Ruy Lopez:
http://www.chessgames.com/perl/chessgame?gid=1019149
Nicolas Rossolimo was born on February 28, 1910 in Kiev and died July 24, 1975
Lyudmila Vladimirovna Rudenko was born on July 27, 1904 in Lubny ( in the Poltava region of Ukraine). She died March 4, 1986.
Vladimir Savon was born in Ukraine on September 26, 1940 and died on June 1, 2005.
Leonid Stein (November 12, 1934 – July 4, 1973)
Mark Evgenievich Taimanov was born February 7, 1926 in Kharkov, Ukraine.
Vladimir Tukmakov was born on March 5, 1946 in Odessa, Ukraine.
Boris Verlinsky was born on January 8, 1888 in Bakhmut, Ukraine and died in 1950 [In 1909, Boris Markovich Verlinsky tied for 10-11th in St. Petersburg. The event was won by Alexander Alekhine. In 1910, he won in Odessa. In 1911, he tied for 6-8th in St Petersburg (Levitsky won). In 1913, he took 3rd in St. Petersburg (Alexander Evensohn won).]
Andrei Volokitin was born on June 11, 1986 in Lviv, Ukraine
Anna Zatonskih was born on June 17, 1978 in Mariupol, Ukraine and twice won the Ukraninian Women's Chess Championship
Ukrainian Tournaments prior to 1914:

Odessa
1901- 1st-Eisenberg(played at Monte-Carlo 1902); 2nd-Vladimirov; 3rd-Zheludkov.
1906- 1st- Loran
1909- 1st-P.List
1910- "South- Russia" Tournament: 1st-Verlinsky; 2nd-Bogolyubov; 3rd & 4th-Izbinsky & List; 5th-Loran

Kharkov
1895-6- 1st Romashkovich
1903- 1st-Suslikov, 2nd- Lizel, 3rd-Selivanov, 4th-Sprogye
1909- 1st-2nd – Rudnev & Zotikov, 3rd- Fokin
1911- 1st & 2nd –Borisovsky & Rudnev (Rudnev won the play-off)
1912- 1st -Rudnev

Kiev (other than city championship's)1893- 1st-2nd- Chernitzky & Frenkel
1902- Handicap-Tournament: 1st-Brzesky, 2nd-Zemsh
1909-(March) 1st-2nd- Bogolyubov & Omeliansky
1909-(September) 1st- Fuchs, 2nd & 3rd-Bogolyubov & Nikolaev
1911- Izbinsky won a match vs. Bogolyubov (+4=2-2)

Others
Katerinoslav (Dniepropetrovsk) 1902- 1st-Aksonov; 2nd & 3rd- Foniakov & Rebinin; 4th-Yantzin
1900 -Janowsky tours Kiev , Odessa before going to the 2nd All-Russian Ch in Moscow .
View the Ukranian Championships
1913-14 All-Russian Chess Tournament of Masters


First Row (seated): V.P. Vertogradov, P.A. Evtifeev, R.S. Salwe, U.O. Sossnitzky, P. Maliutin, P.A. Saburov, N.N. Kutler,
G.Ya. Levenfish, Ya.V. Taubenhaus, P.P. Saburov, S.N. Freiman.
Second Row (standing): M.L.Lowtzky, S.M Levitzky, S.E. Alapin, A.I. Evenson, A.D. Flamberg, A.A. Alekhine, B.O. Gregory,
E.D. Bogolyubov, P.P. Potemkin, A.A. Durdin, F.I. Duz-Khotimirsky.
The group of committee members [and] participants of the All-Russian Chess Tournament of Masters, that took place in Petersburg in December 1913 and January of this year. Photo by K. Bulla - (Niva magazine, February 15th, 1914. #7 page 140)
Kiev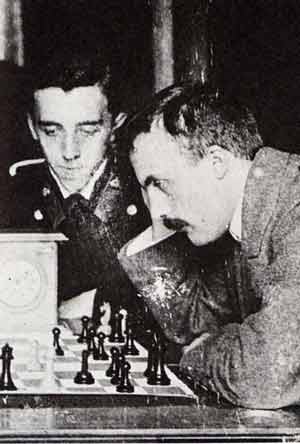 Bohatirchuk (left) and Bogoljubov (right)
The opening paragraphs of Mikhail Bulgakov's 1924 essay,
The City of Kiev, where he describes the pre-WW1 life in Kiev.
(Bulgakov was born the same year as Bohatirchuk and attended the same medical school during the same period in Kiev as him):

A Historical Digression

In spring white blossoms burst forth in the gardens, the Czar's Garden was clad in green, and the sun set every window ablaze. And the Dnieper! And the sunsets! And the Vydubetsky Monastery on the slopes! A green sea ran down in tiers to the many-hued, caressing Dnieper. Thick ink-blue nights over the water, the electric cross of St. Vladimir hanging up above...

In short, a beautiful city, a happy city. The Mother of Russian cities.

But these were legendary times, times when a young, carefree generation lived in the gardens of the most beautiful city in our country. In their hearts they believed that all of life would pass in white light, quiet and peaceful, sunrises, sunsets, the Dnieper, the Kreshchatik, sunny streets in summer, and in winter snow that was not cold or cruel, but thick and caressing...

...But things turned out quite differently.

The legendary times were cut short and history began thunderously, abruptly.


Kiev Championships - up to 1914

1900- 1st-Nikolaev; 2nd-Prince Dadian of Mingrelia
1901- 1st-Lowtzky; 2nd-Duz-Chotimirsky & Lebedinsky
1902- 1st-Duz-Chotimirsky; 2nd-Viktor Nikolaev & Breev
1903- 1st-Duz-Chotimirsky; 2nd-Viktor Nikolaev
1904- 1st-Duz-Chotimirsky; 2nd-Zemsh
1905- 1st-Ben'ko; 2nd-Fyodor Duz-Chotimirsky
1906- 1st-Fyodor Duz-Chotimirsky; 2nd-Nikolaev
1907- 1st- ?
1908- 1st-Stefan Izbinsky
1909- 1st-Nikolaev; 2nd-Nikolai Grekov
1910- 1st-Stefan Izbinsky
1911- 1st-Fedor Bohatirchuk; 2nd-Stefan Izbinsky
1913- 1st-Alexander Evenson; 2nd-Fedor Bohatirchuk
1914- 1st-Alexander Evenson; 2nd-Efim Bogolyubov

Kiev, Ukraine
Fedor Bogatyrchuk
Early Soviet Tournaments
[ comments ]