1.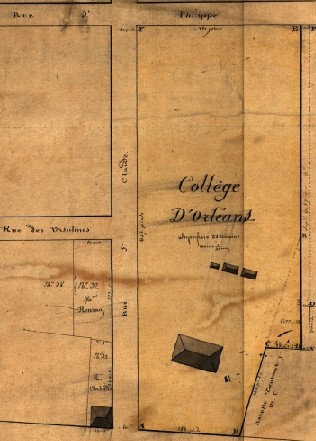 The original plans for the Collège d'Orléans at Faubourg Tremé.
Faubourg is a French term that literally means 'suburb' or neighborhood and Treme geographically is that part of New Orleans that lies between North Rampart and North Broad and from Canal Street to St. Bernard Avenue.
This map, drawn up April 4,1811, shows property of the College D' Orleans bound by Bayou Road, St. Claude Street, and St. Philip Street. Shows buildings of M. Chabaud, M. Duhamel, and other property owners.
The Morand-Tremé plantation house became the home of the Collège d'Orléans
The college was finished in 1812

Later the property was bought and used as the Carmelite Convent.
It was torn down in 1929.

---