The Mississippi Basin swelters in the summertime. The smells of raw fish mixed with the Gulf sea breeze travel up Canal Street into the French Quarter blending with the steamy air blowing in from the bayou and the sounds of English, Spanish, French and Cajun patois. Cradled in the arms of the Mississippi delta, New Orleans gloried in its role as the port city to that great river just as she suffered from its many whims and fancies. Louisiana was first explored and claimed by the French. After losing the Seven Years War in 1763, the territory was ceded to the Spanish Bourbons. The Spanish rule lasted until Napoleon reclaimed it in 1802. France's over-extended economy led to one of America's most important developments and one of history's biggest swindles, Jefferson's Louisiana Purchase in 1803.
And here's where the story begins...
Don Diego Morphy was the Spanish consul to North Carolina, South Carolina and Georgia. He received this post in 1795 while living in Charleston, South Carolina.
Diego was born in Málaga, Spain in 1765, the son of Michael Morphy, who was appointed the American consul to Málaga in 1793 despite the fact that he was a Spanish citizen. Originally named Michael Murphy, he had moved from Ireland to Madrid, Spain in 1753 and in custom with the local pronunciations, he had changed his name to Morphy. Michael married Maria Porro who bore him two sons and five daughters. Little more in known about Michael and Maria Morphy other than their probable deaths in 1800 and 1813 respectively.
Diego had at some point moved to San Domingo where he married Mollie Creagh in 1789 and in 1790 they had a son, Diego, Jr. San Domingo was a highly profitable French colony that employed the use of nearly a half million slaves. Under the leadership of a fellow slave, Toussaint L'Ouverture, who was possibly inspired by the French Revolution, the slaves of San Domingo revolted in 1791. Armed only with farm implements, over a twelve year period they had ousted the ruling powers and defeated successive Spanish, British and French invasions. In 1803 San Domingo became Haiti.
Don Diego Morphy got caught up in these events. He was able to secure the escape of his family by disguising Mollie as a produce vendor and covering Diego, Jr. with vegetables inside a basket. They stowed away aboard an English vessel bound for Philadelphia. Meanwhile, Diego was able to escape and make his way to Charleston, South Carolina where the family eventually settled, first on King Street and then, later, on Meeting Street.
While in Charleston, Diego and Mollie had two more daughters but Mollie died in 1796. The very next year, Diego married Louisa Piere. They subsequently had three daughters and two sons. The younger son, Ernest was born on November 22, 1807 (and died March 7, 1874); the older son, Alonzo Michael, born on November 23, 1798, was to be Paul Morphy's father.
Don Diego received the consulship appointment to the port of New Orleans in the new American territory of Louisiana in 1809 and moved his family to New Orleans. On April 30, 1812, Louisiana became the 18th state but Diego died the very next year leaving behind his mother Maria Porro, his wife Louisa Piere and his eight children. His first son, Diego, Jr. assumed his late father's post in New Orleans, which he held until 1818.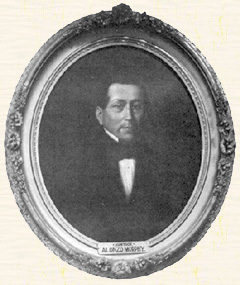 Alonzo Morphy graduated from the Collège d'Orléans 1 and sat before the Louisiana State Supreme Court for examination on January 7, 1819. He establish a law practice at what was then 61 Toulouse Street, one block up from St. Peter Street, at the French Quarter.

In 1825 and again in 1829, Alonzo would be elected to the House of Representatives. Also in 1829, he would be appointed Attorney General of Louisiana. The next month he would be married to Louise Thérèse Felicite Thelcide Le Carpentier, the daughter of Joseph Essau Le Carpentier and Modest Blache in the St. Louis Cathedral by Reverend Abbé Moni. During his career, Alonzo would become regent of the New Orleans Public Schools, administrator of the Charity Hospital and director of the Bank of Louisiana. In 1839, he was appointed a justice of the Louisiana Supreme Court, a position he would hold until 1846.

Ernest Morphy would become a cotton trader and the appraiser at the New Orleans Customs House and one of the best chess players in New Orleans.

The family resided in the Le Carpentier house on 1113 Chartres where Paul and all his siblings were born:

Malvina on February 5, 1830
Edward on December 26, 1834
Paul on June 22, 1837
Helena on October 21, 1839

Mrs. Morphy, familiarly known as Telcide, developed a minor reputation as a musician and composer, playing both the piano and the harp. She was also considered to be a fine mezzo-soprano. Paul himself had a facility for music and after hearing an opera but one time, he could hum or whistle the entire score.

In 1841 the Morphys moved from the Le Carpentier house to 89 (re-numbered later to 417) Royal Street. It's at Royal Street where Paul first learned chess by playing against his father, his Uncle Ernest his grandfather, Joseph Le Carpentier and his uncle, Charles Le Carpentier. His brother Edward showed some signs of aptitude for chess, but Paul's easy dominance soured him on the game.