Le Vieux Carré et Paul Morphy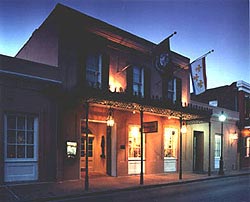 Broussard's Restaurant on 819 Rue Conti, "a quiet oasis just around the corner from raucous Bourbon Street," provides "...unsurpassed cuisine in an atmosphere of understated elegance and historical significance." The building that houses the restaurant is a "a charming pastiche of various structures."

The restaurant's Josephine and Magnolia Dining Rooms were once the stables and servants' quarters for the adjoining, historical Hermann Grima House. The present day courtyard was once it's carriageway; the piano lounge that features live jazz on weekends was once the back room of the Borrello mansion.


More importantly, at least to this story, is that Broussard's also incorporated into it's blend the building that was once the Jefferson Academy which was located on what was 53 Royal Street before the Quarter was renumbered.

Paul Morphy attended Jefferson Academy, a private school almost next door to his home at 89 Royal Street (the pre-renumbered address).


In antebellum Louisiana, as in years before, most people received no formal education at all. Tutors, private academies, and parochial schools trained the few who could afford an education. Some parents sent their children, free black as well as white, to the North or to Europe for schooling.

Catholic parochial schools remained the most numerous during the antebellum period as they had during colonial days, but Protestant schools rose in number, especially in north Louisiana.

New Orleans launched the first public school system in the state in 1841. From these first schools, public education spread throughout Louisiana, but very slowly and sporadically. At the time of the Civil War few parishes in Louisiana had public schools.

Many of Louisiana's so-called colleges were little more than glorified high schools and only admitted men as students. Louisiana's first institution of higher learning was the College of Orleans, which operated between 1811 and 1826 in Faubourg Tremé in New Orleans. Other colleges and academies were incorporated during the antebellum period, including ones in Opelousas, Convent, and Jackson. Today, two major Louisiana universities trace their beginnings to the antebellum period: Tulane University and Louisiana State University.

Antebellum Louisiana: Politics, Education, and Entertainment
After Jefferson Academy, Paul was accepted into Spring Hill College in Mobile. Some places indicate that he went to St. Joseph's College in Spring Hill, Alabama. Sergeant, in Morphy's Games of Chess, calls it simply "Spring Hill." David Lawson mentions Spring Hill College in Mobile specifically. An intense research turned up no mention of St. Joseph's College in Mobile or in the environs of Spring Hill College. However, there is a St. Joseph's Chapel at Spring Hill College. Another point of interest is the understanding that although Alabama became a state in 1819 and Louisiana became a state in 1812, Mobile had a French tradition and close ties to Louisiana. The distance between New Orleans and Mobile wasn't all that daunting either - 118 miles.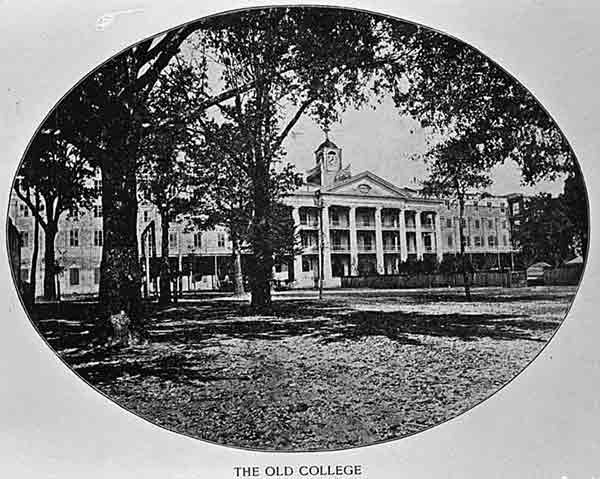 Spring Hill College in 1836

Morphy registered at Spring Hill College In late 1850.
The records reveal that his "conduct was excellent, application very earnest and unremitting, and improvement very rapid." They also show that he received many awards in Latin, Greek, French, English, Mathematics and other studies.

He took part in drama and played the role of Portia in The Merchant of Venice and of Charles in the French play Gregoire.
During these years he applied himself to his studies to the almost total exclusion of chess according to Maurian who said, "he may be said to have virtually abandoned chess during his college career."

Paul taught Maurian to play using a classmate's chessboard. Maurian, himself, developed into a fine player under Morphy's tutelage.

Morphy was not known to have many chess books, but by the end of 1853 he had aquired a book by Howard Staunton, which he read and then gave to James McConnell (a family friend with whom he used to play chess at the old post office on 101 Royal Street - old numeration). On the title page which proclaimed: by H. Staunton, Esq., author of The Handbook of Chess, Chess-players Companion, & c. & c.&c., Morphy had scribbled, perhaps prophetically , "and some devilish bad games".

Paul graduated from Spring Hill in 1855 with an A.M. degree.


the University of Louisiana, 1848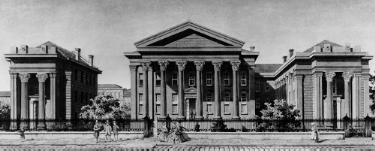 He then went to the Law University of Louisiana.

The University of Louisiana was situated on Baronne Street right on the other side of Canal Street. Coming from the university into the French Quarter, when Baronne crosses Canal, it becomes Dauphine Street (which is one street up from Bourbon, 2 up from Royal, 3 up from Chartres)
from which he earned his L.L.B degree in 1857.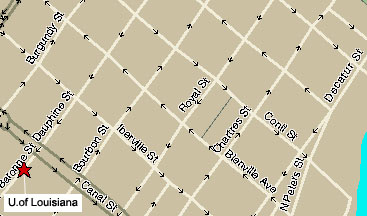 ---
Opening in 1834 and chartered in 1835 as a state medical college, the school became the University of Louisiana in 1847. In 1884, reorganized and relocated when endowed by Paul Tulane, it became Tulane University. The original site is occupied by the Fairmont Hotel at 123 Baronne Street.

---

Morphy could recite by heart nearly the entire Civil Code of Louisiana. Since he wasn't yet of legal age at the time (he was 20), he could not be admitted to the practice of law at the bar.

Realizing he had time to kill, Paul started enjoying his pastime of chess more frequently and agreed to enter the First American Chess Congress. Before he could actually attend, his father died suddenly in 1856. Reluctant to attend the congress under those circumstances, he had to be persuaded by Judge Meek (and by his family, which exerted a great deal of control over him) to attend.


and the rest ... is history.