Le Vieux Carré et Paul Morphy



Joseph Esau Le Carpentier was slick.

He was a rich man by most people's standards - far richer than his occupation as an auctioneer should have entitled him to be. Maybe he married into some money? Modeste Blache, his bride, seems to have inherited some nice real estate up on 1201, 1205, 1211 and 1215 Royal Street along with her brother, Charles Louis Blache.


LeCarpentier was an auctioneer. If an auctioneer wanted to make a lot of money, the most lucrative merchandise was slaves. Whether it was for personal use or for the purpose of trading, Joseph LeCarpentier did buy and sell slaves. Records show at least two transactions in which he bought a 47 years old woman named Maranthe on April 8, 1820 for 1090 pesos. The notary's name was, oddly, Marc Lafitte. On March 26, 1806, he sold a black male of undetermined age, named Ayr, for 1750 francs.



Most people who knew Joseph LeCarpentier also knew the rumors that he made his initial fortune dealing in contraband with the Baratarians which is how he got the nickname, Double-Tongue. The Creoles could be quite literal when they wanted.

Perhaps you never heard of the Baratarians. They were the inhabitants of Barataria Bay, a group of islands: Grande Terre, Grande Isle and Cheniere Caminada, in the Gulf Coast staring down New Orleans from 45 miles away. These islands were a paradise of sandy beaches, lagoons and marshes; pelican flourished there, as did trout, popano, flounder, shrimp and crab. Oaks and palm trees abounded.

Lafitte's Grande Terre mansion,
Maison Blanche
This was a country ruled by the pirate, Jean Lafitte. Although a pirate, or a privateer as he preferred to be called, Lafitte never attacked an American ship. He provided various merchandise such as linens and cloths, spices and furniture to the poor Creoles and Cajuns very cheaply. To the more affluent, he provided artworks, perfume, silks, wine, cheeses - and slaves. He even sold slaves to work the gardens belonging to the Ursuline Convent in the Vieux Carré. (the importation of slaves into the Louisinana Territory was banned in 1804. The federal government banned the importation of slaves in 1808)
Lafitte's army was a 1000 strong. This same army, persecuted by the U.S. government which eventually demolished Barataria, helped win the battle of New Orleans in 1814-15. A pirate and a patriot, the goverment didn't know what to do about him. Things turned sour for Lafitte and in May, 1821 he disappeared for good, never to be heard from again. The Baratarians assimilated into the New Orleans mix.


In 1826, LeCarpentier bought some land, from that same Ursuline convent, at 1113 Chartres Street right next to the Old Convent itself at 1112 Chartres Street, considered to be the oldest building in the French Quarter.

The Ursuline convent established the first school for girls in America. It also established the first orphanage and day nursery, first free school with organized classes for slaves and Indian girls, first retreat house for ladies. One of the original twelve Ursuline nuns, Sister Frances Xavier, was the first woman pharmacist in the Western Hemisphere.



He hired an architect, François Correjolles (one of the first native-born Americans to succeed as an architect in New Orleans. His designs reflected the American influence on local Creole architecture), to design a mansion and builder, James Lambert, to construct it (using Thomas Roe for the carpentry, Alonzo West for the millwork, Peter Ogier and Jusin Williams for the masonry) . LeCarpentier had gained a level of respectability by this time, so much so that the U.S. government authorized him a certificate of debenture in a special bill passed by the 19th congress.

The house was to be, in part, a honeymoon cottage for his daughter, Telcide and her attorney husband, Alonzo Morphy. Telcide was what they called Louise Therese Thelcide Le Carpentier, a talented Creole lady musician and composer. She could play both the piano and the harp and had a lovely low mezzo-soprano voice. She and Alonzo got married in 1828. Alonzo had passed the bar in 1819 and from 1825 to 1829 was a congressman. In 1829, when the house was completed, he would be Attorney General for the state Louisiana. Later, from 1839 to 1846, he would become a Supreme Court Justice for the state of Louisiana.

a late 1800 view of Chartres Street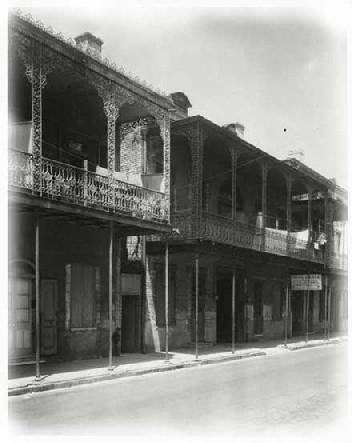 The French Quarter, or Vieux Carré, is located on a bend in the Mississippi River. N. Peters Street follows the bend, but the rest of the streets parallel to the river are in a straight line. As you head inland, you'll cross Decatur Street, Chartres Street, Royal Street, Bourbon Street, Dauphine Street and Burgundy Street. So close to the water, the houses are weather beaten and prone to rot and termite damage. The paint peels easily and the ironworks rust. Over time it has withstood hurricanes, floods, fires, yellow fever epidemics, war, neglect, industrialization and commercialization. It was originally a French colonial and Spanish settlement which for a century or more stayed isolated from the rest of New Orleans in language and customs. As the rest of the city prospered, Vieux Carré began a rapid decline and many of the beautiful homes were converted into laundries, small factories and rooming houses for the workers of the newly industrialized area. By the 1920's it's decay had reached a point where many people wanted to simply tear it down. But, as happens with other poor places, artists, writers and musicians moved in because of it's low rent and wonderful atmosphere. Preservation committees were established and much of it's former beauty had been restored. Today, tourism is probably both it's greatest danger and biggest ally.