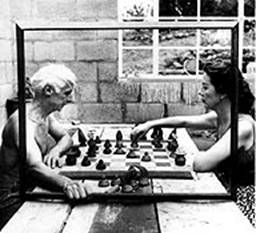 Max Ernst playing chess with Dorothea Tanning in Sedona, Arizona around. 1946.

Dorothea Tanning, born in Galesburg, Illinois, married Ernst in the 1920s. According to her book, Birthday (1987), she was seduced by her future husband over a game of chess.
She was a noted artist in her own right as well as an author in her own write. Her marvelous surrealist style complemented the Dada style of surrealism practiced by her husband, Max Ernst and their friend and contemporary, Marcel Duchamp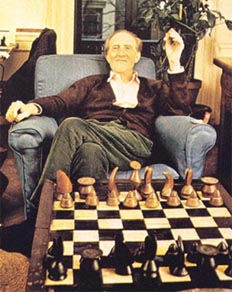 This is Marcel Duchamp, chess player/artist.
In front of Marcel is a chess set, designed by his friend Max Ernst.