On January 11, 1886, two men faced each other across a board over which the great Paul Morphy himself had contended with many opponents. Using as their weapons the very same pieces Morphy himself had wielded in so many chess battles, these two men expressly sought a prize that Morphy, dead just eighteen months, had owned through universal agreement, but never claimed: the title of World Chess Champion.

People from all over had come to the Manhattan Chess Club in New York City to watch Wilhelm Steinitz and Johannes Zukertort prove to the world which one was the Master. Among those present was a certain Mr. D. M. Martinez, the President of the Franklin Chess Club of Philadelphia, "to whom a seat of honor was assigned near the players."
---
Dion M. Martinez vs. George Hatfeild Dingley Gossip
---
Persifor Frazer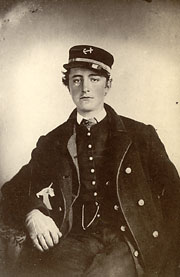 The Franklin Chess Club, founded in October of 1885 - and still in existence - was the 2nd oldest chess club in the United States, the oldest, of course being The Mechanics Institute Chess Club in California, founded in 1854. Located at 115 South 11th Street, it could at one point boast Harry Nelson Pillsbury as one of it's members (1893). When Persifor Frazer was it's president and W.C. Wilson was it's vice-president, the treasurer was Walter Penn Shipley, publisher of the Philadelphia Inquirer's chess column and the secretary was Gustavus Charles Reichhelm.

Reichhelm one one of America's premier chess players who lost his bid the the US championship, losing his match with Capt. Mackenzie in 1867. He was born in 1839, two years younger than Morphy and lived until 1905. From 1860-1870, he was the chess editor of the Philadelphia Evening Bulletin; from 1871-1872, he edited The Chess Weekly; from 1872-1877, he wrote a column for the Intelligencer; from 1880-1900 he was a columnist for the Philadelphia Times; in 1881 he was editor of Brentano's Chess Monthly; from 1900-1905 he was a columnist for the North American. He also published a book, co-authored by Walter Penn Shipley, on the chess history of Philadelphia entitled, Chess in Philadelphia. He was a well know chess composer as well as a player.