The Bishop Berkley sent me this May 3, 1891 New York Times newspaper clipping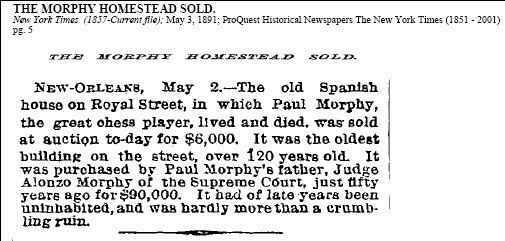 According to Regina Morphy-Voitier:
Then came a settlement of the three successions and in which, unfortunately, Paul Morphy's trophies had to be included in the sale. The magnificent set of gold and silver chessmen was bid in by Mr. Walter D. Denegre of New-Orleans, it was said for a client in New-York. This set brought in at auction $1,500. Mr. J. Samory, also of New-Orleans who had known Paul Morphy intimately, bid in the silver wreath and also the silver trophy won by Morphy at the American Chess Congress. The wreath was sold for $250, and the tray and goblets for $400. At Mr. Samory's death, he willed the above to a mutual friend of his and Morphy's, Judge Edward Bermudez. Soon after the historical old home was, sold at public auction to J. B. Esnard, Esq., at the ridiculously low figure of $6000, after having been for forty-five years the home of the Morphy family, and for which Judge Morphy had paid $90,000. The new owner rented the house to various people. Among these, Mrs. L. Conant and her daughter. These ladies were, at that time, connected with the Christian Women's Exchange, whose headquarters were then on Bourbon Street. After Mrs. Conant's removal, the house was occupied by different people as a sort of rooming house, and the room in which Judge Morphy used to sip his early morning coffee, was occupied by an Italian cobbler and his family, and from early morning till dark, he worked at his last, scattering leather all over the place. A few years ago, Mr. W. R. Irby, capitalist and philanthropist of New-Orleans, purchased the old house in order to preserve it as one of the landmarks of the Vieux Carré of New-Orleans.