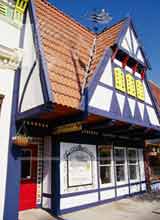 Schachdorf U. S. A.
What does "Lindsborg, Kansas," "Little Sweden" and "Chess City" - have in common?
They're all the same place.
The reason that Lindsborg, Kansas bills itself "Little Sweden" is obvious.
According to the American Profile website:
"When residents of Lindsborg, Kan., (pop. 3,249)
want to borrow the latest best seller, they visit the bibliotek. To fill a prescription, they stop by the apotek, and to get new shoes, they visit the local clog maker."
The reason for the title "Chess City" isn't so obvious, but nonetheless convincing.
The U. S. Chess Federation named Lindsborg "Chess City of the Year" for 2004. In the past this honor had been bestowed upon such cities as Seattle, Miami and New York as well as Peoria and Foxboro, Massachusetts (despite the fact that in 1985 when it received the honor, Foxboro didn't even support a chess club).
When Seattle was named "Chess City of the Year" for 2002, Yassar Seirawan was named "Chess Organizer of the Year" as the driving force behind the city's promotion of chess. The diving force behind Lindsborg's is Mikhail Korenman, a man named "Chess Organizer of the Year"
MINUTES OF THE EXECUTIVE BOARD MEETING
BOCA RATON, FLORIDA, JANUARY 10 & 11, 2004

EB 04-25 (Hanke): The Executive Board moves to commend Mr. Mikhail Korenman for his outstanding development and
promotion of chess in Lindsborg, Kansas. PASSED 6-0 In favor Marinello, Shutt, Hanke, Brady, Camaratta
and Schultz.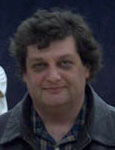 According to his profile page:

Dr. Mikhail Korenman was born March 29, 1962 in Nizhniy Novgorod (Gorky), Russia. He is married to Dr. Tamara Korenman and they have two daughters. After a successful career in education in Russia, he moved his family to the U. S. in 1994, went back to school and received his PhD from the Kansas State University in 1999. He was hired to teach chemistry at Bethany College in Lindsborg.

Dr. Korenman's interest in chess started as a child and while in high school he became the regional junior chess champion in Nizhniy Novgorod. After earning his PhD, he devoted his time again to chess, but this time in the U. S. He organized four summer chess camps in Lindsborg, five Little Sweden regional chess tournaments and the first Lindsborg Rotary Open tournament in 2001 which has grown each year under his direction to where it now allows players opportunities to gain IM and GM norms. In 2003 the Lindsborg Open featured 10 GMs and dozen IMs from more than 10 different countries.

But the crown jewel of Dr. Korenman's achievements was finagling a deal with Anatole Karpov and then securing a grant of $261,000 for Karpov to locate the only U. S. satellite of his famous chess school in Lindsborg. Korenman now directs the school.

The World Champion Anatoly Karpov International School of Chess opened for business in a converted downtown warehouse in May, 2003. Dr. Korenman's wife, the other Dr. Korenman, runs the Chess Cafe in the back, serving traditional Russian food such as borscht and dumplings and stroganoff. Besides teaching chess and running the school, Dr. Korenman retained his position at Bethany College as Director of International Programs. He also created IntECS, Inc., a non-profit organization that provides cultural and educational services uniting the U. S. with Russia.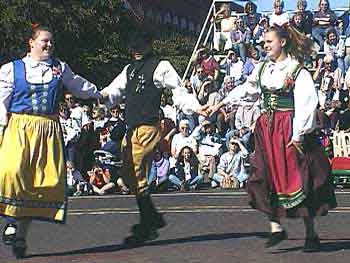 These Lindsborg folks are celebrating Hyllningsfest, commemorating their Swedish heritage.
They could just as easily be celebrating the unique stature of their community that transcends political and geographical boundaries and rises above ethnical and cultural differences.
They could be celebrating Chess City
sources:
http://www.mike-sheryl.com/lindsborg/
http://www.americanprofile.com/issues/20010603/20010603mid_909.asp
http://www.intecsus.org/Chess%20School/Karpov%20School.htm
http://www.lindsborg.org/chess_school.html
http://www.mcphersonsentinel.com/articles/2004/09/10/news/news2.txt
http://www.uschess.org/org/govern/2003-04ebn1-3.pdf
http://www.kansascity.com/mld/kansascity/news/local/9613495.htm?1c
http://www.hutchnews.com/past/07-26-2004/region/region1.html
http://www.chessdryad.com/articles/mi/article_158.htm