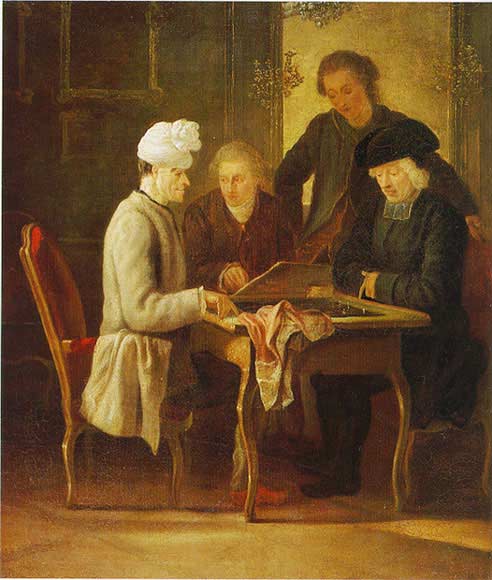 Voltaire by Huber
From the site, mieux jouer aux échecs, we learn:
Voltaire a un familier genevoix depuis son installation à Ferney; le peintre Huber. La princesse Daschoff, dame d'honneur de Catherine II de passage à Genève en 1771 écrit dans ses mémoires: "Hubert et Voltaire combattaient souvent aux échecs. Voltaire perdait toujours, et dans ces occasions, il ne manquait jamais de laisser éclater sa mauvaise humeur." Un tableau d'Huber se trouve au musée de l'Ermitage à Saint Petersbourg: "Voltaire jouant aux échecs avec le père Adam" Voltaire est souscripteur de l'édition de 1777 de "l'analyse des échecs" de Philidor, édition remaniée sur les conseils du célèbre Diderot, ami de Philidor.
Une estime réciproque a réuni Voltaire et le père Adam en plus du jeu d'échecs quand Voltaire part à Paris en 1778, le père Adam, 72 ans est congédié par Mme Denis après 17 ans de services, Voltaire lui verse une pension de 700 livres. Curieusement, Voltaire a peu écrit sur les échecs sauf ceçi:
"Le jeu que nous appelons "des échecs" par corruption, fut inventé par eux (les indiens) et nous n'avons rien qui en approche. Il est allégorique, comme leur fables, c'est l'image de la guerre. Le nom de Schack qui veut dire prince, et de pion, qui signifie soldat, se sont conservés." Essai sur les mœurs III
Voltaire frequented the Café de la Régence where he played chess with Philidor and Jean-Jacques Rousseau as well as once, in 1748, having played a correspondence game with Fredrick the Great of Prussia by courier.

The Café de la Régence, by a Chess-player
Fraser's Magazine, Vol. XXII July to December, 1840
transcribed by Mark Weeks
The Régence was established as a rendezvous for the literati of the day, under the government of the Duke of Orleans, and like Will's in London, became, from its eligible position, the haunt of the most celebrated esprits of France during the eighteenth century. Voltaire, the two Rousseaus, the profligate Duc de Richelieu, Marshal Saxe, Chamfort, St. Foix, Benjamin Franklin, Marmontel, Philidor, and Grimm, are but a few of the men of note who constantly frequented the Régence in early times. The very chairs and tables acquired name and fame from classical association; and, till quite recently, the master of the establishment might be heard commanding his attendants, in tones of pride to "Serve Jean Jacques," -- "Look to Voltaire," -- the identical tables at which this pair of philosophes were wont daily to play chess, being still at that time in existence, named from the departed great. These sacred shrines are now superseded by marble slabs; coal-gas sparkles in sun-like lustres; and Voltaire could hardly recognise his favoured lounge, save from the low-ceiled room unaltered in its proportions. A dingy portrait of Philidor yet hangs, I am glad to see, against the wall. To a chess antiquary, the relic would be worth purchase at its weight in gold.