I am one third of a triumvirate.

Our mission is to identify Morphy's opponents. Each of us brings our individual sets of strengths, weaknesses, passions, interests, capabilities and resources to the table. I've been learning a lot.

Much of what we do amounts to the equivalent of exploratory surgery. We dig and probe just to see what we come up with. Here is an example:

Philip Sergeant, in his book Morphy's Games of Chess lists a consultation game (Game LXXX) between Morphy (black) and the team of St. Amant and F. de l'A. Of course we all know St. Amant, but who is this F. de l'A ?

Sergeant, in his later work, Morphy Gleanings (or Unknown Morphy as it's even later titled), revises this with :
"P. 150, Game LXXX. 'Bell's Life in London' gives initials of St. Amant's partner as 'M.F.de B' "

So, we learn that "F. de l'A" is now "M. F. de B".

Using the assumption that the "M." stands for Monsieur, one of our members searched for any chess player during Morphy's time with "F. de B" as his initials who might have been available in Paris of Nov. 1858.

He found one name: Florimond de Basterot or Alfred Jacques Florimond, Comte de Basterot.

As coincidence would have it, Basterot was about to travel to America where St. Amant had traveled just six years before. Both men wrote a book on their respective American adventures. But Basterot also wrote other books. This one was on chess and clearly shows that Basterot knew Morphy. While it doesn't explicitly place him as St. Amant's teammate during the game in question, circumstantial evidence makes the likelihood almost a sure thing.

In his book Traité Élémentaire du Jeu des Échecs, Basterot gave a puzzle which he claimed to have observed Morphy attempting, with some difficulty and taking about an hour, to solve: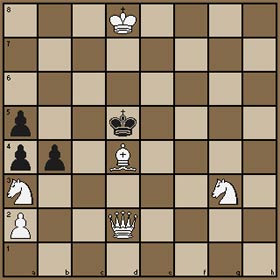 White to move and mate in three.